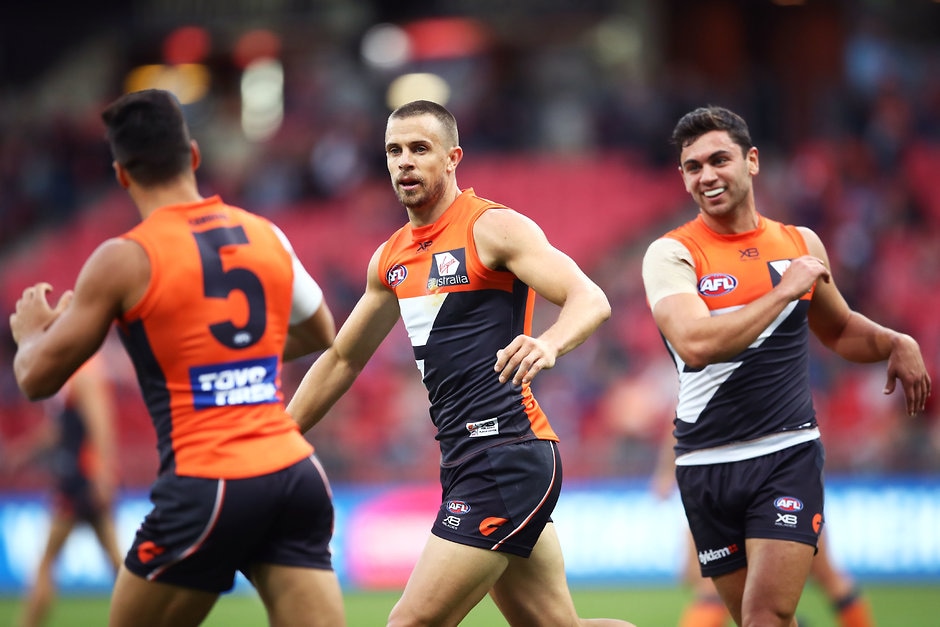 It hasn't recovered quite as I would have liked
Brett Deledio
HAMSTRUNG Giant Brett Deledio hopes to return to the field within a fortnight, but has admitted it could be longer given his history with muscle tendon injuries.
The frustrated veteran has missed the last two games after suffering another hamstring injury that again involves a tendon, after a 2017 calf complaint restricted him to just seven games.
The 31-year-old says he's back running but there remains some doubt over when he'll be available to play again.
"It hasn't recovered quite as I would have liked," Deledio told RSN927 on Thursday morning.
"I think Leon [Cameron] said yesterday, and I know all too well, it's been around my tendon and they tend to take a little bit of time.
"I'm running a fair bit and I'm hoping to be back next week, if not given my previous history maybe the week after.
"But we'll just have to wait and see. It's not ideal. I was really starting to enjoy my footy and then you start to question what's going on again.
"We're doing everything we can, and I'll be back when I'm back."
Deledio is part of a growing Giants' injury list that has prompted a review of their processes by the club's sports science expert John Quinn.
Josh Kelly (groin), Matt de Boer (hamstring), Toby Greene (foot) and Tom Scully (ankle) will miss the Giants' Hobart clash with North Melbourne on Saturday, while co-captain Phil Davis has been ruled out with concussion.
Deledio agreed there was a challenge with how multiple players returning from injury affected the cohesion of a group, something the Giants might have to deal with in the coming month.
"If the team's winning, you can probably get by running players into form in the lower level and then hopefully bring them in once they're in form," he said.
"But it's hard … you can't just bring star players back in and expect them to perform at a really high level straight away, because I haven't met a player who doesn't need confidence to play really well.
"You're coming straight back into a team … and being expected to perform."