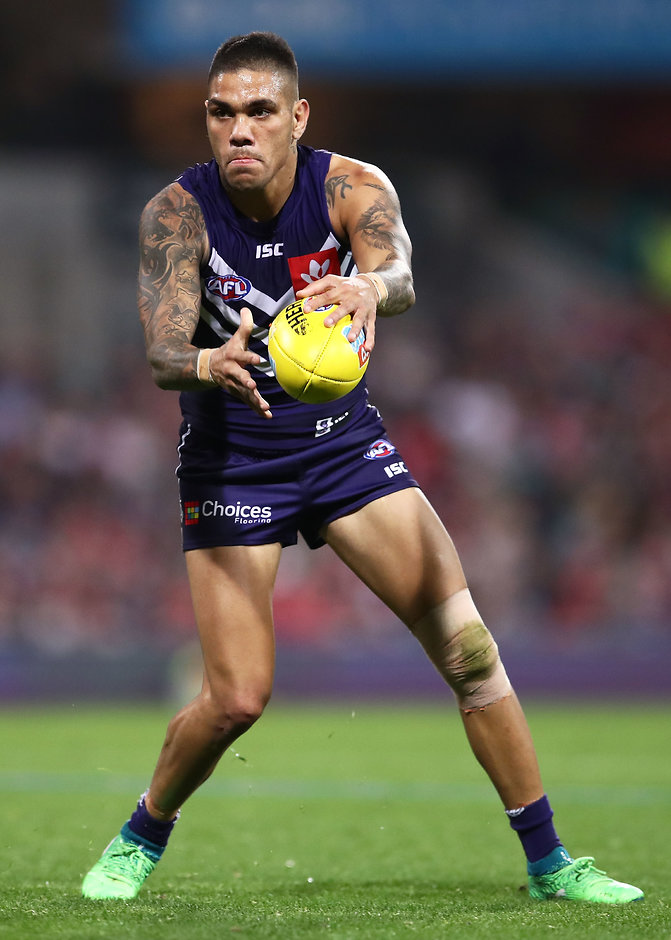 We were really winning the ball and we just couldn't hit the scoreboard
Ross Lyon
FREMANTLE coach Ross Lyon has lamented his side's failure to convert its early dominance against Sydney at the SCG, before the Swans found their feet and kicked away to a 59-point win.
Not even the return of star forward Michael Walters from two weeks out with a knee injury could help Freo take their chances early, with a series of shots hitting the post to cruel the visitors' momentum.
"We were really pleased with our start," Lyon said after the game.

DETAILS Full match coverage and stats
"Last year we came here and they were super aggressive and dominated us, but I thought we were really winning the ball going in well and we just couldn't hit the scoreboard. I think we had four posters in the first quarter."
Lyon said Fremantle struggled to cope with the Swans' intercept defenders, with the inadequacy laid bare by their efficiency inside 50.
"We had 50 entries, of which they marked nine or 10; they had 60, of which we marked five," he said.
"So they marked 20 per cent of our entries and we marked less than 10 per cent of theirs, which is a big stat because if they're marking the ball, our mids haven't got time to get up and find them. So that was disappointing."
Jake Lloyd (41 possessions and 15 marks), Heath Grundy (20 touches, seven marks) and Jarrad McVeigh (31 touches, six marks) had huge nights for the Swans and Lyon conceded his forward line just couldn't get it right against them.

BUDDY BREAKS RECORDS AND, ALMOST, JAWS Five talking points
"Their defence...we struggled to have a physical presence up there for most of the night," he said.
"Really simply, and without getting too technical, when we won the ball back centre-forward - which we did about 18 times, normally we score about 30 or 40 percent. But we didn't score at all and they scored at about 50 percent - they kicked 8.1 and that was the fundamental difference until the last quarter where they kicked goals out of the middle."
The Dockers coach said Walters' return from injury was beneficial, especially as the Freo forward was one of the few stars for his team on the night.
"Yeah, good return, he kicked 2.3. Probably lacked a little bit of penetration in his kick, he was a little bit anxious before the game but he got through it and he should be better for the run," Lyon said.

WATCH Ross Lyon's full post-match media conference
And Lyon dismissed concerns about the injury cloud that had been hanging over Fremantle skipper Nat Fyfe's head during the week.
"A few weeks ago, we thought he had some knee problem but the scan revealed it to be OK, it's just a ligament that can move around a little bit and just click and worries him a little bit. So, it happened Thursday out of nowhere and then he was OK," he said.
"And then in the warm-up, the doc's come in, I think it was on tape, (Fyfe) felt a little bit. But I thought he played very well, didn't restrict him. It's just something that can niggle away a little bit but doesn't seem to stop him. Basically he's been training full and every now and then it will catch. But it's not a meniscus [injury] at all."