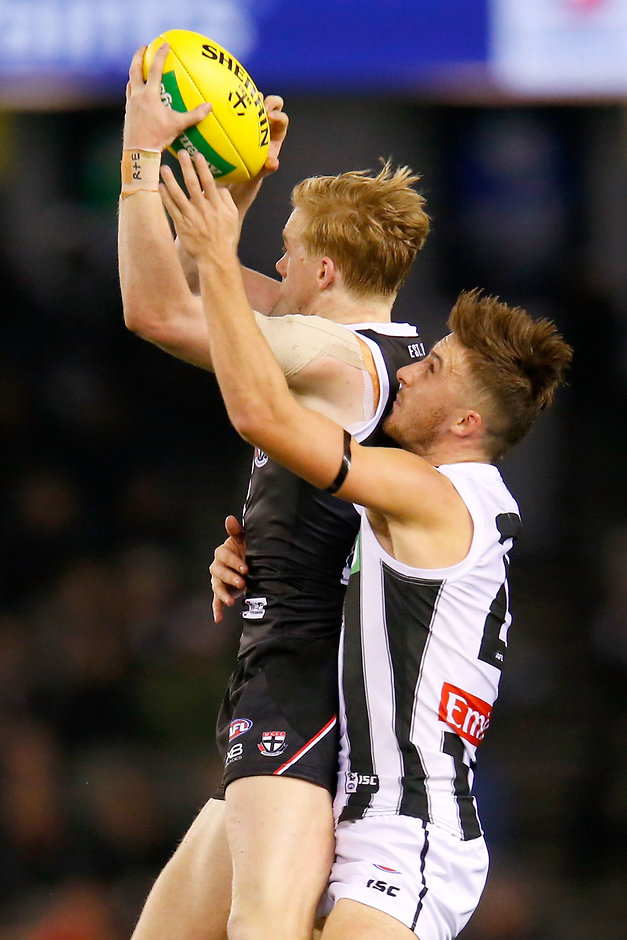 ON SATURDAY morning, Tom and Ed Phillips did what many pairs of brothers around the country would have done – they went for a kick of the footy in the park.
But this wasn't any regular Saturday morning trip to the park. The Phillips brothers were set to meet at Etihad Stadium later that night when Collingwood and St Kilda clashed.
Tom, 22, has played for Collingwood for three years now and was due to notch up his 33rd AFL game.
St Kilda's Ed, 20, was going to play just his second.
Ed took his place on the wing before the first bounce. Tom wandered over, grinned and bumped into his little brother. Game on.
"It was really weird, but pretty special," Tom told AFL.com.au after the match.
"We actually went down to the park and had a bit of a kick today. So, I was having a kick with him about six hours ago and then I was up against him on the wing on the ground tonight.
"When you think back 18 or 20 years, all the footy we've played together as young kids, we won a premiership in junior footy together, we played a game at (under-18 TAC Cup side) Oakleigh Chargers together, but I haven't played against him before."
The pair spent the majority of the first half running on the same wing, before playing against each other in patches in the second.
"I'm so glad he's competent at the level – well, he's more than competent, he's killing it at the moment and he's just in his second game. He's got so much potential and upside.
"I just want to keep pushing the ledger. We're pretty competitive, give each other a bit of stick but it's all good fun and I've got a lot of respect for him and the way he goes about it."
The pair still live at home together, but Tom said it wouldn't be too awkward despite Collingwood defeating St Kilda by 28 points.
"We'll just relax tonight. He's pretty good, we get along pretty well. We don't talk much footy at home, believe it or not, it's all kept pretty separate."
Tom bounced back with 30 disposals, 11 marks and a goal from a concussion suffered in last week's loss to Geelong, where his head collided with teammate's Chris Mayne's knee in the process of kicking a goal.
It led to an unusual goal celebration on Saturday night, when he put his head on his hands as if asleep, in reference to the last goal he kicked.
He has played every game this season and is averaging 29 disposals, considerably up from the 21 he averaged from 14 matches last year.
"Being knocked out last week and only having 11 hurts the average a little bit," he said with a laugh.
"If we take away that game, I'm pleased I'm putting some good footy together, but I think it's all down to consistency and the role I'm playing in the midfield.
"When I get my opportunities up forward to kick a goal or two, then meet the defensive needs as well, if I can round out my game and keep being balanced, the sky's the limit to what I can do."
As to any further match-ups against Ed, the older brother wouldn't be averse to it.
"It was really good fun. I love the way he goes about it, I love him as a brother, it's spine-tingling to be out there together."
$(document).ready(function(){ document.getElementById("interaction").innerHTML = ''; });