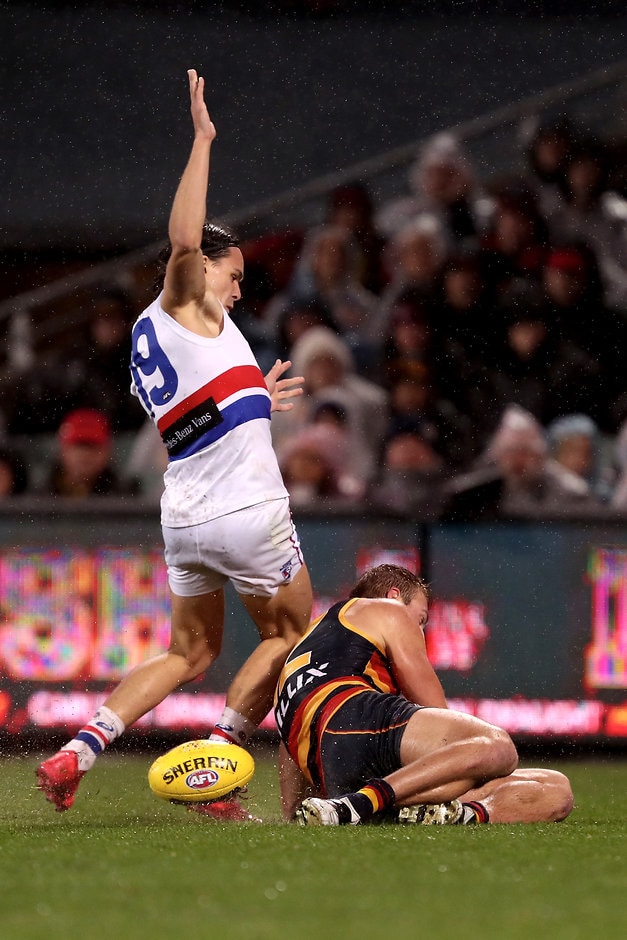 THE UMPIRING department has given its tick of approval to the free kick paid against Adelaide defender Daniel Talia for making contact below the knees of Western Bulldog Lukas Webb last Friday night.
Talia was penalised midway through the second quarter of Adelaide's 37-point win after he dived at a loose ball deep in the Crows' defensive 50.
The Crows defender was first to the ball but slid over it on a rain-sodden Adelaide Oval surface. As he did so, Webb, who had been charging at the ball from roughly the same direction, fell over his back as his legs were taken out by the Crows defender's body.
SLIDE RULE CONTROVERSY Five talking points
When umpire Matt Stevic paid a free kick to Webb, Talia's teammate Andy Otten said: "No, they were running the same way."
Talia then added: "He jumped into me, I got there first."
Wayne Carey said on the match broadcast, "The rule was brought in for the player sliding in with his knees first, they were sliding the same way", while fellow commentator Brian Taylor added, "And I reckon Webb caused the contact."
However, an AFL spokesman said the umpiring department had deemed Stevic's decision was correct.
When assessing potential infringements for contact below the knees, umpires are instructed to look for, among other things, a player electing to go to ground and contact that causes a player to go to ground.
They are also coached that a player can still be penalised for forceful contact below the knees if he is moving side by side in the same direction as the other player.
"It was their view the umpire ruled correctly on the player electing to go to ground after he had been on his feet and also the fact that him going to ground caused the Bulldogs player to go to ground," the spokesman said.
"Sliding into someone with feet/knees is a separate free kick and you can have that paid against you if the player has to get out of your way.
"But this was paid on the basis of contact below knees."