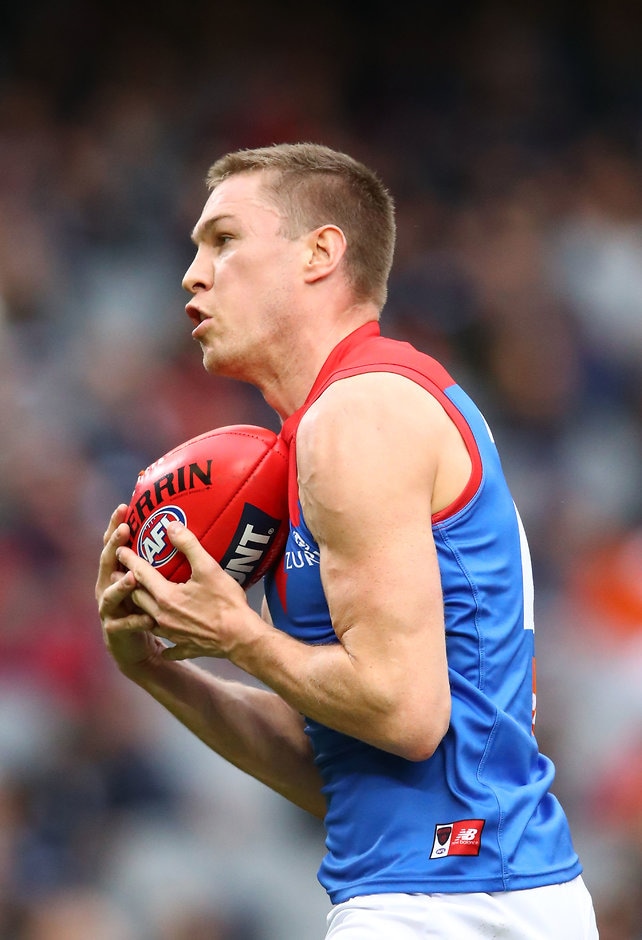 We certainly won't be taking a risk with Tom
Simon Goodwin
FRESH scans have shown "minor inflammation" around Tom McDonald's toe but the Melbourne forward is confident he hasn't suffered a serious setback and remains a chance to play this week.
The 25-year-old missed the second half of the Demons' Thursday training session after his toe joint – the one that troubled him in the pre-season and forced him out until round six – became sore.
Scans that afternoon showed no new damage to the foot.

DEMONS V CROWS PREVIEW Will the Demons be hot in the Alice?
However, while he'll travel to Alice Springs with the team on Saturday morning, he remains in some doubt for the Demons' Sunday clash with Adelaide at Traeger Park.
"It's pretty clear from the scans point of view it's just a little bit of inflammation around my toe joint," McDonald said on Thursday afternoon.
"It's at the pretty minor end of it, but you just don't want to make it worse.
"It's pretty simple, if it's sore on Saturday when I have a run around, if it hurts I won't play and if it feels pretty good I'll play.
"That's all we can really do at the moment."
McDonald said he pulled up fine from Sunday's 109-point victory over Carlton, which was his fourth game back from the injury.
But he said he wanted to be cautious when he developed the soreness during Thursday's hit-out.
"I probably felt pretty good early in the week and today for some reason it was just a little bit irritated," he said.
"Again, it wasn't major. Just having missed four or five weeks earlier in the year, you want to make sure it's feeling good again and don't want to take any risks, but if it feels good, I'll play.
"It was probably more my boots rather than my foot, but if you've had injuries you get a bit scared and worried about what it could mean.
"It was probably more precautionary. I'll play around with the boots I've been wearing and the studs and that sort of thing and give myself a chance to play on the weekend."
Earlier on Thursday, coach Simon Goodwin said the Demons wouldn't play McDonald, who has kicked 13 goals in four games, if there were any concerns over his troublesome foot.
"It's something we've had to work through for a while now," Goodwin said.
"As I said, we'll be cautious with it.
"Of course, it's worrying because you've got a player that's in really good form that hasn't trained, but at the same time, as it stands right now, he's confident in his own mind that with a couple more days and training on Saturday, he'll be right to go."
The news is better for Jack Viney, with the co-captain training strongly on Thursday before what will be his second game for the season after a long-running foot complaint.
"He pulled up great. It was great to get the captain out there again," Goodwin said.
"He gave us a lot of pressure around the contest and great leadership on field so once again he's working his way back. We played him 70 per cent game time last week and we'll continue to monitor that over the next month."
Former Crow Jake Lever is set to face his former club for the first time since his somewhat controversial departure from West Lakes at the end of last season.
Goodwin said he believed "100 per cent" that Lever would remain composed if targeted by his former teammates, some of whom were publicly aggrieved about his decision to leave the Crows.
"That's something we've really focused on this year, to channel our energies into the way we want the game to look and our energy around the footy and our contest work, so that's the way it will remain," he said.
"When a player is playing against their old club it can be a challenging week for them individually, but it certainly doesn't distract us from what we're trying to do and that's go up there and play a great style of footy against a really strong footy club.
"For Jake, it's about playing his game and keeping those emotions in check and playing his role for the team and not really getting away from that.
"That's all we're asking Jake to do, but it's really about us as a club focusing on the bigger picture about what's important for this game and what it's going to take to be successful."
The Demons have won four games in a row against bottom-eight teams, which leaves Sunday's clash at Traeger Park as a chance to make a statement against a top-four heavyweight.
Goodwin said they respected all teams equally and wouldn't underestimate the Crows despite their undermanned status.
"It doesn't matter when you play Adelaide," he said.
"They're a strong club, they play the same way, they're really strong on the contest and it doesn't really matter who's in the team, you know what you're up against."
Matt Crouch, Luke Brown and Wayne Milera are chances to return for the injury-hit Crows, but captain Taylor Walker and midfielder Rory Sloane remain at least three weeks away.