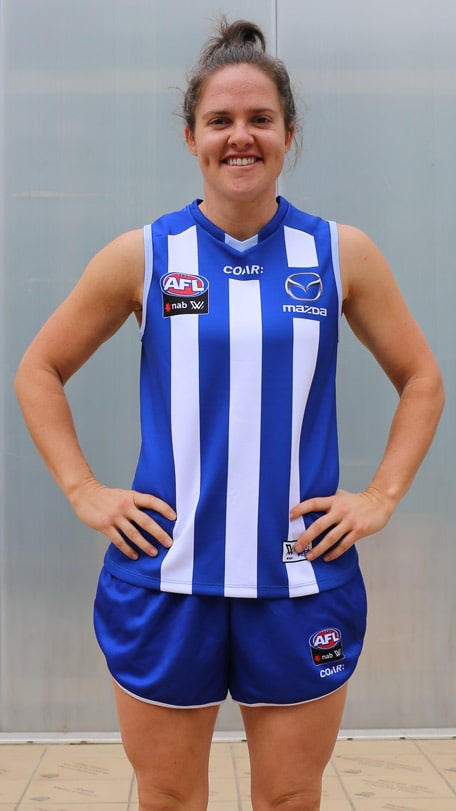 WHO BETTER to sell a club to prospective players than other players?
North Melbourne got its AFL players Ben Brown, Jamie Macmillan, Luke McDonald and Taylor Garner involved as it started developing its AFL Women's team.
The Kangaroos have already signed 17 players – headlined by stars Emma Kearney, Kaitlyn Ashmore, Moana Hope and Emma King – ahead of their entry to the NAB AFLW competition in 2019.
But the club believes the quartet was highly influential in getting several AFLW players over the line.
"It probably started in the middle of last year. Benny Brown's been doing a lot of stuff with the (VFLW) Melbourne University side that trains here, so he got involved first," Macmillan told AFL.com.au.
"Laura (Kane, the AFLW team's football operations manager) approached myself to get involved with the initial setting up of the AFLW side, the planning and the list management.
"What myself and Ben could offer was a bit different, a player's perspective, so then they approached Luke and 'Garns' (Taylor Garner) to also get involved. From there it developed into a list management committee of eight to 10 people, with four players on it."
Macmillan said both he and McDonald were interested in list management, and it was a good way of getting involved.
"It's sort of hard because in football there are a lot of players who enjoy that side of the game, list management and recruiting.
"But when you're a male player, you can't go to the club and ask if you can help with your own list management committee, because you're obviously dealing with your own career.
"So, it was an opportunity for a couple of players to dip their toe into that space and have an impact."
McDonald said he enjoyed being able to share with prospective players about how much he enjoyed playing at North Melbourne.
"We tell them about the club and how lucky we are to be here," he said.
"These girls are going to be using our facilities, so we just tell them about day-to-day life at the club, how good our facilities are and how much better they've been over the last few years.
"It just gives them an opportunity to ask us players rather than staff just some honest questions.
Players who they spoke to who decided to join the expansion team included Kearney, Jess Duffin, Jenna Bruton and Jasmine Garner.
"There were times we'd put a phone call in or have a chat, as Luke said, to give them a player's perspective on the club," Macmillan said.
"Then there were others who'd come in and meet face to face with our AFLW staff and we'd jump in and show them around a little bit.
"Being able to sell the club to them from the players' view is something no coach or staff member is able to sell, because they haven't lived it. The girls really enjoyed being able to get that different perspective on things and seeing we were taking an interest in their football as well."
McDonald paid close attention to the 2018 AFLW season, keeping an eye on players the club was keen to approach.
"I watched as many games as I could and even went to a couple of them," he said.
"Anything that can grow the game is good for everyone. You can see with the numbers in youth girls footy coming through, it's definitely been a success.
"We've been itching to have a team and we're really… to have so many girls who want to come and play for us."