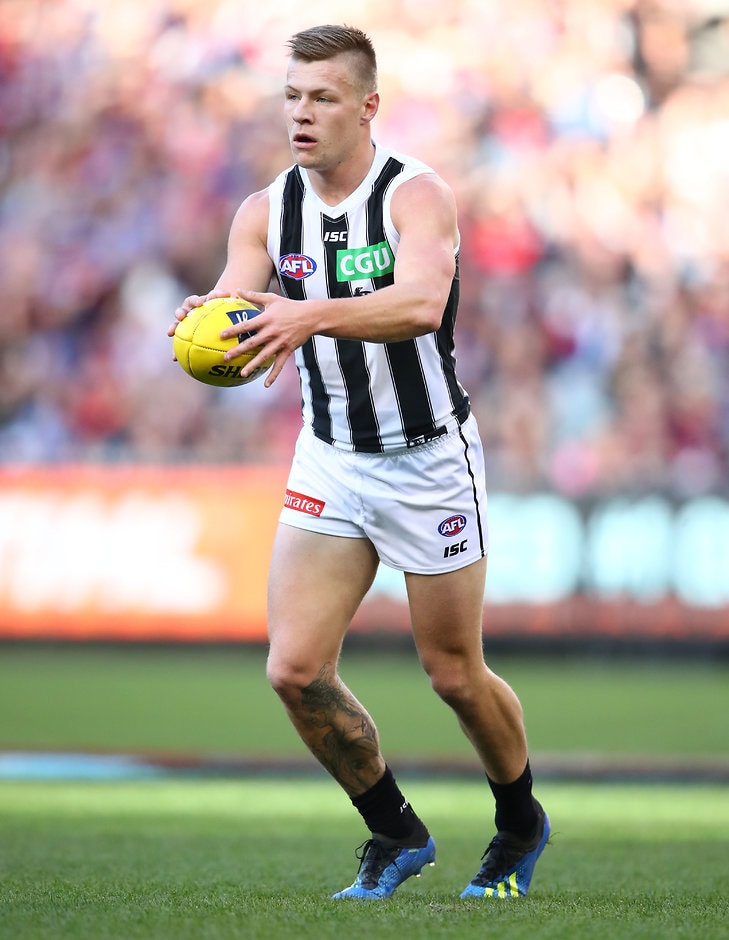 If he can stay, then obviously we would like to be able to facilitate that. But if he gets a godfather offer, then what do you do?
Jordan De Goey's manager Ben Niall
JORDAN De Goey's manager Ben Niall has been fielding texts from rival clubs during matches in which the Collingwood star has been dominating, but contract negotiations with the Pies will begin in the next fortnight.
The plan is for the out-of-contract young gun to stay in the black and white, but Niall acknowledged to Melbourne radio station SEN on Thursday a potential "godfather" offer would give the bullocking forward plenty to consider.
De Goey, 22, was suspended indefinitely in February after being caught drink driving.
It wasn't the first time he had been in trouble with the Magpies after breaking his right hand in a bar fight on the eve of the 2017 season, but initially lying to the club by saying he was hurt while playing with his dog.
Contract talks between Niall and Pies list manager Ned Guy were put on hold to see how De Goey reacted to his indiscretion and its penalty.
"At the start of the year … I sat down with Ned and said, 'Look, let's not even have a conversation about potential and all that. Let's give this until the middle of the year," Niall said.
"Let's see if he embeds the right behaviours and standards and if we see the behavioural changes on a good trajectory, and the form is going well.
"We always agreed with the footy club that around the middle of the year, the next couple of weeks, we'll sit down and just start a conversation."
In that time, De Goey has kicked bags of five and six goals, while he was scintillating in Collingwood's Queen's Birthday win over Melbourne, amassing 30 disposals and 12 inside-50s.
"Obviously, my phone's been ringing all year. I'm getting texts during games," Niall said.
He was asked whether those were from rival clubs.
"Yeah. Look, it's a good industry and it's very transparent," Niall said.
St Kilda is among the teams to have flagged their interest in De Goey.
"If he can stay, then obviously we would like to be able to facilitate that. But if he gets a godfather offer, then what do you do?" Niall said.
"We're in that sort of situation that we're not looking to leave. We're going to try and have a conversation with Collingwood, we'll try and get a deal done, but obviously we've also got to be realistic about, if there's such a huge gap, then you've got to look at it.
"The first thing we've got to do is sit down with the Pies and have a conversation about all that. We hope we can get it done."
De Goey was drafted with the No.5 selection in 2014 and he has reached a new level this season, helping Niall get a handle on the player's value.
"I've got a better idea than I did six weeks ago. I've talked to enough clubs and got a bit of an indication of the sorts of offers that are out there," Niall said.
"There's two dimensions. You can make a great offer for a player but what are you going to do to get the deal done is the second question.
"I went through this with Heath Shaw, and a number of players, Chris Dawes, you've got to be able to get them to the destination. I'm not suggesting that's going to happen, but … what is the market saying that he might be worth to leave, where is it realistic for him to go and what's the price to stay?
"Fundamentally, he's been in an environment that's been really good for him."
De Goey's off-field troubles won't affect his contract value, according to Niall.
"I don't think there's a discount for 'bad behaviour', in inverted commas. I would say that's more about what is the typical price to stay and what is the premium with which it becomes more difficult to stay," Niall said.
Niall expressed his pride in De Goey.
"He's always had the talent to be something quite special, and he's still got a long way to go. He's just scratching the surface of his potential, but the good news is he's on the right trajectory in terms of his personal and professional habits," Niall said.
"He's come a long way. More than anything else, I'm just really proud of him. What's happening on the field is a reflection of a lot of personal growth and development as a young man who's becoming more self-aware and growing up and in the spotlight.
"He had a pretty tough moment earlier in the year. We all muck up every now and then."
Regardless, De Goey has made Niall's job easier.
"You can't do any better negotiating than what he's been doing on the field."
Podcast: Are the Magpies flag contenders?
Find AFL Exchange on iTunes, Audioboom, Acast, Mixcloud or RSS.