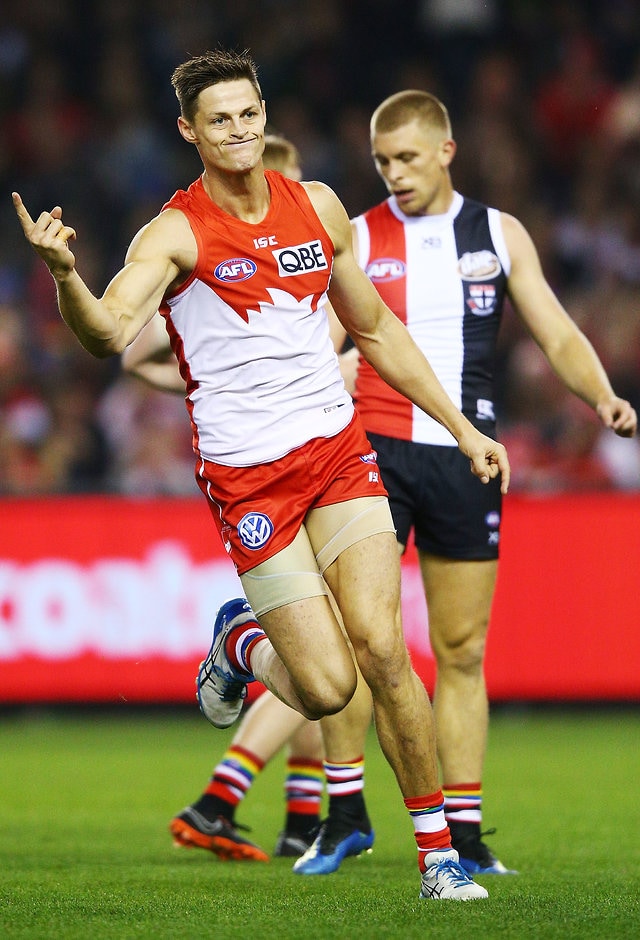 The next month is going to be really, really crucial to see how the season ends up
Callum Sinclair
HARD-WORKING Sydney ruckman Callum Sinclair says the next month is crucial for his surging side.
Sinclair, who has shouldered the vast majority of ruck duties since Sam Naismith went down with a season-ending ACL knee injury in March, has been a strong presence for the Swans, who have won six straight going into this week's bye.
While that streak after three early home losses has lifted Sydney into the top two, their testing draw either side of this week's bye will shed further light on the strength of their flag credentials.
After ending West Coast's 10-match winning run last week, Sydney will emerge from its bye to face other finals aspirants in each of its next three games.
Sandwiched between Etihad Stadium encounters with premiers Richmond and North Melbourne – one of the three teams to beat them this year – will be a home game against Geelong.
'"As a playing group we've spoken about the next month is going to be really, really crucial to see how the season ends up," Sinclair said.
'"We're playing some pretty quality sides the next month, it's going to give us a real gauge of where we're at."
Sydney have won its last four fixtures at Etihad Stadium and all six of its interstate games this season, including clashes with West Coast and Geelong.
"I think the club is really good in preparing us for travel every second week," Sinclair said.
A backup ruckman for most of his five previous campaigns at West Coast and Sydney, the 28-year-old Sinclair is enjoying a breakout season.
He is prospering under the tuition of his former Eagles teammate Dean Cox, who is now an assistant coach at Sydney.
Sinclair has already amassed more hitouts than in any of his earlier years and is on track to also log season-best tallies for marks, disposals and goals.
"I like to think that I've improved and I've become a lot more of a consistent player this year," Sinclair said.
While competing well in his normal ruck duties, Sinclair has gathered plenty of ball around the ground, notching three of his four highest-disposal games this season, including his AFL best of 22 against Carlton earlier this month.
Naismith resumed running this week but won't return this season, and Sinclair isn't feeling the pinch physically despite his increased workload.
"I feel the same as I did last year," he said.