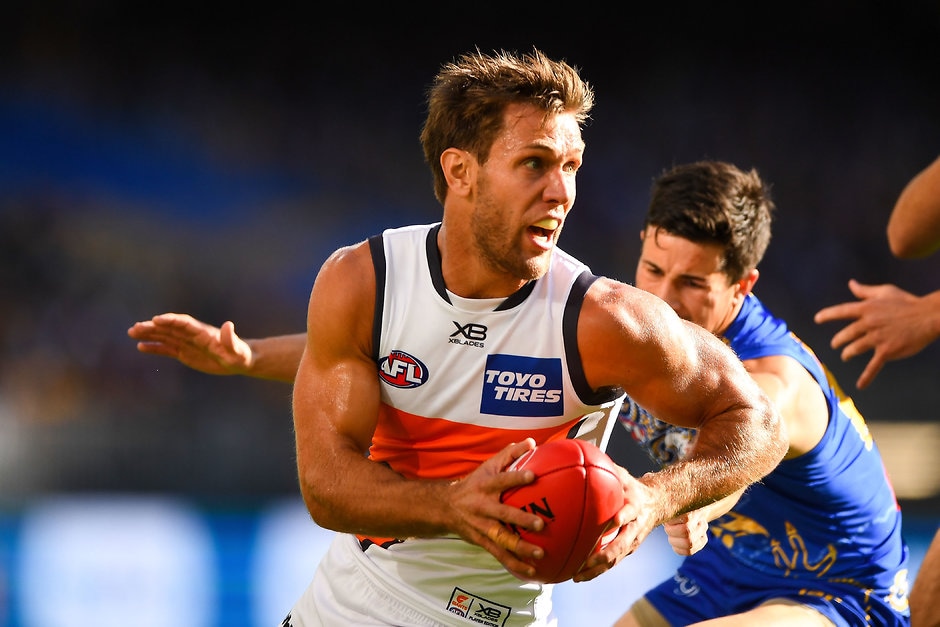 What people refer to more readily compared to what we value internally is poles apart
Matt de Boer
BEHIND every Sebastian Vettel is a low-profile, humble mechanic that is every bit as valuable in keeping the Ferrari purring.
That's where the related perception about Greater Western Sydney is often off the mark, or at least it is these days.
Josh Kelly, Dylan Shiel, Steve Coniglio, Lachie Whitfield, Toby Greene and Jeremy Cameron are undoubtedly the Vettels of the Giants' set-up, but don't discount their on-field mechanics.
Or even what those big-name stars themselves stand for.
The gibes about GWS only being capable of "pretty football" and lacking the soldiers willing to roll up their sleeves and get their hands dirty look a little silly now.
There is grit to go with the glamour, and perseverance to go with the pizzazz.
Players like Matt de Boer, Sam Reid, Dawson Simpson, Zac Langdon, Brent Daniels, Adam Kennedy, Matt Buntine and Daniel Lloyd deserve your attention.
"Your draft pick isn't a prerequisite for playing in this team," de Boer told AFL.com.au ahead of the Giants' clash with Adelaide in Canberra on Saturday night.
"When I hear about Lachie Whitfield; it's always how he's a talented, skilful player. But I think of the clip we showed of him going back with the flight and chasing like his life depended on it.
"So that external view and what people refer to more readily compared to what we value internally is poles apart."
De Boer, in many ways and with full respect, is the chief mechanic at GWS, down to the dirt – rather than grease – on his playing top.
He could have been washed up as an AFL footballer as a 26-year-old two summers ago, after falling out of favour at Fremantle, then being delisted.
But Giants coach Leon Cameron saw something in de Boer despite offering him a frank assessment that he'd start as the "27th or 28th player on the list".
Interesting, too, is that the former Docker once shared the perception about GWS relying solely on talent over substance.
De Boer is now playing career-best football – averaging 20 disposals and almost a goal a match, including 35 touches and a major against Brisbane in round six – and is one of the club's great advocates.
"It's hard for me to comment on pre-me (at GWS), and what the selection criteria was then," de Boer said.
"But since I was at the club, Leon's been very transparent about what we're trying to build and achieve, and the importance of certain role players to come in and do exactly that.
"We know as the team rises, individual brands will rise within that, so that ultimate success is our purpose and what drives us."
Written off after slumping to their fifth defeat in the opening 10 rounds and with a mounting injury list, the Giants – in their seventh season – made a stand, in a critical juncture in their history.
Since then they rank No.1 in the AFL for contested possession and clearance differential, and no team generates more scores from stoppages.
"We enjoy it when people write us off, because internally our resolve couldn't be stronger," de Boer said.
"It's a great place to be at the moment and there's a confidence in the group, but there's definitely no complacency, because it's underpinned by hard work.
"We're really excited about the next two months and what we can do as a group."
Matt de Boer on his blue-collar teammates
Zac Langdon: "His work-rate is phenomenal. The small forward's job on paper is to kick goals, but we love the way he chases, tackles and harasses – and that will hold him in great stead for the next eight to 10 years."
Sam Reid: "He laughs that he's been drafted the most times out of any player, but he just puts opponents to sleep when Leon asks him to go and do a job. The way he gets the most out of himself is really quite impressive."
Dawson Simpson: "I was shattered to see him go down with injury. He's the heart and soul of this team and he must crash when he gets home, because he gives everything to the club, in terms of energy."
Daniel Lloyd: "He made a really big jump this pre-season and is having a great impact. He's as hard as nails, tackles like a man possessed and then can hit the scoreboard with his booming kicks."
Brent Daniels: "He and Zac Langdon make up our mosquito squad. He had an unfortunate start with a knee injury, but since then he's shown an ability to run people down from behind with that appetite and hunger we love."
Matt Buntine and Adam Kennedy: "They've both had knee injuries, but what they've been able to do since the middle part of the year has been really infectious. They bring energy, they lock down on an opponent, they're hard as nails and they run off and create at the right time as well."