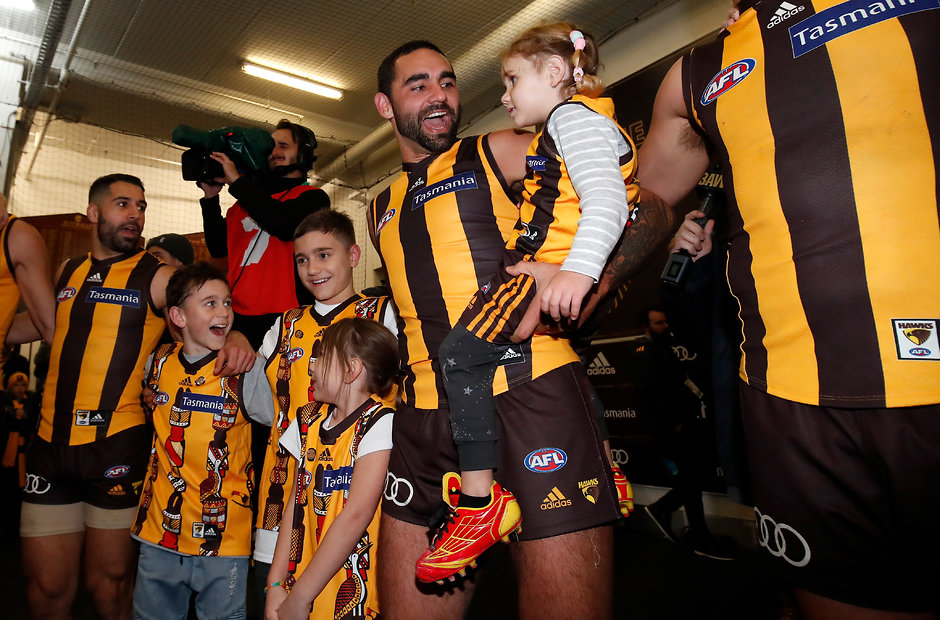 HAWTHORN great Shaun Burgoyne's decision to play on next year brings with it all sorts of possibilities.
It leaves the door ajar for the richly talented 35-year-old to potentially become the fifth footballer in VFL/AFL history to reach the 400-match plateau.
That would require the Hawks' 353-gamer to continue into 2020, which would be an incredible 20th season at the highest level.
More realistic is the likelihood of Burgoyne passing fellow champion Adam Goodes' 372 matches – the eighth-highest tally in history – to be the most capped Aboriginal player of all time.
The man nicknamed 'Silk' typically played down the scenario in an interview on Hawthorn's website at the start of the week that announced his re-signing for next season.
But there is major significance in such a milestone, particularly given the standing of both men in the game.
Burgoyne and Goodes both use their platforms to campaign for the cause of their people, with the Hawk succeeding the latter as chairman of the AFL Players' Association's Indigenous Advisory Board in 2016.
"(Goodes is) someone I look up to and he's achieved everything in the game and is doing amazingly well off the field now he's retired, so to have my name mentioned with his, I feel embarrassed," Burgoyne told AFL.com.au.
"But I'm also very happy to be mentioned alongside him."
Goodes, a dual Brownlow medallist who played for Sydney from 1999 to 2015, is rarely sighted in an AFL capacity these days.
The 2014 Australian of the Year became embroiled in a number of unfortunate and racially charged incidents and was regularly booed towards the end of his career.
AFL STATEMENT ON GOODES Gill's message to fans
KEEP CALLING IT OUT Goodes expects racism to rise
"It was disappointing the way it ended and he's moved on now to life after footy," Burgoyne said.
"I can ring him and talk to him whenever I want and I feel like I have a really good friendship with him and if I need his advice with anything, he'd always be first to help.
"At some stage, he'll make up his mind whether he wants to reconnect with footy or not. That may take some time, but we'll see how that goes.
"He's a quality human and if I can follow in his footsteps in life after footy and have a bigger impact outside of the game, that'd be something I'd be proud of."
Burgoyne is also proud of his growth from the shy kid who started at Port Adelaide in 2002 to the man comfortable and confident enough to discuss Aboriginal issues in the public forum.
He lauded the AFLPA's appointment of Leon Egan as its new indigenous and multicultural officer and hoped it would help foster a greater experience for all Aboriginal footballers.
There will be somewhat of a changing of the guard in indigenous playing ranks at the end of the year, with Cyril Rioli and Curtly Hampton retiring from the AFL, and Michael Johnson and Danyle Pearce likely to join them.
At the same time, Izak Rankine, Tarryn Thomas and Ian Hill are tipped to be first-round draft picks in November and Michael Mummery is another bright incoming prospect.
"Almost 10 per cent of lists are indigenous, so hopefully we can get the structures and support networks better at clubs," Burgoyne said.
"Some clubs do a really good job and some clubs need to help (more) in this department. Leon coming on board with the AFLPA will definitely help in those areas."
Burgoyne is also keen to see the number of Aboriginal coaches in the system climb from three – Andy Lovell, Xavier Clarke and Roger Hayden – into double digits in the near future.
PATHWAY Indigenous players climb steps to coach's box
That number could slip to two next season, with Gold Coast announcing that Lovell will not continue with the Suns in 2019.
But Burgoyne, who turns 36 in October, repeated his stance that coaching was not something he would pursue after his playing career ended.
"To have indigenous coaches, you have to have the pathways," he said.
"Having the Flying Boomerangs and these indigenous and multicultural junior programs and academies, you can get coaches in and train them up."