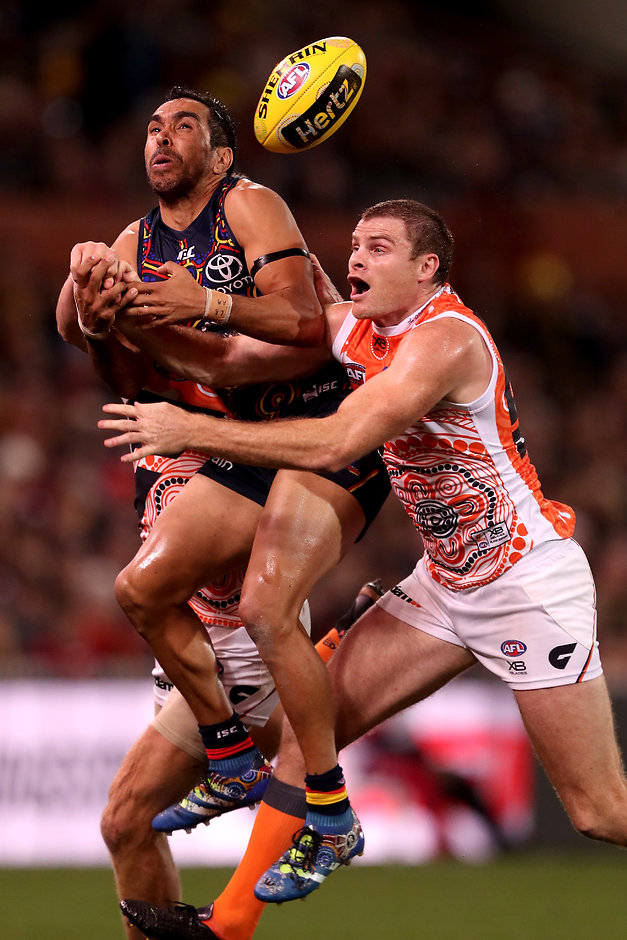 THERE'LL be a host of youthful talent on show when Greater Western Sydney and Adelaide clash on Saturday night, but a crucial one-on-one match-up between two wily veterans will be pivotal to the result.
Heath Shaw and Eddie Betts used to go head to head playing for two of the game's fiercest club rivals, now they do it for interstate clubs. But the gamesmanship between the Greater Western Sydney defender and the Crows goalsneak is still must-watch.
Shaw will get plenty of the footy and hope he can limit the influence of Betts, a mercurial forward who can turn a game on its head with his brilliance inside 50.
The Giant reflected on his longstanding duel with Betts this week and was full of praise and respect for his opponent.
"He's been a quality player for so long, he's one of the best, if not the best small forward I've ever played on," Shaw said.
"We've had some battles over the years, especially when he was at Carlton and I was at Collingwood, and then a few pretty good ones since we've both changed clubs, too.
"He's sneaky so you've got to be on your toes and concentrating for the whole game or he'll get a hold of you.
"I always look forward to playing on Eddie, although he has touched me up a couple of times."
Shaw is a premiership Magpie, a club champion at the Giants and a two-time All Australian, while Betts has won AA honours three times, and has led his two clubs' goalkicking six times.
Both players are within reach of the 300-game mark, and despite the amount of times they've scrapped over the years, Shaw said there's never been any animosity between them.
"To be honest, over the years we've probably grown more of a friendship rather than a rivalry," he said.
"I have a lot of mutual respect for all the old guys who are over 30 and still battling away.
"I know how dangerous he is, he's always a fierce competitor and it's always good fun."
Shaw was given extra time off during the pre-season late last year and said he's reaping the benefits of the lighter load with three games left before the finals.
He once again leads the League in kicks and rebound 50s and alongside Phil Davis, Lachie Whitfield and Nick Haynes, has been a vital part of the GWS backline.
The veteran is the oldest player on the Giants' list and will be 33 when the 2019 season begins, but said he's had no thoughts about retirement and will definitely see out the final year of his contract.
"Unless you've heard something different, (coach) Leon (Cameron) might have a different say on it," he said with a laugh.
"I was a bit slow to start this season and it took me a while to get going, it was probably the extra holiday I had over the pre-season break.
"That was more of a mental break than a physical one, just getting away from the club and the meetings and things like that.
"It was great to get away and come back refreshed.
"But like the team, my last eight or nine weeks have been pretty consistent with the balance between my defensive and attacking roles.
"I feel pretty confident with the way I'm going, I'm moving pretty well, and the team is winning so that always makes me happy."