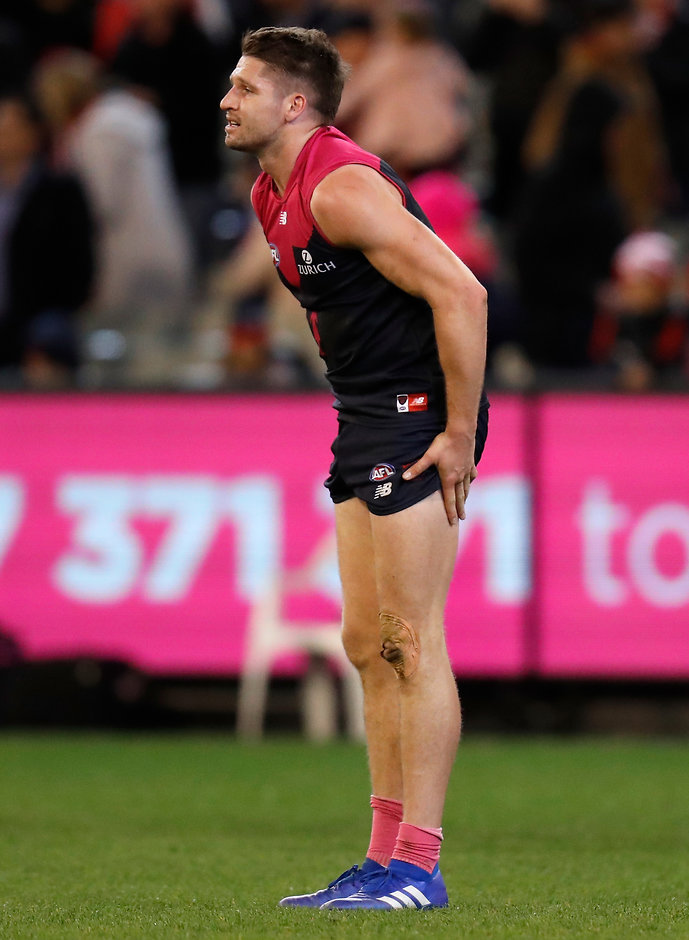 We continually review every area, whether it's hamstrings, feet – the whole lot
Simon Goodwin
MELBOURNE coach Simon Goodwin has labelled as "irrelevant" any comparison between Jesse Hogan's season-ending navicular stress fracture with the Demons' series of other foot issues.
Hogan was the latest Melbourne footballer to suffer a stress-related foot injury against Sydney on Sunday, with scans revealing a small fracture in the navicular bone.
Co-captain Jack Viney is sidelined for the second time this year because of early signs of bone stress in the toe on his right foot.

EAGLES V DEMONS Can the Dees avoid finals heartbreak?
Billy Stretch (toe), like Hogan, is out for the rest of the season, while Tom McDonald – now arguably the Demons' most valuable player – missed the first five weeks of 2018 with a similar setback.
Aaron vandenBerg also spent almost 18 months out after developing a stress fracture in his heel, but is back playing and will be part of Melbourne's crucial clash with West Coast in Perth on Sunday.
"We need to really knock that one on the head. That was a specific incident with 'Hoges' – it had nothing to do with (training) loads," Goodwin told reporters.
"He had a specific incident in a game that he was aware of (and) we assessed it, we got the scans and it obviously came back with a partial, small fracture to his navicular.
"That had nothing to do with loads – that's completely irrelevant to some of the other issues we might have had earlier in the year."
Goodwin indicated in mid-July he would review all facets of their training program in regards to the spate of foot problems, but said on Thursday they had stuck with the same preparation.
"We continually review every area, whether it's hamstrings, feet – the whole lot," the coach said.
"But we haven't changed the way we train. We're continuing to train the same way (and) we're continuing to train on the same ovals, so nothing's changed from our end."
Sam Weideman, the No.9 draft pick in 2015, will be part of the solution in Hogan's absence, with Goodwin earmarking at least three changes, with Jake Melksham (hamstring) and Michael Hibberd (quad) also to return.
"(Weideman's) VFL form's been outstanding … and indicates he's ready for the opportunity, so we're looking forward to getting him in," Goodwin said.
"He's worked really hard to get his body in a position where he can handle the demands of AFL footy. We've seen a huge change in his physical capabilities.
"He's launching at the ball incredibly well at VFL level, so it's a really strong opportunity (for him) at a really important time for us."
The Demons have won five of their last six interstate matches, so will make the trip west with some confidence.
They also edged out the Eagles in a three-point thriller in Perth last year – their first win there since 2004 – thanks to a brilliant McDonald match-winner.
Melbourne must win at least one of its final two games, with the other against Greater Western Sydney at the MCG, to play finals for the first time since 2006.
A win over West Coast would be the Demons' first over a top-nine side from eight chances this year.
"Narratives in footy change all the time. It's something that's in our game, it's prevalent – that's just complete Fugazi ('noise' or 'fake') for me," Goodwin said.
"Seventeen out of 20 games, we've been within a kick. That's a strong position for this club to be in.
"What we now need to do is start to maximise some of those moments and that comes with maturing as a team, that comes with putting ourselves in that opportunity all the time and that's something we'll embrace and look forward to."