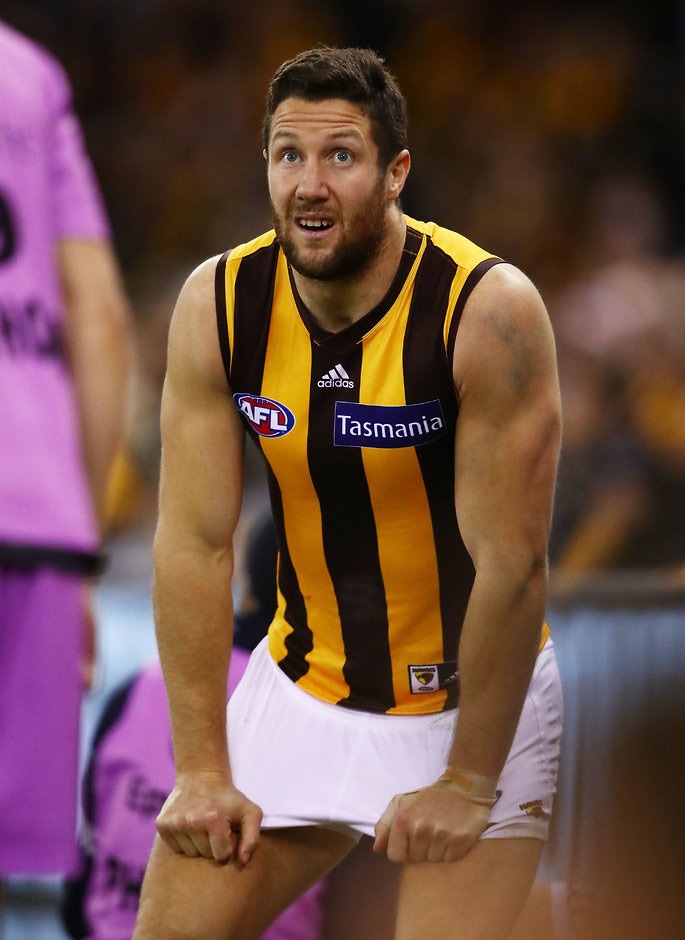 HAWTHORN won't shy away from the stakes on offer in next week's season finale against Sydney, with the winner to lock down an all-important finals double chance.
But coach Alastair Clarkson has issued a stern warning to his players; their finals fortunes will be cut dramatically short if they replicate their form against St Kilda on Saturday night when things heat up in September.
The Hawks got away with a four-point win against the struggling Saints, who were brave after being kicked from pillar to post in recent weeks amidst murmurings of everything from the coaching team's future, board unrest and speculative trade targets.

HAWKS HOLD ON Full match details and stats
But they were scrappy and struggled to score in the last quarter, with Clarkson pondering whether blockbuster fatigue from their last two games against Essendon and Geelong had something to do with his players' lethargy.
"I'm not sure if it was because of the intensity they played at or if we were just a little bit off, I don't want to downplay St Kilda in any way … I think they forced us to be a bit off to be fair," Clarkson said.
"I thought overall the best team probably lost the game tonight and we're lucky we get the chance to bank the four points and guarantee us a finals berth, but if we don't play a little bit better than that, then it will be a pretty hasty exit for us out of the finals, I reckon.
"We're going to find out a lot about ourselves over the next two, three or four weeks, I'm not sure how long it will last for us, but I don't think it will last very long if we play the sort of footy we played tonight."
Clarkson will have to find a remedy for such a psychological phenomenon before next Saturday night, given a top-four finish is on offer for the victor.
The loser will have to rely on other results to see if they also manage to sneak in.

STEELE CLAMPS MITCHELL Five talking points
"It's an intriguing game, I think everyone had written the Swans off three weeks ago and I think they've had three good wins on the trot against formidable opponents," Clarkson said.
"I hope we're up for the fight, and these contests between the two sides, whether they've been up at the SCG or at the MCG, have been keenly contested for a long period of time.
"We'll look forward to the challenge of playing that game but excited by the opportunity because it will be a real good entrée into what happens in the weeks following that."
He said the magnitude of the game wouldn't be lost on the players, who'll travel to the SCG with confidence having won their last four games there.
"I think they've got a fair feel for what's going on, they read the papers and understand the industry and what it means," he said.
"We're in fourth position at the minute and if we win, we give ourselves a double chance, if we lose, then we run the risk of getting taken over by sides sitting beneath us, so I think they'll be well aware of that."
Standing in their way will be former Hawk and current Swans spearhead Buddy Franklin, who kicked five goals earlier on Saturday against Greater Western Sydney.
"It's always a big challenge to let him off the leash, it's going to make it so much tougher for you, so we'll look forward to that contest and see how it unfolds," Clarkson said.
"We've just got to make sure we limit the supply to him and if he gets a lot of supply he's going to kick a score."

WATCH Alastair Clarkson's full post match press conference
Defender James Frawley didn't play after half-time after jarring his back in a marking contest.
Clarkson said the move to keep him on the bench was mainly precautionary, but that the injury would be monitored this week.
"I don't think it's very serious, but having said that, he wasn't going to be able to come on and play at full capacity so we didn't bother about trying to put him back on,"Clarkson said.
"We'll wait and see how that settles, sometimes backs can be nasty things that dag around for a little while and sometimes they can recover quite quickly … we're hoping it's the latter, but we won't know until Tuesday or Wednesday."