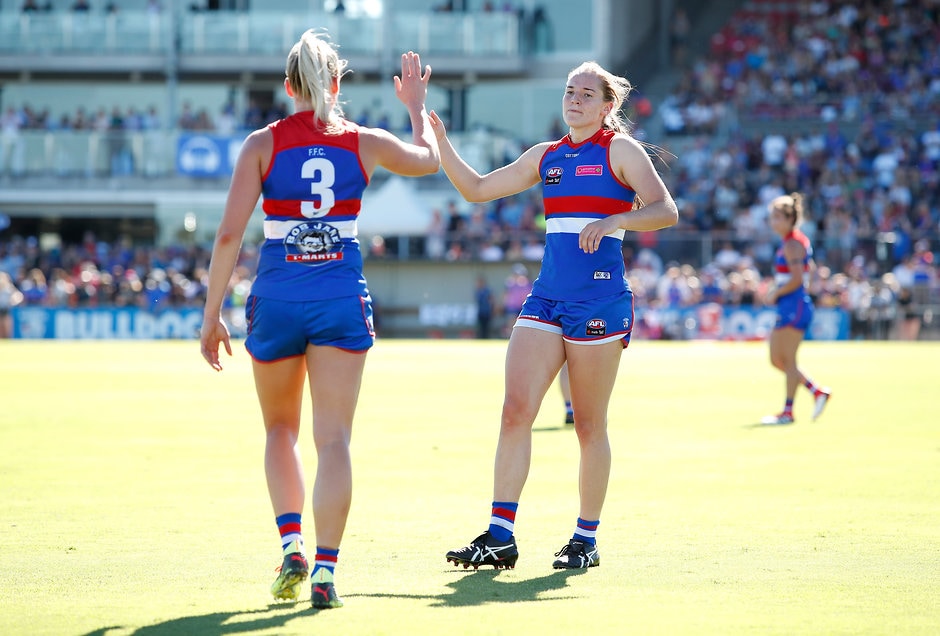 REVITALISED AFLW premiers the Western Bulldogs returned to training at Whitten Oval on Wednesday and are set to unleash their twin towers on the competition.
Coach Paul Groves told AFL.com.au having eight new players would give his side a boost.
"The energy will be there," Groves said.
A couple of additions in particular will add to the Dogs' firepower.
Captain Katie Brennan missed the three games leading up to the final home and away game of the year with a right ankle injury, came back, and was then suspended for the Grand Final.
It required a reconstruction in April and the 26-year-old missed all of Darebin's VFLW campaign, but she's completely recovered from that and was straight into full training.
"We didn't rush her. She had her ankle reco pretty much straight away, so she's ready to go and moving really well," Groves said.
Then there's former No.1 pick Isabel Huntington. The 19-year-old is being held back as she continues rehabbing from a ruptured anterior cruciate ligament in her right knee suffered in February.
In 2016, Huntington required a left knee reconstruction.
"She'll do a lot of the kicking and has started to change direction, and all that stuff, but I'll be fairly cautious with her, as I was last pre-season around her for her first knee," Groves said.
"We'll ease her into it. The aim is to have her out there round one and try to expose what she did in that one quarter against Brisbane."
Huntington was hurt minutes after she clunked a couple of big grabs against the Lions in round two this year and converted both shots.
"When you win the premiership and come in the next year, you've got girls like Katie and Izzy who haven't played, so (there are) two of the better players in the team who have the drive to want to play in one," Groves said.
Emma Kearney and Jenna Bruton are among those who have left, going to North Melbourne and weakening the Dogs' midfield depth.
"It's a bit of an unknown when you go into these things. We've drafted pretty young and pretty flexible players that can play in multiple positions," Groves said.
"Then we also bring in Tessa Boyd (sister of AFL Bulldog Tom), who comes in and can play through the midfield, pretty excited by that. Celine Moody is a ruck. (Free agent) Belinda Smith is just really an unknown. She's gone forward this year at East Fremantle and finished second in the goalkicking over there, and Freo only played her as a back, so pretty keen to expose her everywhere and see where it fits.
"But you've got the likes of Monique Conti, Brooke Lochland, Naomi Ferres, these types, they're going to be able to go through the midfield now. I'm pretty happy with the way we shape up."
Conti will juggle her WNBL commitments with the Melbourne Boomers during pre-season while Aisling Utri recently returned from China as part of the under-23 Australian development squad for hockey and will have her start to pre-season delayed by a fortnight while having a break.
Ferres joined in full training after injuring an ankle late in the VFLW season, Kirsty Lamb has recovered from a shoulder operation after missing the whole state league campaign while Ellyse Gamble isn't far away as she deals with a broken wrist.
There's been an Irish addition as well, with Aisling McCarthy having joined the Dogs.
"All we know is that she's fast, is rock hard at the footy, and really impressed us over the course of the week at the Crosscoders camp," Groves said.
"She's got an extremely determined attitude, kicks the ball really well and is a very unique player. I think she probably goes through the midfield as well."