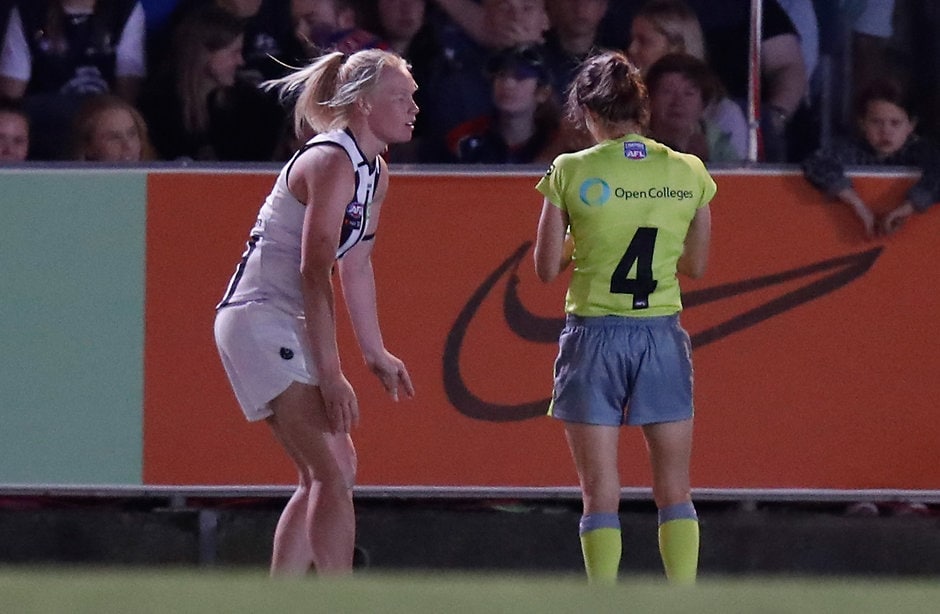 The weekend after I didn't turn the TV on, I didn't look at my phone, I didn't do anything, I didn't want to see anything. I was just devastated
Sarah D'Arcy
COLLINGWOOD'S Sarah D'Arcy still shakes her head about the moment of madness that led to her unwanted place in AFL Women's history.
D'Arcy was reported for kicking her Carlton opponent Sarah Hosking in the 2018 season-opener and eventually received a two-match ban in match review officer Michael Christian's first case.
She has deliberately never watched the incident and avoided the media coverage that followed.
"The weekend after I didn't turn the TV on, I didn't look at my phone, I didn't do anything, I didn't want to see anything. I was just devastated," D'Arcy told AFL.com.au this week.
"I was so worried it would affect the way people see me. My family and everything were great support and were saying it's so out of character.
"Even thinking about it now, all I can put it down to is just like a brain fade, a reaction: 'Did that just happen?'.
"I definitely did learn from it and I think it made me stronger in that way. It doesn't define who I am. I'm nothing like it was depicted."
A chorus of teammates and playing peers echoed those sentiments at the time, including Magpies captain Steph Chiocci and Western Bulldogs star Ellie Blackburn.
D'Arcy's focus has long since shifted to the upcoming AFLW campaign, where she will be one of Collingwood's most experienced players.
Check out all the latest AFLW news here
The Pies are in a period of transition, with Emma King, Jess Duffin, Jasmine Garner and Moana Hope joining new club North Melbourne and Christina Bernardi now a Giant.
Reigning AFLW Rising Star Chloe Molloy will also miss next season recovering from a serious right foot injury.
Duffin, Garner, Hope and Bernardi used to be D'Arcy's forward allies, so the 27-year-old will have a fresh group of players around her in attack in 2019.
Draftee Sophie Alexander, Collingwood's leading goalkicker in the VFLW season, will be one of those forwards, potentially along with Stacey Livingstone and Ruby Schleicher.
"I am the most experienced one left, so I think I will take on more of a leadership-type role," D'Arcy said.
"But, in saying that, we have a very versatile team. We've got Jaimee Lambert and she's someone who's played forward and can play anywhere and bring leadership to that position as well.
"There's a whole heap of players who've played forward before and even from the new girls, Sophie Alexander was our leading goalkicker for VFL and made the VFL team of the year, so she's someone who could step right in."
D'Arcy herself spent the VFLW season playing a variety of roles on top of her forward duties, including through the midfield and even a month down back.
She is confident of being better than ever when the season starts in February, especially with her positive first impression from the Pies' new head of women's sport, Jane Woodlands-Thompson.
It is Woodlands-Thompson's impact on the off-field structure and the promise of players such as Eliza Hynes, Darcy Guttridge and Sharni Layton that make D'Arcy bullish about Collingwood's prospects.
"I think there's no reason we can't be just as good (as the first two seasons) and I think we'll be even better," she said.
"Our fans can expect good things from this team, especially with the program we have in place. It's really exciting."
The Magpies are heading on their annual pre-season camp to Gippsland next weekend, with D'Arcy bracing for another 3.30am wake-up call for hill sprints.
Sarah D'Arcy in action for Collingwood in the first AFLW season. Picture: AFL Photos


Sarah D'Arcy on …
The AFLW's first collective bargaining agreement and resultant pay increases
"It's been good to see the improvement with that through each season and I think it's only going to get better for all of us. There's one extra week in the finals, two new teams (North Melbourne and Geelong), the conference system and then next year (2020), there are four new teams coming in, so it's just going to keep going up and up."
The conference system
"I'll probably be able to answer that at the end of the season. I would love to play every team. Ideally it would be best for a competition to play every team at least once. We were favourites the first year but Adelaide might have been further down the bottom yet they won it, then the Bulldogs finished near the bottom then they won it, so it's so unpredictable. You can't really put teams into a conference based on where they finished the year before. I don't know how you'd work it, unless it goes into an east-west conference kind of thing."
Jane Woodlands-Thompson
"Jane's come in and she's taken over as head of women's sport, so she's actually in charge of the netball and overseeing the women's football as well. She's come in very recently but already if we've got something medical or strength and conditioning-related, there's one person we see, then he'll tell us where we go. Last year it was like, 'Do we go and see the doc or someone else?'. It's really good. We were all blown away by her presentation on Monday and already, to me, it feels different but in a very good way."
Her five-week teaching placement in remote Northern Territory community Jilkminggan, near Katherine
"That's why I didn't play the last bit of the VFL season. Katherine is three or four hours out of Darwin, then Jilkminggan is another hour-and-a-half. That was one of the best things I've ever done – I absolutely loved it. There's a program called SWiRL through Vic Uni and they take about 20 pre-service teachers up to the NT for their placement. I applied and got in. I just want to go back up there and teach. My whole uni is finished now and I can just focus on football."