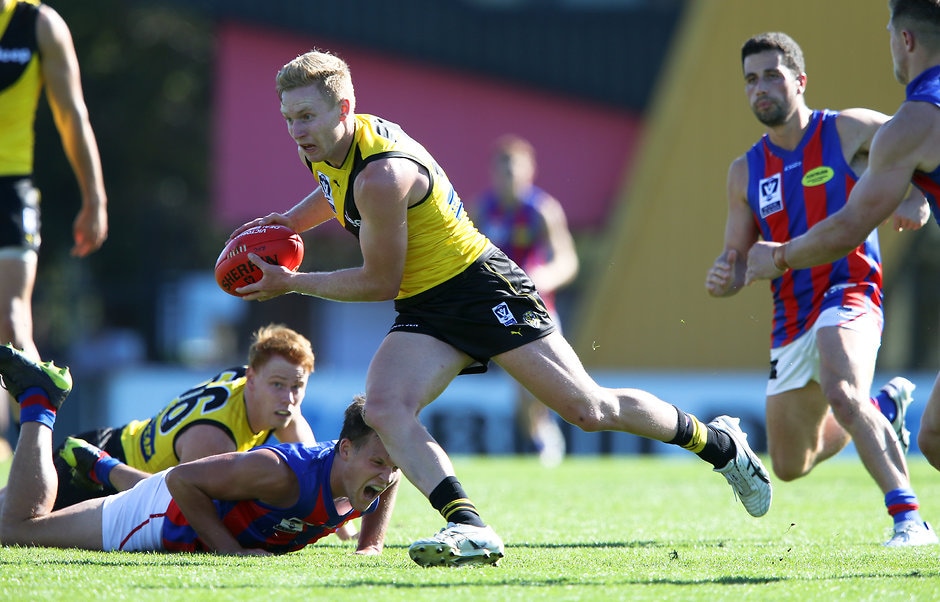 LUCKLESS former Tiger Nathan Drummond will suit up for Footscray in the VFL in 2019, hoping an injury-free season will lead him back to an AFL club.
The 23-year-old will start pre-season with the Bulldogs this week after signing a one-year contract with the club following his delisting from Richmond last month.
NAB AFL DRAFT HUB Latest news, video and more
He won't pay attention to this week's NAB AFL Draft or the pre-season and rookie drafts that follow; in fact, he didn't even know they were happening this Thursday and Friday.
But, he hopes to have a reason to be more interested next year should his body hold together for a full season, which is something that eluded him in his four years at the Tigers.
DRAFT MACHINE Pick the top 10, win $10K
"I still want to play at a high level of footy," Drummond told AFL.com.au this week.
"I guess if I do get on the radar of an AFL club or get rookied or drafted again in the next couple of years, it would be a big bonus.
"At the moment I'm just trying to focus on getting through a full season at a good level.
"I feel like my best footy is ahead of me, I just need that opportunity and a bit of a break with injury and a bit of luck to be able to perform."
INDICATIVE DRAFT ORDER Your club's latest picks
Drummond's first anterior cruciate ligament tear, on his right side, happened in his first AFL game on Anzac Day eve in 2015.
He returned from the patella tendon graft operation the following season and played four AFL games towards the end of the year.
WHO'S LEAVING YOUR CLUB? All the latest retirements and delistings
But heartbreak followed when he popped the left ligament in the second VFL game of 2017, which saw him undergo a quad tendon graft reconstruction.
Since, he's learned that genetics may have contributed to his back-to-back knee injuries, with his dad tearing both of his and his mum wrecking one during their own sporting days.
But nothing could have prepared him for what happened this year when he suffered repeated right hamstring injuries to the extent where he needed surgery.
"I was getting pretty frustrated with the hamstring stuff coming off an ACL reco, I just wanted to play footy," he said.
"To have my hamstring torn three times and then finding out I had to have surgery two or three months after I'd initially done it was pretty frustrating when I was out of contract and knew I had to play to keep myself on a list.
"Mentally, it was probably a bit tougher than going through a reco when you know you're out for 12 months and you can accept it mentally and you just have to grind through."
Drummond knew in late July he was unlikely to be at Richmond beyond this season.
Coach Damien Hardwick had bluntly told him he needed to play – and play well – towards the season's end to earn a new deal.
Two days after their chat, Drummond suffered another hamstring injury at training and the surgery to repair a hole in his tendon was ordered.
His season was over, as was his career in the yellow and black.
He could have walked away then, but his pride meant he kept training with the players as they geared up for finals.
"I wanted to maintain a professional approach, rather than sulking and thinking it was the end," he said.
"I wanted to keep a positive mindset of trying to get something out of that last two months even though I wasn't playing.
"I'm not that sort of person [to walk away]. I've always been pretty professional with the way I've gone about it and I never wanted to leave on bad terms either."
Drummond travelled to Thailand for the Tigers' end of season trip, despite admitting it was tough to accept he wouldn't be returning to start pre-season with them.
When he came home, he set the wheels in motion to start an apprenticeship as an electrician and is in talks with a Melbourne school about an indigenous mentoring role for next year.
Now, he's gearing up for his first pre-season at Whitten Oval, although he'll have to wait until a minor calf tweak mends before he hits top gear and is looking forward to playing as an inside midfielder/half-back flanker under Footscray coach Daniel Giansiracusa.
"My career hasn't panned out the way I thought it would so far - doing my knee in my first AFL game is sort of the way it's gone so far," he said.
"There's definitely been some dark days and tough challenges along the way.
"But it's made me who I am and also helped me through other challenges I've had in footy.
"I don't have too many expectations; I'm just taking each moment rather than thinking too far ahead now.
"I'm just focusing on trying to have a good pre-season and hopefully an injury-free year next year and I'll see what happens after that."