THE AUSTRALIAN political order changed on Saturday night and so too did the football order.
Collingwood, a pre-season flag fancy, is done and dusted for 2013 after losing by 24 points to Port Adelaide in a stunning elimination final result at the MCG.
Believe it or not, the Power will face Geelong in a knock-out semi-final at the MCG on Friday night after their 12.15 (87) to 9.9 (63) victory.
Port led at every change, but after Dayne Beams and Travis Cloke goaled in the opening five minutes of the final quarter, Collingwood had the lead and with the pro-Magpie crowd in full voice, all the momentum.
But that was the last shot Collingwood would fire for the year. As has been their wont, the super-fit Power put on their skates, started to run and they finished all over the Magpies. Last year's preliminary final appearance was quickly made to seem a distant memory for Nathan Buckley's men.
Skipper Travis Boak soccered through a goal to give Port back the lead, first-year midfielder Ollie Wines snapped one from deep in a pack, Chad Wingard ran into an open goal and then Jay Schulz marked strongly and goaled and the upset was complete.
Wingard kicked three goals to confirm his budding superstar status, while Schulz also finished with three goals in his first, and long overdue, final. Port kicked the last 4.6 of the match, to win in emphatic fashion.
"As has been the case all year, we've been able to step up ... tonight was another fantastic performance.
"I can't hide from the fact that I probably didn't expect to be here. When the opportunity came to take the job, I didn't think this was probably going to happen.
"But I like to win everything. It doesn't matter what I do, I want to try and win, and I said that to the boys way back in London – we want to win everything we play in. And if you do that, you get a good attitude, I reckon," he said.
Port had stars everywhere: midfielders Kane Cornes (28 possessions) and Brad Ebert (24), Tom Jonas and Alipate Carlisle down back, Matthew Lobbe in the ruck. And in Wingard and Wines, the Power have two future superstars of the AFL who showed they belong on the MCG in September. There can be no finer praise.
Port led a tight first quarter by a goal and then jumped to a four-goal lead in the opening three quarters of the second term, one of which included a relayed free after an ill-disciplined Heath Shaw threw his opponent to the ground in full view of the umpire.
Port surrendered the lead in the third term and again in the last, but Hinkley has his team fit and has injected grit into the side and they kept on coming.
"We fell down in a couple of key areas," Buckley added. "That was as bad as it has been all year and I didn't see it coming."
"Anyone who finishes the season without doing a lap of this ground is disappointed in some shape or form and we've clearly got lot work to do still,"
he said
.
Dane Swan can be excused – his herculean display in the third term, primarily as a marking forward, singlehandedly got his side back in the game.
Steele Sidebottom and Dayne Beams won a fair bit of the ball, but weren't damaging with their possessions and Cloke was disappointing with just two goals. Sorting out the forward line will be a big priority for Pies coach Buckley this summer.
And what about Hinkley, who has reinvigorated Port in just 12 months? On this election night, he might just about have sealed the vote for coach of the year.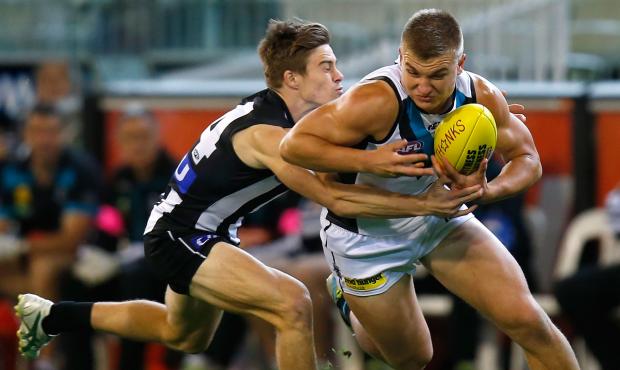 Port Adelaide midfielder Ollie Wines was outstanding in his side's win over Collingwood. Picture: AFL Media
COLLINGWOOD 1.4 4.6 7.7 9.9 (63)
PORT ADELAIDE 2.4 6.6 8.9 12.15 (87)
GOALS
Collingwood: Swan 3, Cloke 2, Keeffe, Macaffer, Williams, Beams
Port Adelaide: Wingard 3, Schulz 3, Boak 2, Wines 2, Westhoff, Monfries
BEST
Collingwood: Swan, Beams, Macaffer, Sidebottom
Port Adelaide: Logan, Ebert, Cornes, Jonas, Lobbe, Carlile
INJURIES
Collingwood: Lynch (ankle) replaced in selected side by Elliott
Port Adelaide: Nil
SUBSTITUTES
Collingwood: Alan Didak replaced Jamie Elliott in the third quarter
Port Adelaide: Aaron Young replaced Sam Colquhoun in the third quarter
Reports: Nil
Umpires: Donlon, Dalgleish, Jeffery
Official crowd: 51,722 at the MCG