IN ROUND two, Melbourne players managed just 20 minutes of effort before they were blown to pieces by Essendon.
Seven days later, they walked off the MCG having lost to West Coast by 94 points after doubling that output and managing a half of competitive football.
The Eagles, only up by 10 points at the main break following a remarkably impressive performance by the home side, put together their best ever quarter against the Demons to lead by 72 at the final change.
Five talking points: Melbourne v West Coast
It was an 11-goal-to-one quarter that set up the Eagles' first win for the season, with Daniel Kerr picking up 19 disposals and five clearances before being subbed out of his first game for the year at three-quarter time and Mark LeCras slotting back in with three goals after his round one arm injury.
Eagles not far away from best: Worsfold
The final score was a commanding 27.15 (177) to 13.5 (83), with Josh Kennedy and Jack Darling kicking five goals each and Dean Cox three.
West Coast coach John Worsfold said his players would learn from both the tight and competitive first half and the landslide second.
"There's always learning points, from wins and losses and really good quarters and really poor quarters," Worsfold said.
"There's stuff we'll look at it to say why did we score so well in that third quarter. We'll have a look at why. There's little things you can learn about what worked for us there."
Sadly though, the story of the afternoon was the relative ease the Eagles were able to dismiss the Demons after half time and following onfrom the club's humiliating 148-point loss to Essendon last week and their round one 79-point defeat by Port Adelaide.
It also followed a week where the club was again thrust into the spotlight and answers were demanded.
CEO Cameron Schwab was asked to resign on Tuesday before the players and coaching staff bunkered down in Sorrento in an attempt to find those responses.
The Eagles' half time lead was expected. What wasn't expected was the fact the margin was only 10 points, the Demons had been in front twice and had racked up 30 tackles – only five short of the total they had against the Bombers.
Their supporters clapped them off the ground as they headed to the rooms for the half time break, which was also a far cry from the reception they received last Saturday night.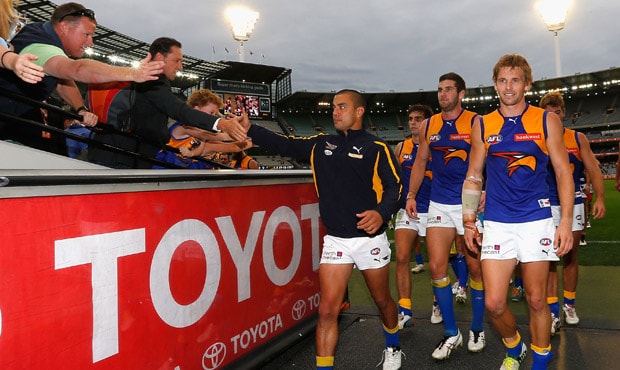 Returning heroes Daniel Kerr and Mark LeCras lead the Eagles off the MCG after their massive win over Melbourne. Picture: AFL Media
Nathan Jones was again a major ball winner with 17 disposals to the main break - 28 for the game – while Jack Viney again played beyond his years after needing his ankle treated early on.
Coach Mark Neeld said afterwards while the third quarter was not good enough, the first half was something the Demons could be proud off after the previous week's result.
"I know it's a little win. It's a tiny little thing but we were really proud of the response our players gave in the first half and we're driving forward," Neeld said.
"We thought it was a tremendous response from what happened last week.
"We as a group, and I know this is difficult, but certainly at half time, we were really proud of the fight the boys showed from last week, which was a complete train wreck.
"I think we showed today there is certainly enough to keep forging on and working hard and driving these boys as hard as we possibly can. I think they showed that today."
Worryingly, Rohan Bail had a concussion test in the second quarter after a history of head knocks but was able to return in the opening minutes of the third.
The Eagles lost Beau Waters minutes before the opening bounce because of a calf complaint
picked up in the warm up, with Jacob Brennan taking his place. Worsfold said he was in doubt for next Saturday's clash with Carlton at Patersons Stadium.
MELBOURNE 4.1 9.2 10.3 13.5 (83)
WEST COAST 5.3 10.6 21.9 27.15 (177)
GOALS
Melbourne: Clark 3, Sylvia 2, Trengove 2, Byrnes, Davey, Evans, Howe, Tapscott, Sellar
West Coast: Kennedy 5, Darling 5, Hams 3, LeCras 3, Cox 3, Sinclair 2, Embley, Masten, Hill, Hurn, Gaff, Cripps,
BEST
Melbourne: N Jones, M Jones, Grimes, Sylvia,
West Coast: Kennedy, Cox, Darling, Priddis, Masten, Hurn, Shuey, Selwood
INJURIES
Melbourne: Bail (concussion)
West Coast: Waters (calf) replaced in selected side by Jacob Brennan, Hams (lower leg)
SUBSTITUTES
Melbourne: Jimmy Toumpas replaced Aaron Davey in the fourth quarter
West Coast: Jamie Cripps replaced Daniel Kerr in the fourth quarter
Reports: Nil
Umpires: Harris, Pannell, Fisher
Official crowd: 18,571 at the MCG
Click here to vote for the best three Melbourne players from the game
Click here to vote for the best three West Coast players from the game