IT WAS almost a horror movie and every Melbourne supporter and player was scared out of their wits, but the Demons emerged from their battle with Greater Western Sydney with a first win for the season.
They overcame a 19-point deficit at three-quarter time to win by 41 points against a spirited Giants outfit.
While the eulogies were being written for this era, and possibly for Mark Neeld, Melbourne regrouped, attacked the game and kicked 12 goals to two in the final quarter.
Talking points: Melbourne v GWS
Amazingly, it was highest scoring quarter in the club's history.
Colin Sylvia, Jeremy Howe, Colin Garland, Michael Evans, Nathan Jones and Max Gawn stood up when needed and the rest followed.
Neeld said it was pleasing for those external to the football department to see what the coaching group saw at training.
"Last week we thought we played for a half against the Eagles.
"We were relatively pleased with our start here. We were really pleased with the way we finished off because we know the talent [GWS] have is amazing.
"Obviously you don't want to give those lads too much oxygen early to get their tails up – that is really the most pleasing thing for me," Neeld said.  
A goal to Jones sparked the team into action and when all looked gone, Max Gawn took a mark in the goalsquare and the Demons regained some belief.
A piece of Colin Sylvia inspiration led to a goal by Michael Evans, which tied the score at the seven-minute mark.
And this was without key forward Mitch Clark and prized recruit Jack Viney who were both off the ground. Clark had a foot injury that Neeld described after the game as a "sprain", while Viney, who had struggled with an ankle injury for the past two weeks, had been subbed off.
The Giants, as they had all day, answered quickly through Toby Greene, but the Demons kept coming and young co-captain Jack Trengove put Melbourne back in front at the 12-minute mark.
Jeremy Howe followed up with one from the boundary line to give his team some breathing space as it had kicked five goals in the first 14 minutes of the quarter.
Then two goals from Aaron Davey – who had been the substitute – put the result beyond doubt.
The fright for Demons was real and long lasting early once the Giants kicked five unanswered goals during the latter part of the second quarter to take a seven-point lead into half-time.
With the Demons appalling record in third quarters, no-one at the ground had much confidence Melbourne could turn things around. Again they were outscored in the third quarter five goals to three and trailed by 19 points at three-quarter time.
The Giants' young runners Adam Treloar, Dylan Shiel and Stephen Coniglio were too quick in the first half while Tom Scully and Callan Ward outworked their opponents.
Whatever Mark Neeld said to his Demons at three-quarter time sparked something special. He went to the huddle under enormous pressure with his coaching obituaries being written and the critics forming a conga line around the members' wing.
The Giants were gallant given they had lost Jonathan Patton and Dean Brogan but they ran out of legs in the end.
Giants coach Kevin Sheedy has seen plenty of football but even he admitted it was an unusual game.  
"That was an unusual game to be three goals up (at three quarter time). We're playing our 26th game and we're three goals up and it's as if the dam's opened up. That was probably a very unusual game today," Sheedy said.
He said there was not a lot the players could do to stop Melbourne's momentum.
"Before you can actually play tempo footy, you've get it. And we couldn't get our hands on it for a period of time (in that last quarter)."
Click here to vote for the three best Melbourne players from this game
Click here to vote for the three best Greater Western Sydney players from this game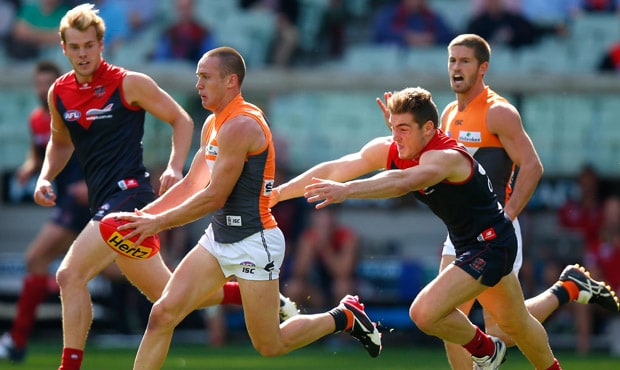 Tom Scully evades Luke Tapscott at the MCG as Jack Watts and Callan Ward look on. Picture: AFL Media
MELBOURNE
                                             4.5       7.7       10.10   22.12 (144)   
GREATER WESTERN SYDNEY
            3.3       8.8       13.11   15.13 (103)     
GOALS
Melbourne:
Howe 4, Byrnes 3, Evans 3, Pedersen 2, Gawn 2, Davey 2, Sylvia, Bail, N Jones, Trengove, Clark, Jamar
Greater Western Sydney:
O'hAilpin 5, Palmer 2, Cameron, Treloar, Shiel, Giles, Ward, Scully, Shiel, Sumner  
BEST
Melbourne:
N. Jones, Gawn, Grimes, Howe, Garland, Evans, Terlich, Trengove
Greater Western Sydney:
Scully, Shiel,Treloar, Whitfield, O'hAilpin, Greene, Ward  
INJURIES
Melbourne:
TBC
Greater Western Sydney
: TBC  
SUBSTITUTES
Melbourne:
Aaron Davey replaced Jack Viney in the third quarter
Greater Western Sydney:
Anthony Miles replaced Nick Haynes at three-quarter time  
Reports:
Neville Jetta (Melbourne) reported for engaging in rough conduct on Lachie Whitfield (Greater Western Sydney  
Umpires:
Bannister, Margetts, Harris
 
Official crowd:
20,018 at the MCG