NORTH Melbourne has destroyed a lifeless Brisbane Lions side by 72 points to send Brent Harvey home a winner in his 400th game.
The Kangaroos held off a nagging challenge from the Lions across the first half and then kicked away late to seal an easy 16.14 (110) to 5.8 (38) victory at the Gabba on Saturday night, propelling them into the top eight.
It was the Lions' ninth straight loss as they continue their death march towards the wooden spoon, which appears bound for the Sunshine State at the end of the year.

Five talking points: Brisbane Lions v North Melbourne
They teased their fans with a mini-comeback in the second quarter, closing to within 15 points at one stage and threatening to assert themselves on the contest.
But they fell away badly after that as North kicked 10 unanswered majors to run away with a welcome percentage-boosting win.
Damningly for the Lions, they were held goalless from midway through the second quarter until three minutes from full-time, when Lewy Taylor broke through for their fifth.
Harvey was all business as he became just the fourth player in VFL/AFL history to reach the 400-game mark, but his milestone game ended up a procession in front of just 15,563 supporters.

WATCH: Harvey stars in 400th
The veteran collected a team-high 27 possessions and kicked two goals, while Drew Petrie booted four and Ben Cunnington three.
Cunnington scores cheeky goal #AFLLionsNorth http://t.co/FmcgTBtNQj

— AFL (@AFL) July 25, 2015
Taylor (28 possessions) and Mitch Robinson (10 tackles) were among a handful of players who flew the flag for the Lions on a bitterly disappointing night that started poorly when Dayne Beams and Pearce Hanley were ruled out pre-game due to injury.
It could be season over for Beams, who has been carrying a shoulder injury for weeks and is believed to be contemplating surgery.
Vice-captain Hanley tweaked his hamstring last weekend and was in serious doubt during the week, but passed a fitness test to earn selection.
A similar approach could be taken with the Irishman given his history of back and hamstring issues, and with little left to gain in 2015 for the Lions.

Kangaroos coach Brad Scott said he was delighted the team was able to continue Harvey's incredible record of having won all of his milestone games.
"He did what he does," Scott said.
"He's like another coach (out there), but a gun player as well.
"If he wasn't the best on ground to half-time he was certainly very close to best on the ground at full-time.
"He's an icon of our club and he keeps performing."
Harvey's kicked another in his 400th #AFLLionsNorth http://t.co/TShpkJL3It

— AFL (@AFL) July 25, 2015
Brisbane coach Justin Leppitsch said the loss was a stark reminder of how much work his rebuilding side had in front of them.
"The last 10 minutes was a bit of head-dropping," Leppitsch said.
"The boys, to their credit, admitted that after the game.
"You never want to lose but to lose in that fashion is probably the first time that's happened for a while."
They're a happy mob - all the Roos got around Brent Harvey at the final siren. Picture: AFL Media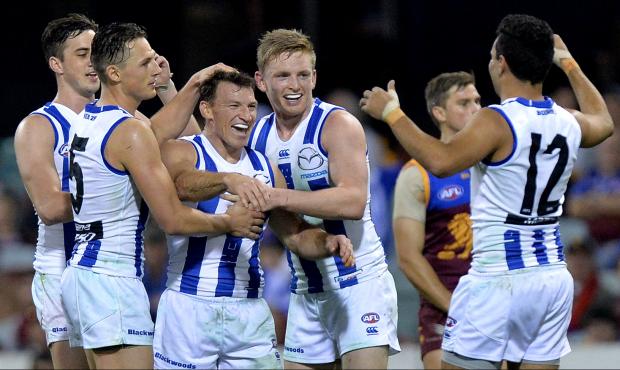 BRISBANE LIONS 1.1 4.4 4.5 5.8 (38)
NORTH MELBOURNE 5.5 7.7 9.11 16.14 (110)
GOALS
Brisbane Lions: Bewick 2, Aish, Martin, Taylor
North Melbourne: Petrie 4, Cunnington 3, Brown 3, Harvey 2, Ziebell, Turner, Gibson, Bastinac
BEST
Brisbane Lions: Robinson, Martin, Redden, Taylor
North Melbourne: Petrie, Harvey, Brown, Higgins, Dal Santo, Goldstein
INJURIES
Brisbane Lions: Hanley (hamstring) replaced in selected side by Bewick, Beams (shoulder) replaced in selected side by Beasley
North Melbourne: Nil
SUBSTITUTES
Brisbane Lions: Dan McStay replaced Hugh Beasley in the third quarter
North Melbourne: Lindsay Thomas replaced Jarrad Waite in the third quarter
Reports: Nil
Umpires: Foot, Fisher, Stephens
Official crowd: 15,563 at the Gabba