ST KILDA has kept its slim finals hopes alive and damaged the injury-ravaged Western Bulldogs' premiership chances after producing a 15-point boilover in a last-man-standing affair at Etihad Stadium on Saturday night.
The battered Bulldogs rued a missed opportunity to consolidate a top-four position and counted the cost of season-ending injuries to midfielder Mitch Wallis (broken left leg) and Jack Redpath (right knee), along with a Dale Morris niggle (left hamstring), but the Saints were magnificent in posting a stirring 11.9 (75) to 9.6 (60) win.
The injury to Wallis was particularly severe with his lower left leg snapping in horrific fashion.

The tough midfielder was in visible agony on the ground for a number of minutes as medical staff attended to him.

Wallis left on a motorised cart with his foot held upright.
Compounding a horrific night for the Dogs, the club confirmed that Redpath had ruptured his ACL.

TALKING POINTS: Dogs' horror night of injuries

When Redpath and then Wallis went down by midway through the final term, the Dogs were down to just one rotation, the carnage prompting Dogs coach Luke Beveridge to move down to the bench to manage his depleted team.
St Kilda skipper Nick Riewoldt again haunted the Bulldogs, bagging four goals despite tweaking his troublesome right knee in the second term when he slotted three of his majors.
GAMEBREAKER: Riewoldt hounds Dogs once again

At the other end, Marcus Bontempelli stepped into the Jake Stringer void to kick 3.3 from 25 possessions and often threatened as a potential match-winner.
Non-stop Saints midfielder Jack Steven amassed a game-high 39 possessions, 30 of which came by the six-minute mark of the third term.
Small forward Mav Weller was simply courageous, recovering from an early head clash that left him dazed and spitting blood, to be a superb competitor.
Mitch Wallis is in agony after suffering a serious leg break against the Saints. Picture: AFL Media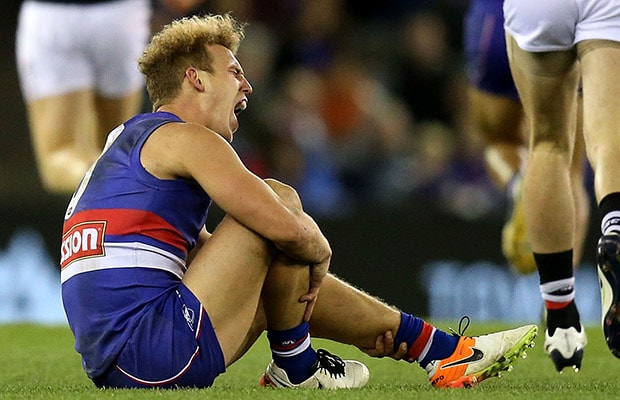 In a stunning transformation, St Kilda has recovered from 2-6 to win seven of their past nine games, and remain two games behind eighth-placed North Melbourne, who they confront next week.

Saints coach Alan Richardson was proud of his team's efforts in such an important clash against a quality opponent.
"It was as good a performance from a four-quarter perspective as we've had for a while," Richardson told reporters post-match.
"It was a performance you hope that, as a coach, we go to another level in our belief in each other that we can match it against really strong teams."
Wallis' injury was significant for many reasons, not least of all for its tactical implications.
"When the incident happened, unfortunately for Wallis, there was a bit of time to have a conversation," Richardson revealed.
"The message to our guys was to run and make sure we were really aggressive with the way we played. Even if it wasn't going to be reality that the Bulldogs were out of legs, we just wanted our guys to be in that headspace that we needed to continue to be aggressive.
Bulldogs counterpart Luke Beveridge revealed the injuries had taken a huge emotional toll on his players post-match.
"(The players are) really hurting and feeling it. Obviously (they're) a little bit disappointed about the loss but they're really feeling it for Mitch and his family, and also for 'Red' and his family," he said.
Two quick Bontempelli goals gave the Dogs a two-goal buffer by the nine-minute mark of the second quarter, which proved the cue for an impressive rearguard action from St Kilda.
Against the flow, the Saints hit back with seven of the next nine goals – including three to the inspirational Riewoldt – to establish a 19-point lead by the 10-minute mark of the third term.

The margin could easily have been 24 points, but Tim Membrey, after receiving a pass from Riewoldt, missed a set shot from 40 metres for what would have been his third major.
It was a 12-point play, as the Dogs immediately rushed the ball forward for a snapped goal to Tory Dickson, his second.
This was followed by two more rapid Bulldogs goals and a Bontempelli snap for a behind levelled the scores.
A terrific left-foot snap from young Saint Jade Gresham was followed by another behind to the ever-threatening Bontempelli, who missed after the three-quarter-time siren.
Jade Gresham! He loves a tough, clutch goal. #AFLDogsSaints #ohwhatafeeling https://t.co/CwULcM9LGg

— AFL (@AFL) July 23, 2016
Saint Nathan Wright calmly converted early in the final term to extend the Saints advantage to 11 points.
The bruised Bulldogs were held scoreless in the final term as the Saints frittered away several opportunities to seal the result. It mattered nought.
In addition to the heroics of Riewoldt, Steven and Weller, ruckman Tom Hickey, Shane Savage, Sean Dempster, Jack Newnes, Jarryn Geary and Luke Dunstan were also prominent.
Supporting Bontempelli for the Dogs were Lachie Hunter, who continued his prolific season, while Jack Macrae, Jason Johannisen and Matt Suckling were always dangerous with their run and ball use.
MEDICAL ROOM
Western Bulldogs: The season is over for two more Bulldogs – midfielder Mitch Wallis, who broke both bones in his lower left leg, and forward Jack Redpath, who ruptured the ACL in his right knee. Backman Dale Morris experienced a minor issue with his left hamstring and didn't reappear after halftime, which coach Luke Beveridge said was a precautionary measure. "I couldn't tell you whether he's going to be available (next) week, but he hasn't done anything major," Beveridge said.
St Kilda: Veteran midfielder Leigh Montagna suffered a corked thigh. "It was a beauty but he was able to come on," coach Alan Richardson said. "We think he'll be right to go (next week)." Mav Weller was groggy after a head clash in the opening minutes but came back and was one of the Saints' best players, as was skipper Nick Riewoldt, even though he hurt his right knee after he had a kick smothered in the second quarter.
NEXT UP
The wounded Bulldogs journey to Simonds Stadium to face fellow top-four aspirant Geelong on Friday night and will be keen to reverse the 57-point hammering they received at the hands of the Cats at Etihad Stadium just five weeks ago. Meanwhile, the Saints return to Docklands for another Saturday night clash, this time with North Melbourne in an eight-point game.
Dog Mitch Wallis looks to be in serious trouble. Don't watch if you're squeamish. #AFLDogsSaints https://t.co/4cND7Msd24

— AFL (@AFL) July 23, 2016
WESTERN BULLDOGS 4.2 6.4 9.6 9.6 (60)
ST KILDA 3.3 7.4 10.5 11.9 (75)
GOALS
Western Bulldogs: Bontempelli 3, Dickson 2, Smith, Redpath, Suckling, Jong
St Kilda: Riewoldt 4, Membrey 2, Weller, Armitage, Steven, Gresham, Wright
BEST
Western Bulldogs: Bontempelli, Hunter, Macrae, M.Boyd
St Kilda: Steven, Riewoldt, Hickey, Newnes, Dempster, Weller
INJURIES
Western Bulldogs: Dale Morris (left quad), Jack Redpath (right knee), Wallis (left ankle)
St Kilda: Weller (cut to chin), Leigh Montagna (corked left quad)
Reports: Nil
Umpires: Chamberlain, Harris, Mollison
Official crowd: 26,532 at Etihad Stadium
Now that's coast-to-coast footy! #AFLDogsSaints #ohwhatafeeling https://t.co/3ueByoPZu7

— AFL (@AFL) July 23, 2016