ST KILDA held off an Ollie Wines-led Port Adelaide fightback in the second half to kick off its JLT Community Series with a one-point victory at Etihad Stadium on Thursday night.
The Saints' reigning best and fairest Jack Steven ran rampant in the first half as he notched up 21 disposals before he sat out the rest of the match.
For Port Adelaide, Wines showed the hardness inside the contest he has become renowned for, winning 21 disposals and 13 contested possessions.
However, St Kilda set up the victory with ballistic ball movement in a superb first half as it won, 0.8.9 (57) to 0.7.14 (56).
After the Saints leaked the sixth-most points in the competition last year, stand-in coach Adam Kinglsey said that aspect of the game impressed him the most.
"The defence was our big opportunity to improve (from last year) and I thought tonight we defended really strongly, particularly when the ball was through the midfield and at our end," Kingsley said.
"We've still got a bit of work to do when the ball is in our defensive 50. I think they had 10 shots through either stoppage or turnover through that area of the ground.
"We can definitely fix that and I don't think that's going to be a significant issue for us."
Jake Carlisle made a successful return to football, slotting in well in the backline as he showed his aerial prowess. He spent plenty of time on former teammate Paddy Ryder, who split his time up forward and in the ruck. A snapped goal in the second term showed Ryder had lost none of his class in his time out of the game before sitting out the last half, with his loads managed.
The Saints dominated every facet of play under the roof early in the match, winning the ball at the contest and putting plenty of pressure on the Power. Josh Bruce and Paddy McCartin seemed to mark everything that came their way, while Tim Membrey was the beneficiary as he booted three goals.
For all the talent in those talls, Nick Riewoldt showed he would continue to be a force in his 17th year. His start to the game in particular was brilliant, taking marks and finding teammates with his sublime foot skills.
Terrific finish from a tough angle from Josh Bruce! #JLTSeries pic.twitter.com/SVrgWOQdMy

— AFL (@AFL) February 23, 2017
Unfortunately for Ken Hinkley, the Power could barely hit a target for the opening two quarters in what was a listless display.
Hinkley said the poor disposal was at least partly due to not having played since the end of last year, as well as a big focus on drills in the off-season, as opposed to match simulation.
"There was a fair bit of rust. I've watched most of the JLT Series, and I've seen that in every game. Both sides again tonight were rusty at times," Hinkley said.
"We know we've done a lot of work on some of those areas that we have got to get better at. We haven't played much match simulation at training either, so we haven't gotten used to any pressure yet.
"The test for us is to get better in the next five or six weeks."
St Kilda allowed Port back into the game in the third term, with the Power improving its foot skills and with an extra forward option in Brett Eddy, who sat out the first half. Based on that performance, the 27-year-old looks likely to be in the round one side versus Sydney.
Port's Nathan Krakouer could be in trouble with the Match Review Panel after a high hit on Sean Dempster in the third term. It was a match that was feisty at times, with Saint Jack Steven fighting out of his weight division at one stage when he tangled with big man Charlie Dixon.
Nathan Krakouer has been reported for this incident. #JLTSeries pic.twitter.com/fRFDz4dgSn

— AFL (@AFL) February 23, 2017
A Jarman Impey snap was touched on the goal line by new Saints skipper Jarryn Geary late in the game as the Power reduced the margin to one point, but the Saints were able to hold on in the final couple of minutes.
WHAT WE LEARNED
St Kilda: The Saints like to play aggressively and move the ball quickly but if this match was any indication, they will be much more slick in 2017. The game's first goal started with a brilliant play when former captain Nick Riewoldt took an intercept mark deep in defence and found Dylan Roberton running through the middle of the ground. He hit Tim Membrey, who would boot the goal. That quick movement out of defence was a constant all night and if St Kilda keep that up all year, it will be very difficult to beat under the roof at Etihad Stadium.
One, two, three... four! Tim Membrey wouldn't let this great opportunity slip. #JLTSeries pic.twitter.com/9VDlXJRPVv

— AFL (@AFL) February 23, 2017
Port Adelaide: As with last year, the Power need to make sure their defence isn't exposed, because it doesn't have the key backmen to hold firm when under pressure. Jack Hombsch battled manfully but when Port is second to the ball and its skills are as poor as they were against St Kilda, goals will leak. That was particularly evident against the many tall forwards the Saints have. While the Power want to push Jackson Trengove forward, he may find himself in the backline as the year goes on.
Ruck, rove and Trengove! #JLTSeries pic.twitter.com/uUDx1B4s99

— AFL (@AFL) February 23, 2017
NEW FACES
St Kilda: All eyes were on Jake Carlisle and he performed reasonably well, especially considering it was his first match since 2015. He took plenty of intercept marks early while matched up on Jackson Trengove and Paddy Ryder for most of the game. Nathan Brown had Charlie Dixon's measure while Koby Stevens and Jack Steele showed their hardness inside the contest.
Port Adelaide: Other than a hard bump on Nick Riewoldt, it was a pretty quiet night for Sam Powell-Pepper, who picked up 12 disposals for the game. Brett Eddy and Joe Atley came on in the second half, with mature-age recruit Eddy looking a likely type, giving his side a forward target and finding the ball on the lead often. He was a little wayward in front of goal but his attempts were largely from tough spots. Atley showed he was willing to have a crack in the contest.
NEXT UP
Expect some of St Kilda's draftees to feature after a nine-day break against Carlton at Ikon Park while Port Adelaide will play host to Richmond the next day at Mount Gambier.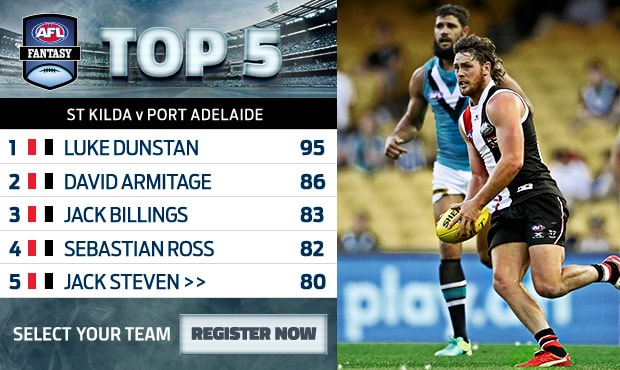 ST KILDA 0.4.5 0.6.7 0.7.7 0.8.9 (57)
PORT ADELAIDE 0.0.2 0.2.7 0.5.11 0.7.14 (56)
SUPERGOALS
St Kilda: Nil
Port Adelaide: Nil
GOALS
St Kilda: Membrey 3, Dunstan 2, Billings 2, Bruce
Port Adelaide: Amon 2, Boak, Ryder, Wingard, Trengove, Westhoff
BEST
St Kilda: Dunstan, Newnes, Steven, Armitage, Ross, Riewoldt
Port Adelaide: Wines, Boak, Hombsch, Trengove, Eddy
INJURIES
St Kilda: Nil
Port Adelaide: Nil
Reports: Nathan Krakouer (Port Adelaide) for forceful front-on contact with Sean Dempster (St Kilda) in the third quarter
Umpires: Donlon, Stevic, Meredith, Kamolins
Official crowd: 5,363 at Etihad Stadium