DAMIEN Hardwick warned the competition that 'Dustin Martin The Midfielder' would be launched in 2015.
On Saturday, the football world got its first look at how devastating the move of the 23-year-old into the centre could be.
Click here for full match coverage
As Richmond cruised to a 66-point shellacking of a dramatically undermanned Port Adelaide side at Lavington Sports Ground in Albury, Martin was the standout.
He had 27 touches and won seven clearances after starting in the centre circle, burst through packs, fended off opponents and still found time to provide a presence up forward.
It was the highlight of an otherwise uninspiring affair, with the young Power outfit overwhelmed by a nearly full-strength Tiger line-up, captained by Brett Deledio.
"I thought he was really good," Hardwick said of Martin.
"I think he had 11 contested ball and seven clearances. It's something we were looking for him to improve in his game and we were pretty pleased with what he did today.
"The consistency of his output was probably a little bit scratchy early but got better as the game went on, which was always going to happen.
"He's got a way to go but we're pleased with the results so far."
Four goals to small forward Sam Lloyd, who played eight games in his first season last year, was another positive in the lopsided contest.
The early scenes were reminiscent of last year's elimination final between the two teams, except it was the Tigers directing one-way traffic this time and the Power left to work out how to stop the flood.
With Shane Edwards, Shaun Grigg and Deledio starting well and Ivan Maric dominating Jarrad Redden in the ruck, the Tigers raced to a 38-0 lead by quarter-time.
So comprehensive was the Tigers' dominance that the Power's first score – a rushed behind seven minutes into the second term – was met with jeers from the pro-Richmond crowd.
Port's first goal, which went to Aaron Young 10 minutes later, received the same treatment.
With the exception of Trent Cotchin, who is expected to return from hamstring soreness in the coming weeks, the Tigers had their top 10 placegetters from last year's best and fairest count on the field.
The Power had none of theirs.
Captain Travis Boak, Robbie Gray, Justin Westhoff, Jay Schulz, Brad Ebert and Alipate Carlile didn't make the trip, and Ollie Wines, Matthew Lobbe and Tom Jonas were pulled out when the squad was trimmed just before the bounce.
Defender Jarman Impey also didn't play after developing hamstring soreness overnight.
Matthew Broadbent captained and was one of their better players, along with Kane Mitchell and Paul Stewart while Nathan Krakouer got his hands on the ball 10 times across half back and tried to get them going.
But a young forward line, built around The Recruit's Johann Wagner and another first-gamer in Jesse Palmer, struggled to match the likes of Troy Chaplin and Alex Rance.
Port Adelaide assistant coach Matthew Nicks admitted the young group didn't handle the pressure early but said that sort of lopsided game could teach players more than easy wins.
"The guys that step up when the game is like it is at quarter-time, they're the guys you know when the chips are down, they're going to give you something," Nicks said.
"We saw that today, there are some guys we'll probably need to do a lot more work with but the pleasing thing out of the whole game is it didn't blow out, it didn't end up being a 100-point loss so that's a real positive we'll take away."
The Tigers' pressure across the ground was excellent in the first half as they monstered the young Power side and they easily found targets.
They handed Jack Riewoldt and Ivan Maric the red vests at three-quarter time and the sting went out of the game late, with Port managing three goals in the fourth term.
Riewoldt took four marks and kicked one goal, appearing almost too unselfish at times when he turned the ball over trying to find a teammate rather than taking a shot at goal himself.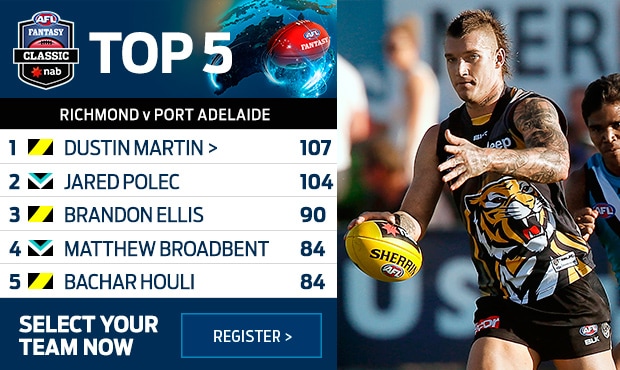 WHAT WE LEARNED
Richmond: Their backline looks good and they've got reserves with David Astbury yet to appear this pre-season and Matt Dea another option. A fit Ivan Maric is a massive bonus for the Tigers after he missed nearly all of last pre-season and Sam Lloyd looks to be nudging ahead in the race to fill the role across half forward. It also looks like the Tigers are going to persevere with Steve Morris in attack, although he didn't have a huge game, and Ben Lennon is also spending more time forward of the ball.
Port Adelaide: Port's young forwards are a bit away yet. They left their A-team in Adelaide and it showed, with the team taking just 11 marks inside 50 to the Tigers' 18 – the majority of which came in the last quarter. They were a shadow of the team that thumped Richmond six months ago with just too many players out and a bunch of new faces in. Ruckman Jarrad Redden, who last played in round 10, 2013, got through the game and ended it with a goal, and showed signs he can be important for the Power this year if he stays fit.
NEW FACES
Richmond: There were no new faces for the Tigers after they played eight against the Western Bulldogs two weeks ago, but Kane Lambert looked good in his second game with 12 disposals and Taylor Hunt had 19.
Port Adelaide: There was plenty of interest in how the winner of reality show The Recruit Johann Wagner would go in his first competitive hit-out, but he didn't have many opportunities to touch the ball given it was mainly down the other end. Wagner had Troy Chaplin, Alex Rance and Dylan Grimes for opponents when he was stationed at full forward, and took one nice mark on the lead after Rance turned it over but missed everything with his set shot. It was also a tough afternoon for Jesse Palmer and Dougal Howard, who joined Wagner in the forward line and were faced with pretty much the Tigers' best back set up. Sam Russell came on at three-quarter time and didn't touch the ball but laid four tackles.
Jack Riewoldt flies for a mark at Lavington Sports Ground during the Tigers' big win

RICHMOND 0.6.2 1.8.5 1.11.9 1.14.10 (103)
PORT ADELAIDE 0.0.0 0.1.1 0.2.2 0.5.7 (37)
SUPERGOALS
Richmond: Lennon
Port Adelaide: Nil
GOALS
Richmond: Lloyd 4, Edwards 2, Ellis, Hunt, Lennon, Lambert, Gordon, Riewoldt, Vickery, Batchelor
Port Adelaide: Young 2, Clurey, Broadbent, Redden
BEST
Richmond: Martin, Houli, Lloyd, Grigg, Chaplin, Edwards, Deledio
Port Adelaide: Mitchell, Broadbent, Clurey, Polec, Young
INJURIES
Richmond: Nil
Port Adelaide: Impey (hamstring soreness – pulled out before the game)
SUBSTITUTES
Richmond: Jack Riewoldt and Ivan Maric subbed out at three-quarter time for Todd Elton and Liam McBean.
Port Adelaide: Jasper Pittard subbed out at three-quarter time for Sam Russell.
Reports: Nil
Umpires: Nicholls, Kamolins, Edwards, Mollison
Official crowd: 8451 at Lavington Sports Ground