ONE TEAM was the reigning premiers, with 18 members of last year's Grand Final side playing. The other was last year's wooden spooners, without their best player, lacking important experience and missing a number of emerging youngsters hit by injury.
Realistically, Thursday night's NAB Challenge game at Etihad Stadium really couldn't have gone any other way than a heavy Hawthorn win over St Kilda.
And that was how it played out from the moment Hawks forward Luke Breust kicked the opening goal in the fourth minute of the first term. The Hawks rocketed to a 106-point win, and did it so easily at times that during the victory they looked to be trying things just because they could.
The Hawks' final score of 0.22.13 (145) to 1.4.6 (39) was the highest of the NAB Challenge this year, and featured 13 individual goalkickers.
"They only got about 38 inside-50s, so defensively we were on and we needed an increase in that area of the game. We were pleased with it."
Despite the lopsided scoreline, it was another opportunity for the Hawks to see the players who didn't feature in last year's flag to push for a spot in the round one team that takes on Geelong on Easter Monday.
Former Greater Western Sydney midfielder Jono O'Rourke did his hopes no harm with a classy display, while James Frawley also looked his most composed since crossing from Melbourne.
Jed Anderson's speed also makes him a tantalising player to add to Hawthorn's mix, while Jonathon Ceglar had 27 hit-outs and streamed forward to kick two goals as he vies for a ruck position.
There were, of course, the predictably consistent performances from the Hawks' champions, who were keen to play at high intensity in their final pre-season contest.
Jordan Lewis and Sam Mitchell both collected 33 disposals and Bradley Hill cut through the Saints with his run, while Jack Gunston, Jarryd Roughead and Breust all kicked three goals.
St Kilda was well led by Jack Steven in the midfield, whose tireless work kept them competitive in tight. Second-year midfielder Luke Dunstan was impressive with 22 disposals and four clearances, while Mav Weller showed some poise near goal by booting two goals (
one a nine-pointer from beyond the 50-metre arc
).
Just as the Hawthorn side was full of stars, the St Kilda line-up was already weakened, missing captain Nick Riewoldt, Jarryn Geary, Farren Ray, Sam Gilbert, David Armitage and Jack Billings among others.
Saints coach Alan Richardson conceded it was the youngest line-up the club has fielded in the NAB Challenge but wouldn't use it as an excuse.
"This week was – and not by design – probably our most inexperienced team given we didn't have the flexibility of the first two games of more players being able to rotate through,"
Richardson said
.
"[It's] not ideal. It was a disappointing performance."
The Saints' unrewarded effort was evident in some of the key statistics in the first term, matching it with the Hawks for contested possessions and clearances and even holding about even for inside-50 entries (10 to the Hawks' 14).
But that didn't last long as Hawthorn proved far too hard to maintain in the second term, slamming on six goals and moving the ball too cleanly and precisely for the Saints to assert any control.
They managed their first goal halfway through the second quarter, when Weller steadied under pressure and slammed it through. But by that stage the Hawks already led by 50 points, and were headed for a much bigger margin.
On Thursday morning, Etihad Stadium excitedly unveiled a range of new gadgets and devices for the ground, intended to enhance the match experience for fans.
There was a new WiFi network, LED signage, and about 1600 new television monitors installed which flashed in unison each time a goal was kicked.
But the game that followed during the evening was a reminder of one thing: the best entertainment for fans will always be reserved for those who barrack for the teams that win. In that case, it is fair to expect Hawthorn supporters to enjoy another football season.
Luke Breust cops a nasty knock to the back by Tom Hickey. Picture: AFL Media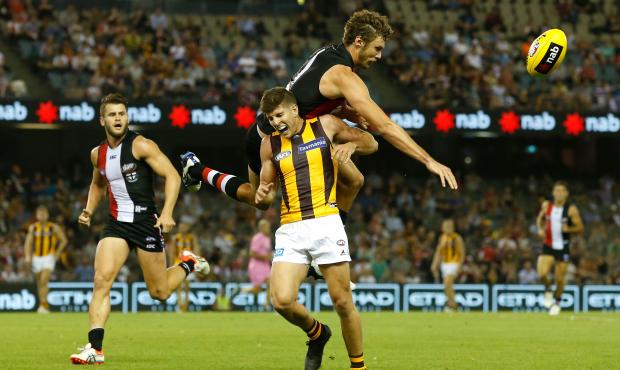 WHAT WE LEARNED

St Kilda: Behind missing captain Nick Riewoldt, Jack Steven is St Kilda's best player. The midfielder was working almost one-out for the Saints against the Hawks, finding 33 disposals in a driven performance. The 24-year-old, who qualifies for free agency at the end of the season, won the club's best and fairest in 2013, but more responsibility will be headed his way this season as the leader of a young midfield brigade.
Hawthorn: We probably knew it already, but Thursday was something of a reminder that there appears no reason why the Hawks shouldn't be premiership favourites. We know how difficult and rare it is to win three premierships in a row, but the Hawks have added quality recruits, have a hungry core to their list, are healthier and fitter than last season, and have a new wave of exciting youngster ready to break into the team and stay there. Jed Anderson, for instance, appears a best-22 player with his speed and skill.
NEW FACES

St Kilda: It was a good chance for Saints rookie Jack Sinclair to show his wares against the best midfield in the competition, and he performed well. The hard-working on-baller gathered eight touches in the opening term, was able to push up and down the ground, and finished with 16 disposals (eight contested). Paddy McCartin was starved of opportunities in the Saints' forward line, which made it hard for the 18-year-old, and coach Alan Richardson has said the key forward is no certainty for round one. But he did get on the board with a goal in the third term after disposing Luke Hodge of the ball and winning a free.
Hawthorn: The Hawks picked an experienced line-up so there were no prospects straight out of the draft, highlighting the gap in quality of the two teams. But recruit Jonathan O'Rourke played a solid game in the midfield and will be in the mix for the club's round one team. He found 19 disposals, kicked a goal and always had time when in possession. James Frawley stood Saints tall Tim Membrey for some of the night and shut him out, while exciting youngster James Sicily was the substitute. Sicily will give the Hawks some spice in the forward line when his time comes this year, showing his penchant for flying for marks the moment he came on the ground.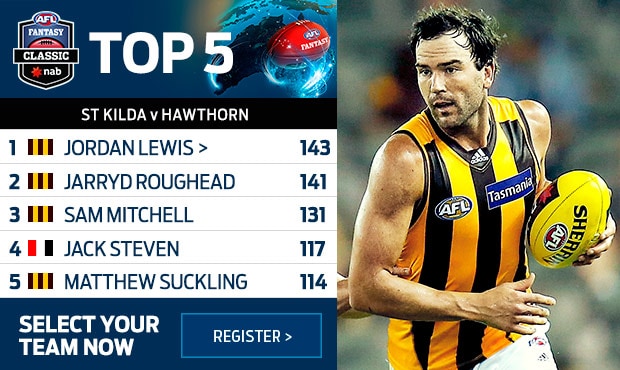 ST KILDA 0.0.2 0.1.3 1.3.4 1.4.6 (39)
HAWTHORN 0.5.4 0.11.7 0.20.10 0.22.13 (145)
SUPERGOALS
St Kilda: Weller
Hawthorn: Nil
GOALS
St Kilda: Bruce, Hickey, McCartin, Weller
Hawthorn: Breust 3, Gunston 3, Roughead 3, Ceglar 2, Lewis 2, McEvoy 2, Sicily, Rioli, O'Rourke, Smith, Mitchell, Langford, Hill
BEST
St Kilda: Steven, Dunstan, Weller, Dempster, Sinclair
Hawthorn: Hill, Gibson, Smith, Hodge, Mitchell, Roughead, Lewis
INJURIES
St Kilda: Nathan Wright (thigh), Leigh Montagna (knee)
Hawthorn: Luke Breust (back)
SUBSTITUTES
St Kilda: Tom Curren replaced Nathan Wright in the second quarter; Lewis Pierce replaced Leigh Montagna in the third quarter.
Hawthorn: James Sicily replaced Luke Breust in the third quarter; Jonathan Simpkin replaced Luke Hodge in the fourth quarter
Reports: Nil
Umpires: Leigh Fisher, Jacob Mollison, Matthew Nicholls
Crowd: 7077 at Etihad Stadium