MAJAK DAW will have everyone talking after demonstrating his athletic prowess several times against Melbourne in their NAB Cup opener on Friday night.
He sparked the game early and created the supergoal that meant North Melbourne ran out two-point winners, 38-36.  
Daw drifted back into a pack midway through the first half to take a classic ruckman's mark before leaping above a ruck contest to create a supergoal for North teammate Ben Jacobs.  
His game was not one for the stats sheet but more about his presence. He also held out Tom McDonald to allow Robbie Tarrant to mark and goal early in the second half.  
Jacobs – the former Port Adelaide player who joined the Kangaroos via the NAB AFL Draft – did enough to show why the club was prepared to use pick No.37 to acquire him. He kicked a supergoal and should have booted a second goal in the second half but missed from point blank range.  
Richmond too strong for Demons
Melbourne stayed in the game and performed the basic elements much better than last year. At times the ball movement was very good. Too often though, the Demons allowed their opponents easy passage out of the centre stoppage.  
Mini-draft pick Jesse Hogan's strength was obvious when he pushed aside his opponent and kicked a goal from a tight angle just before half-time. He contested hard and laid a nice tackle late in the second half to demonstrate he was a competitor. The 18-year-old was also unlucky not to be paid a mark in the first half and then stood wondering why he wasn't used when an obvious target late in the game.  
"We're rapt with that system, where you can get a player in for 12 months," Neeld said. "By the time Jesse is eligible for AFL games he would have had two pre-seasons and that is an advantage."  
Neeld will have no hesitation in keeping him in the team for the NAB Cup even though it will mean a change in round one. He said the advantages outweigh the disadvantages.   
"He's a big 18-year-old ... he's quite sizeable. [He's] still got a lot to learn about league footy and what it is to be an AFL player full-time," Neeld said.
"At this stage, realistically the NAB is the only time we can put Jesse in an AFL-like environment and that is absolutely no disrespect to the VFL whatsoever ... but we'll take the opportunity. He is big enough and his tank is big enough to experience the month I reckon."
For Melbourne fans, the sight of new recruits Chris Dawes and Cameron Pedersen hitting marking contests at centre half-forward would have been pleasing too. Neither took a pack but they at least created crumbing opportunities for Shannon Byrnes and Sam Blease.  
Neeld noted the shift from 2012 but said the players would take time to maximise its value.  
"We need to adjust to the fact we have a couple of big boys down there and we need to get the ball in just a little bit quicker," Neeld said.
Dawes also marked on the lead and found Jeremy Howe who converted. It was classic Howe, floating above his opponent as though attached to a trapeze harness.
Howe has worked hard on his set shot kicking and began with a confidence-building two from two in front of goal.  
Nathan Jones will enjoy having Jack Viney in the middle with him. Viney created a loose ball on more than one occasion for Jones to pounce on. Viney looked very good too.  
In the end however, it was the class of Andrew Swallow and Drew Petrie and a couple of handling errors from the Demons that ensured North Melbourne finished with its noses in front.
As the game neared its conclusion, Melbourne first-gamer Dean Kent's unwillingness to take a risk and try to create a nine-pointer when he marked just inside 50 cost the Dees any chance of a win. Jack Watts was encouraging him to handball backwards but Kent hesitated and then had no choice but to kick a six-point goal after the siren.
Roos make it two from two
Neeld was not fussed and did not even mention the incident to Kent post-game.
"I told him he played really well and he got to enough contests," Neeld said.
What the coaches said
Melbourne coach Mark Neeld
"We would have liked to have had a win and we didn't but there were enough signs there for us to be pleased with in both games. We still stuck at our task pretty well."  
North Melbourne coach Brad Scott
"[The positives were] all the boys who played their first games for us … Jordan Gysberts I thought was very good for us in the first game. I thought Ben Jacobs was very good too. He's got something that I think are good natural talent. The mistakes he made are very, very coachable so we'll work on those with him. I thought Will Sierakowski in the first game, and he played the second, was impressive too."
Fantasy snapshot
JACK Viney and Jimmy Toumpas are obvious candidates from a Melbourne perspective for AFL Dream Team Fantasy, but an emerging smoky is 18-year-old Dean Kent (mid, $102,700). The youngster, who turns 19 on Sunday, has impressed with his attack on the ball and seems to find space inside 50. He kicked one goal after the siren in his only game and should have kicked another when he missed a running shot from close range. He is tough and has a good engine. He won't play every week but if he makes a good start he will rise in value.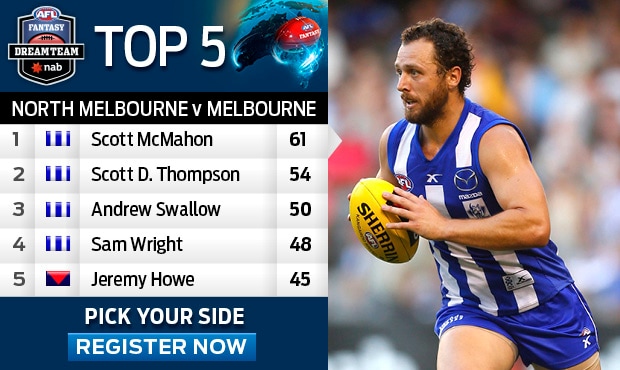 NORTH MELBOURNE    
1.2.2    1.4.5 (38)                  
MELBOURNE      
              0.2.2    0.5.6 (36)  
SUPERGOALS
North Melbourne:
Jacobs
Melbourne:
Nil  
GOALS
North Melbourne:
Hansen, Thomas, Tarrant, Petrie
Melbourne:
Howe 2, Hogan, Watts, Kent  
BEST 
North Melbourne:
Swallow, Wright, Petrie, Daw, Jacobs
Melbourne:
Howe, Jones, Hogan, Dunn, Byrnes  
INJURIES 
North Melbourne:
Nil
Melbourne:
Sam Blease (ankle)   
Reports:
Nil  
Umpires:
Ryan, Nicholls, Gleeson  
Official crowd:
20,309