THE FOOTY fans in the western Victorian dairy farming community of Cobden are getting used to seeing local boys cross paths in AFL games.
That's because four young lads from the town of around 1500 people have been drafted in the past five years.
In 2009, Ben Cunnington and Gary Rohan were taken by North Melbourne and the Sydney Swans with selections five and six.
Jackson Merrett was chosen by Essendon in 2011, while his brother Zach joined the Bombers two years later.
"We've had a great run," Cobden Football-Netball Club president David Buckle told
AFL.com.au
.
"When Sydney played Essendon earlier this year there were different times of the game when Gary was playing on Zach, and late in the game he was actually playing on Jackson.
"I was watching it up at the golf club and we were all wondering if the commentators would mention that three of the players in the game were from Cobden.
"They didn't, but we're still pinching ourselves that we've had such a good run with our boys making it so far."
Now the good folk in Cobden are getting ready to crowd around their TV sets and watch Cunnington and Rohan go toe-to-toe in a preliminary final.
"Things like this give a number of us the chance to reminisce about the times when both of the boys played in the seniors here at Cobden," Buckle said.
"It gets people talking because in Ben's first senior game against Camperdown in 2007, when he was only 15, he kicked 10 goals.
"I still kick myself because I missed that game, but my phone was running hot with text messages.
"The messages were along the lines of, 'The boy's kicked four.' Then someone sent me one saying, 'He's got five.'
"At the end of the game I rang my brother to ask him what was going on. He said, 'The boy's kicked 10!' It was an amazing thing.
"Ben played another blinder in a qualifying final at Terang against Koroit.
"After the boys had sung the song, I said to some of the other supporters, 'Let's enjoy him while he's here, because he's not going to be here for long.'
"He only played two more games for us."
Cunnington subsequently headed off to the Geelong Falcons and spent the 2008 season playing as a bottom-age player in the TAC Cup.
Gary Rohan and Ben Cunnington will meet up at the MCG in the preliminary final. Picture
: AFL Media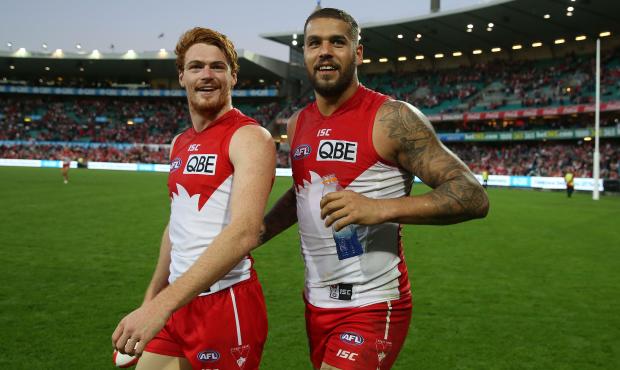 Although Rohan is 21 days older than Cunnington he was not picked up by the Falcons until a year later. So he ran around in Cobden's senior side in '08.
"We were rapt that we got to enjoy watching Gary in the seniors for 12 months," Buckle said.
"There's a guy down here called Jason Rowan, who plays for Warrnambool and is probably one of the greatest full-forwards the Hampden League has seen.
"When Gary was 17, he got sent out to play on Jason. He's the only Cobden bloke we've ever had that's actually been able to beat Jason.
"Gary wasn't punching the ball, he was actually flying and out-marking him.
"I was there that day and it was just amazing to watch."
Rohan joined the Falcons for the 2009 season, and both he and Cunnington spent plenty of time together driving to Geelong that year.
Now the 23-year-olds will put their friendship aside for an evening as they try and get their respective clubs into a Grand Final.
The locals in Cobden can't wait to see how it all unfolds.
"I'm hoping they both go well," Buckle said. "It will be a big night for the town.
"The pub will certainly have it on and the golf club will have it on.
"There always seems to be a good crowd up at the golfie on a Friday night watching the footy.
"And to watch one of them in a Grand Final, touch wood, will be even better."