IT IS the debate West Coast fans have had since Friday night – was Liam Ryan's gobsmacking grab the best ever by an Eagle?
Ryan's stunning hanger over Melbourne giant Max Gawn is viewed by many as the clubhouse leader in the Mark of the Year competition, which has previously been won by former West Coast forward Ashley Sampi and spring-heeled Nic Naitanui.
FLYIN' RYAN!! #AFLEaglesDees pic.twitter.com/dcNF9yzUEz

— AFL (@AFL) May 17, 2019
Naitanui's monster grab against Geelong four years ago brought the Subiaco crowd to their feet, while Sampi's huge climb at the MCG in 2004, when he was given a mid-air boost by Demons mid Adem Yze, ranks among the best of all time.
Who said Nic Naitanui couldn't mark? #AFLEaglesCats http://t.co/cS7D9EE92i

— AFL (@AFL) May 31, 2015
Former Subiaco high-flier Ryan has been threatening to take an unforgettable mark since entering the competition last year, and his grab and go-ahead goal couldn't have come at a more important time for the Eagles in their comeback win.
Teammate Elliot Yeo had a perfect angle from 20m away and raved about Ryan's stunning mark but, for him, Sampi's just took the cake.
"If you have to draw comparisons, I think maybe Sampi's might be just on top, he was standing," Yeo said.
"But Liam's was on top of one of the tallest blokes on the field.
"That was pretty epic. It felt like all game he was gonna clunk one and he was just that fingertip off.
NINE THINGS WE LEARNED 2010 Flag-pie still has what it takes
"To do that passage of play where he ran a fair bit and then to jump on top of one of the tallest blokes on the field, and in a crucial time in the game, was absolutely phenomenal. Credit to him.
"It just felt like he was due for a good clunk and I'm glad he was able to do it at that stage."
Ashley Sampi hauls in the 2004 Mark of the Year against the Demons. Picture: AFL Photos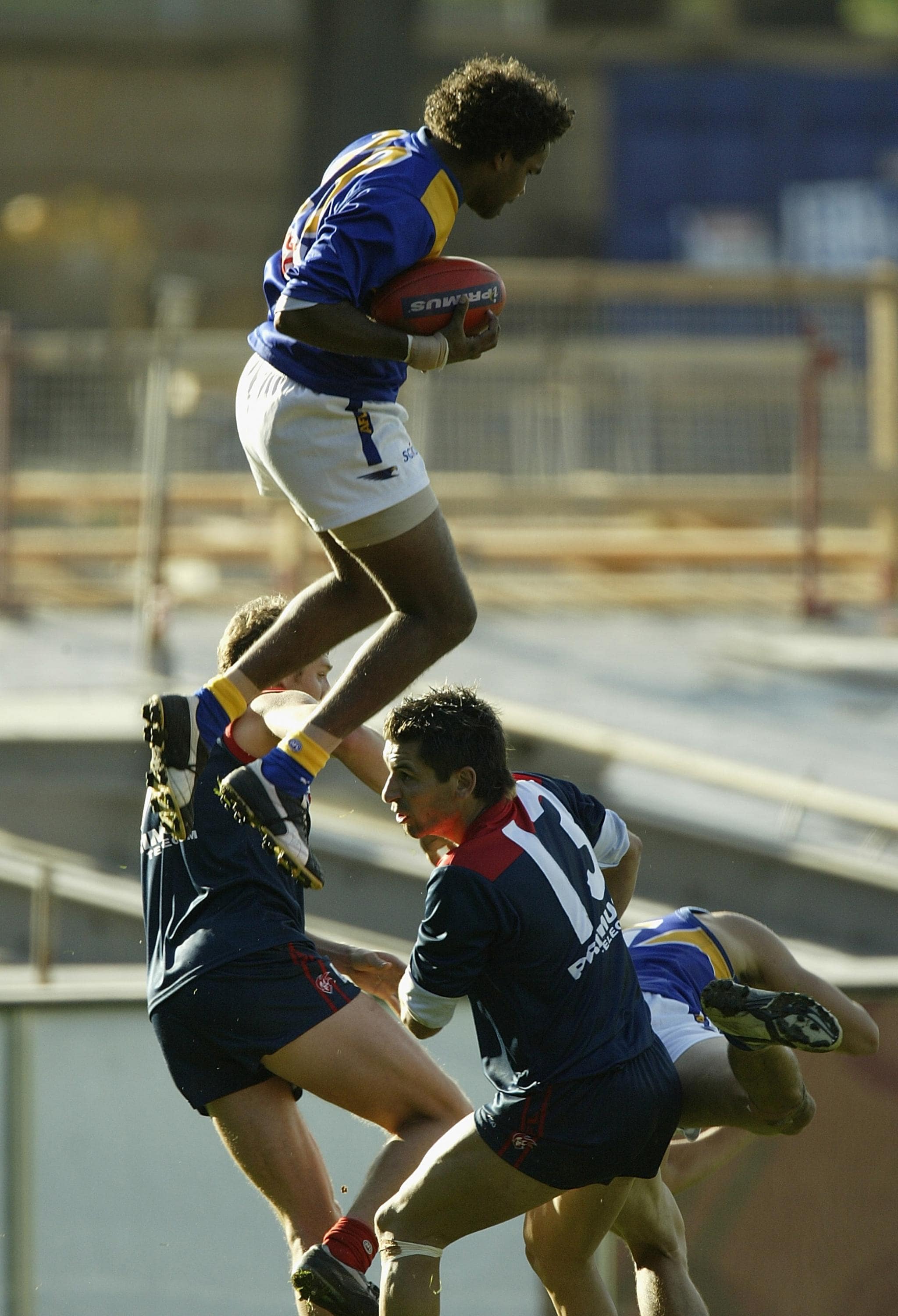 The aftermath of the mark has almost garnered as much attention, with Eagles ruckman Nathan Vardy coming under fire for taunting Gawn, and coach Adam Simpson has conceded he didn't like the look of the incident.
"I think it was a mixture of emotions (from Vardy). There was obviously some banter going back and forth throughout a fair bit of the game," Yeo said.
BARRETT Big guns make flag chase a race in five
"I don't think there was too much in it. Obviously he didn't hurt him, but it's not an act you'd like to see, but we're all past that now.
"Nothing too bad has come of it."
The Eagles' win improved their record to 6-3, and while they are banking wins Yeo, who starred with 16 tackles in a brutish midfield performance, accepted inconsistency was an issue.
West Coast has only won 15 of 36 quarters this year – on par with last-placed Carlton – and has had to adapt to being hunted every week.
FANTASY FORM WATCH Big boys come out to play
"Most teams always put their best foot forward against us, obviously being the reigning premiers it's quite difficult," Yeo said.
"Looking back on it, last year we were the same for Richmond. Whenever you play the reigning premiers it's almost like a Grand Final for that team.
"We're trying to get around that, and we're trying to play our best football at the same time."
The Eagles are weighing up whether to challenge half-back Lewis Jetta's one-game suspension for a dangerous tackle on Tim Smith ahead of Saturday's twilight clash with the Crows at Adelaide Oval.
They could be forced into two changes with youngster Daniel Venables failing to finish the Melbourne clash due to concussion.