THE THOUGHT ran through Nick Vlastuin's head.
Richmond was staring down the barrel of another shock preliminary final loss as the Tigers headed into half-time trailing by 21 points last Friday against Geelong.
Everyone at the MCG was thinking back to last year's defeat at the hands of Collingwood in the corresponding game, and Vlastuin admits he was too.
"You've got moments where you do think 'Oh bloody hell, not again'," the Richmond defender told AFL.com.au this week.
"But we've done so much mental training over the past three years and you do rely on your teammates to pull you out of it … it's only natural to think of things like that, but then you try to pull your focus back to something useful."

NO SHORTCUT TO SUCCESS Hard-luck Tiger has learned the hard way
The Tigers did just that, storming into a second Grand Final in three seasons. They will aim to repeat their 2017 heroics against Greater Western Sydney on Saturday.
This time feels different for Vlastuin and the Tigers. The breakthrough premiership of two years ago ended a 37-year drought for Richmond, while this one would cap a three-year period of dominance.

SORE TIGERS A CHANCE Injured duo hit the training track
The Tigers have won 55 of their 73 games since the start of 2017, and Vlastuin says they reach this flag decider in another manner.
"A lot more thought's been put into this one I reckon. The first time we went there it was us making it up as we went along. We didn't really know what we were missing out on when you didn't win the flag, and even when we did win it we didn't really know what it meant," he said.
"So many fans after 2017 come up to you and know exactly where they were in 1980 when they last won it. This one will feel different for sure if we're lucky enough to be leading after the final siren, but they'll both be special for different reasons just because we've done it before and we know how hard it is to get there.

FROM PIES FAN TO TIGER CHAMP Star's long wait between GFs
"Last year we had an unbelievable year and then we fell prelim week and Collingwood smacked us that day.
"We do know it doesn't matter how good you are during the year, if you're not the best on the last Saturday of September then it doesn't matter. We didn't even get that opportunity last year. This is a continuation of last year."

Vlastuin and Toby Nankervis lead dejected teammates off the MCG after the 2018 prelim final. Picture: AFL Photos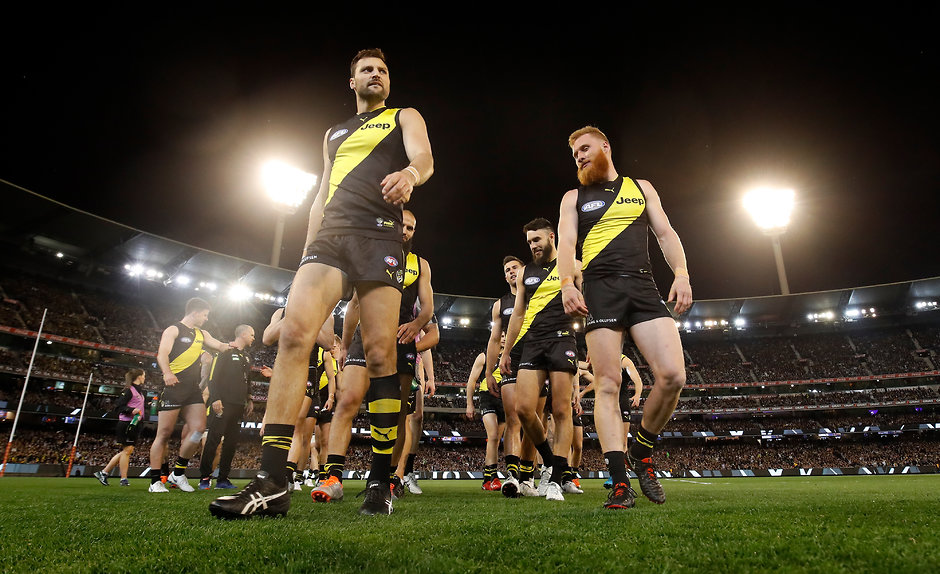 Vlastuin's rise has also been a continuation of last year. The 25-year-old has become one of the leading medium defenders in the competition, capable of shutting down forwards of all shapes and sizes.
That will have to be the case this week, with a range of opponents expected.
"Footy these days, you never spend much time on just one person. Apart from the key forwards and key backs, and the rucks, you work that team defence rather than one-on-ones," he said.

GREAT PLAYER ... GREAT STORY Could a Tiger debut in the Grand Final?
"I'll spend time on Toby [Greene], might even spend a bit on 'Jezza' [Cameron] if he goes up the ground a bit, and Brent Daniels, and whichever midfielders rest down there as well."
Whoever it is, Vlastuin's role won't be small. He doesn't believe the rhetoric that Richmond needs a second flag to cash in on its rich three years, but he has let his mind wander about what it would mean to add another medallion to his collection.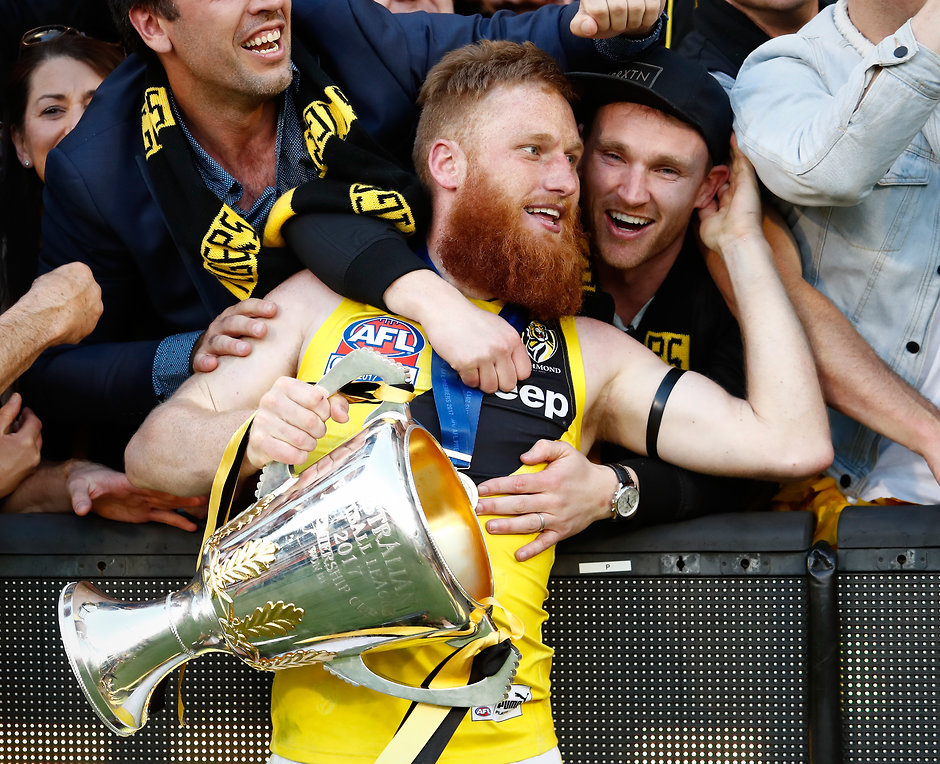 "A lot of teams have been one-time premiership teams and one-time premiership players, but to be a two-time premiership team would be pretty special," he said.
"But hopefully our era continues in years to come so we get even more cracks at it. It's not like this is our last opportunity and everyone's leaving and retiring."