AMBER Noseda is walking off the field at Marvel Stadium with AFL Photos chief photographer Michael Willson. She's been shadowing him during the Hawthorn v Gold Coast round 22 match as her prize for winning the inaugural #FootyFocus amateur photography competition.
A beautiful shot she snapped of Jarryd Roughead, kissing his daughter, before running through the banner has just gone up on the AFL social media channels.
"I'm exhausted but it's been fantastic. There are no words to describe what this is like."#FootyFocus competition winner Amber Noseda spent a a day at a game with award-winning AFL photographer @MichaelCWillson: https://t.co/3637unJNw1 pic.twitter.com/hwCejdeAH4

— AFL (@AFL) August 21, 2019
Her face is glowing.
"I'm exhausted but it's been fantastic. There are no words to describe what this is like."
Amber recently left a career in real estate to develop her photography business.
She only started getting serious about her footy photography six weeks ago after her eldest son, Matthew, asked if she could take some close-up photos of him at a recent game for their club the Apollo Bay Hawks.
Retiring Hawthorn star Jarryd Roughead with child. Picture: Amber Noseda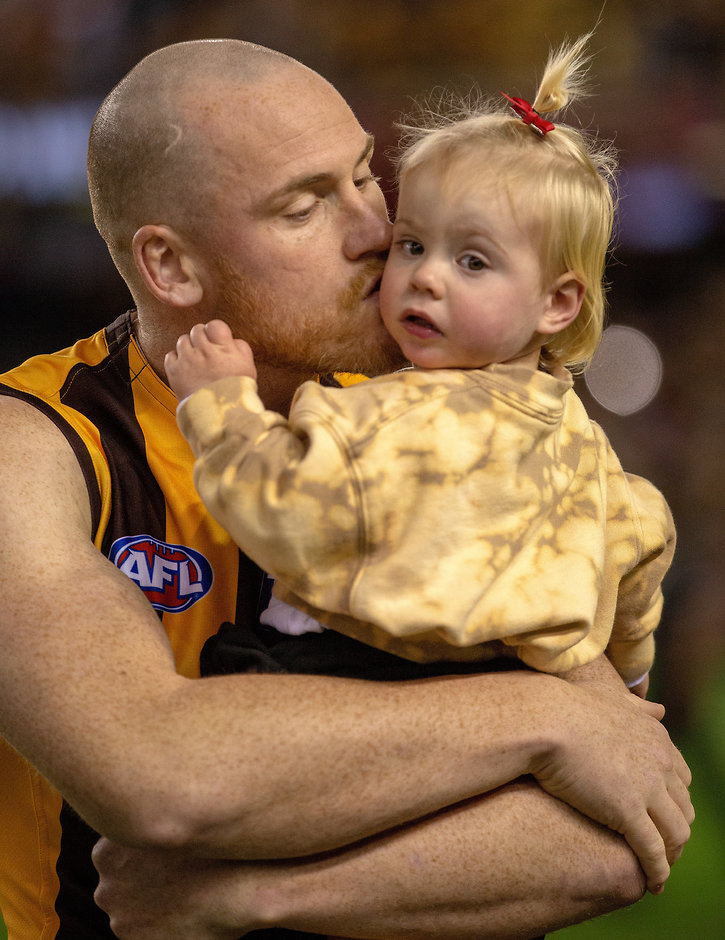 In the weeks that followed, she noticed that people kept tagging her in the callout from the AFL for amateur football photographers to submit photos into the grassroots football competition.
"I think it was a week into #FootyFocus that I submitted my first photo. The winning photo didn't happen until the last weekend," says Amber.
"I had to go to the footy club disco that night. I only had two hours to go through all these photos to find that one that I thought was a good shot, edit it and get it on Instagram before the competition deadline. I just made a couple of slight adjustments and thought that will do and bolted to the disco!" Amber laughs.
Jarryd Roughead gives the thumbs up to fans at Marvel. Picture: Amber Noseda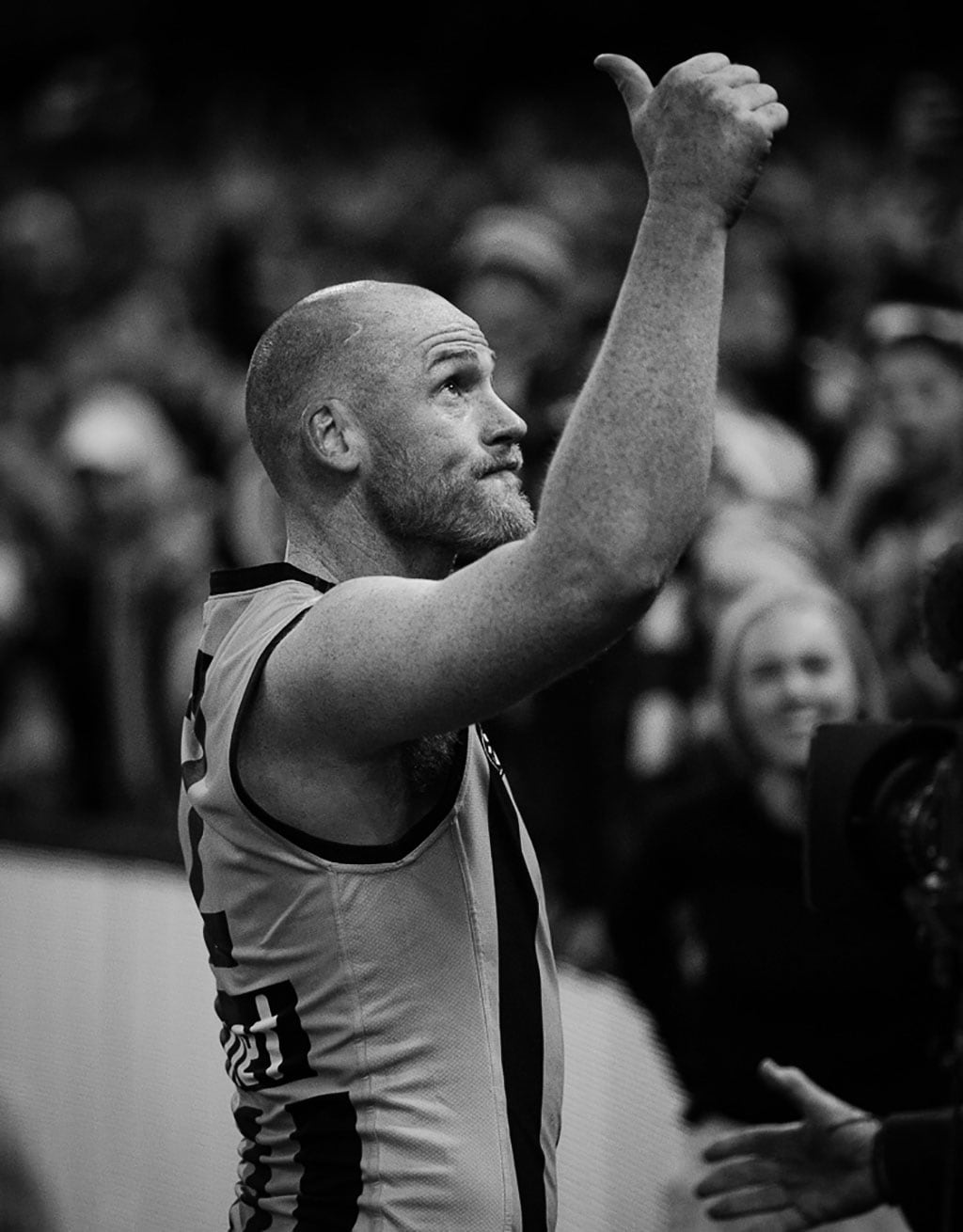 Just in time.

"We had all but settled on the top 10 and had nearly decided on the winner," says Willson.
"After a final sweep on the Monday morning before the competition closed, Amber's inner sanctum shot came up. We all saw it and at the same time went, 'Woah!'"

Amber's competitive nature had come through that weekend. Apollo Bay had just won when they hadn't expected to, and Amber knew she had to get into the rooms to capture the events that followed.
FOOTY FOCUS PHOTO WINNER Watch the video, check out the top 10
"I hadn't been into the clubrooms for 15 years. Women just didn't go in. It wasn't the done thing. But Michael had said during the competition promotion that he was looking for the essence of the game. For me, that was mud, that was a raw moment, and it was black and white," says Amber.
"The rooms were crowded, and I spoke to one of the dads and asked if he reckoned the players would pose for me. He said, 'Oh no Amber, this is really serious stuff, the coach is about to chat to the boys. There is no way that they'll focus on you whatsoever'."
He then quietly nudged Amber into the middle of the huddle.
"Suddenly, I was in amongst them all and I just ducked down and started to shoot. I wanted to be on their level with the camera. I chose a wide-angle because I wanted to get everybody in. I took six photos and four were blurry!" she laughs.
Below: Amber Noseda's winning pic from the Apollo Bay Hawks Football Club.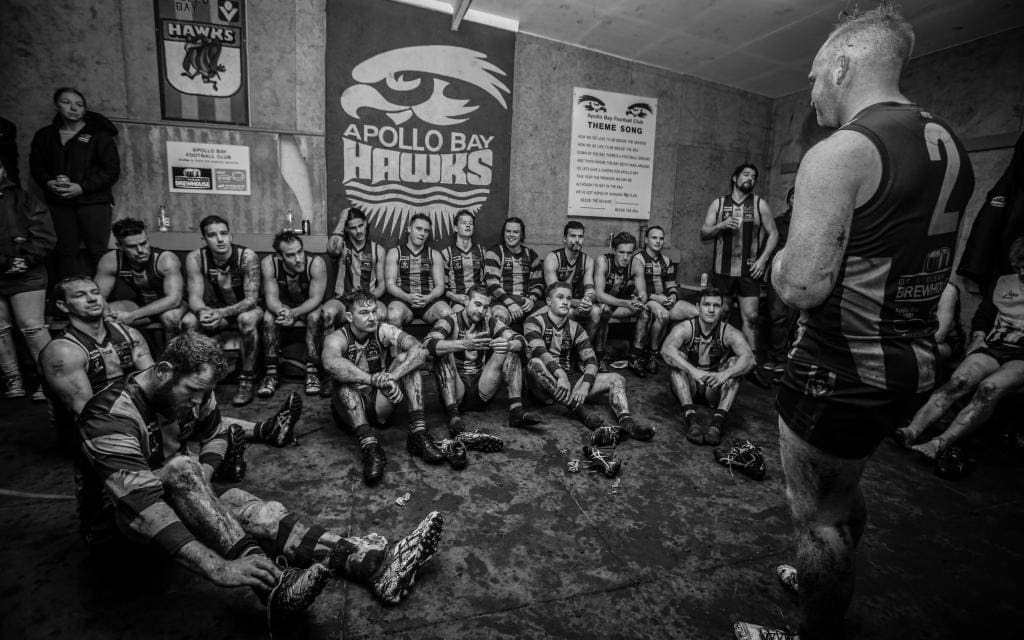 When Michael called to tell her she was being considered for the top 10, Amber was over the moon.
"In my mind, seriously, I'd already won. To be top 10, that was enough for me."
Only three weeks beforehand, it was a different story. Amber was supposed to attend the club ball but ended up spending most of the weekend in bed.
"I was so low. I spent the weekend in tears, I'm normally a super-happy easygoing person but I lost it. I've only been depressed twice in my life."
Three years ago, Amber's husband Bryan was tragically killed in a truck accident.
"When Bryan died, my whole life died. But since then, I have picked myself up."
But crippling self-doubt caused Amber to have depression for a second time.
"I was questioning my ability as a photographer, questioning my decision to leave my real estate job. I just lost it big time and thought I was crazy to set up a photography business by myself. I kept thinking, I don't want to be here anymore, I don't want to live on this planet, I've had enough," Amber recalls.
She went to see a counsellor on the Monday.
"She told me that most people go through periods like this. They doubt themselves."
Amber's counsellor reminded her that she was a capable photographer, and more importantly, she was a valued and supported member of the Apollo Bay community.
"After seeing the counsellor, I won this competition. That just picked me back up off the floor."
Photography has helped Amber move forward.
"I'm a thousandth of the way there to becoming a professional snapper. Winning this competition is a stepping stone. I've got to continue to learn and better myself. And I will. I'm not going to let those demons rule my life."
She also pays tribute to her football club for helping her get to where she is today.
"I have an amazing support network at the club. My dad played 450 games for Apollo Bay, and my husband played over 500. The club enveloped my children when Bryan died. They have been really important for us as a family."
Jarryd Roughead in action against the Suns for the final time. Picture: Amber Noseda