A TEAM OF the best under-18 players in Australia will have the opportunity to showcase their talents in front of recruiters when they take on the Casey Demons at the MCG on Saturday.
The match between the NAB AFL Australian under-18 team and the Demons will be played ahead of the Melbourne-St Kilda AFL fixture, which is to be played in the evening.
>> Subscribers can watch the game LIVE on the AFL Live Official App from 11am AEST
The game which is set to feature possible No.1 draft pick Matthew Rowell, from the Oakleigh Chargers, will begin at 11.05am AEST.
Rowell's teammate Noah Anderson, another possible contender for the No.1 pick, will also be in action. Anderson is the son of former Hawk and Saint Dean, but he is not eligible to join either club as a father-son.
In all, the Chargers will have five players in the team against Casey with Dylan Williams, one of this year's draft pool's top tall options, possible first-round midfield prospect Trent Bianco and ruck bolter Nick Bryan, all set to line-up on the MCG.
Dylan Williams receives his AA jumper from Carlton jet Sam Walsh. Picture: AFL Photos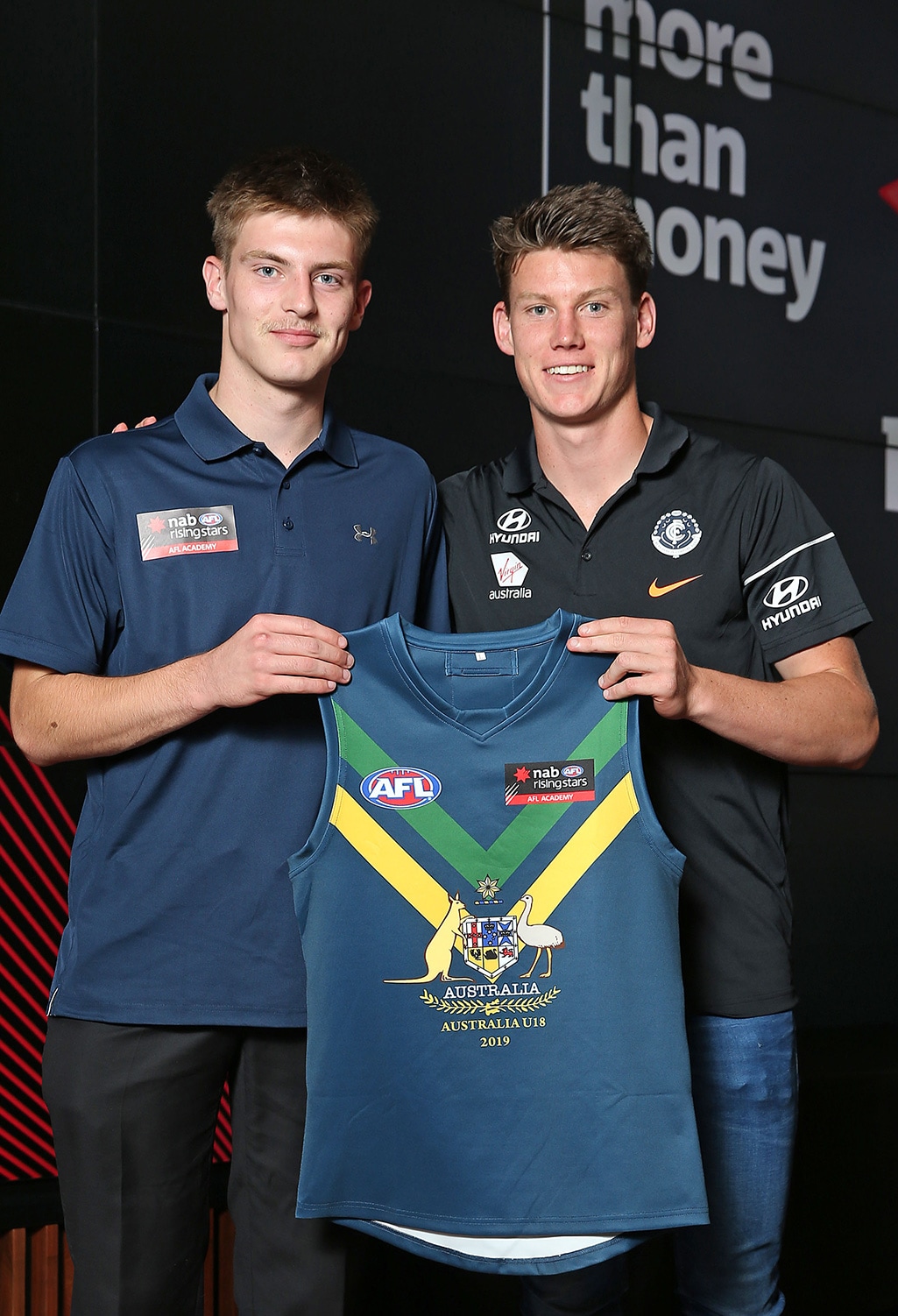 The game features a number of familiar names with Jackson Mead, the son of Port great Darren, and Kysaiah Pickett – the nephew of former Port and North hard man Byron – also playing.
"The match between the NAB AFL Australian Under-18 team and Casey Demons will give recruiters the first chance to see the best young prospects in the country against AFL listed opponents," AFL talent ambassador Kevin Sheehan said.
"It is one of the earliest indicators of the level of talent for the 2019 NAB AFL Draft."
Players from both sides deemed best on ground will receive the MCC Chairman Medals from MCC president Michael Happell.
The under-18 players received their Australian guernseys from last year's No.1 draft pick Sam Walsh at a presentation on Thursday night.
The match will be broadcast on the Official AFL Live App (for subscribers) and on Fox Footy from 11.00pm AEST.
Gate three of the MCG will be open at 10.30am and entry is free.
The match between the Demons and the Saints will start at 4.35pm AEST.
Australian under-18 side
Tom Green (GWS Academy, NSW-ACT)
Liam Delahunty (GWS Academy, NSW-ACT)
Malcolm Rosas Jr (NT Academy, Northern Territory)
Will Martyn (Brisbane Lions Academy, QLD)
Will Gould (Glenelg, SA)
Dylan Stephens (Norwood, SA)
Kysaiah Pickett (Woodville West Torrens, SA)
Jackson Mead (Woodville West Torrens, SA)
Mitch O'Neill (Tasmania Academy, Tasmania)
Brodie Kemp (Bendigo Pioneers, Vic Country)
Hayden Young (Dandenong Stingrays, Vic Country)
Cooper Stephens (Geelong Falcons, Vic Country)
Caleb Serong (Gippsland Power, Vic Country)
Sam Flanders (Gippsland Power, Vic Country)
Lachlan Ash (Murray Bushrangers, Vic Country)
Matt Rowell (Oakleigh Chargers, Vic Metro)
Trent Bianco (Oakleigh Chargers, Vic Metro)
Noah Anderson (Oakleigh Chargers, Vic Metro)
Dylan Williams (Oakleigh Chargers, Vic Metro)
Nick Bryan (Oakleigh Chargers, Vic Metro)
Joshua Worrell (Sandringham Dragons, Vic Metro)
Fischer McAsey (Sandringham Dragons, Vic Metro)
Emerson Jeka (Western Jets, Vic Metro)
Jeremy Sharp (East Fremantle, WA)
Luke Jackson (East Fremantle, WA)
Deven Robertson (Perth, WA)