DUMB and dumber.
The dumb is 20-year-old Collingwood footballer Jaidyn Stephenson, the dumber being 71-year-old Hawthorn president Jeff Kennett.
It is a weird week when a captain of a football club being suspended for pinching an opponent and a stadium-paid security guard who felt the need to approach footballers wrestling on the ground both get trumped on the dumbness scale.
AFL STATEMENT Stephenson suspended and fined
Stephenson and Kennett have apologised for their actions, respectively for wagering on football matches and making a statement which racially stereotyped a group of workers.
But the damage caused by them had cut through long before the remorse, and both have left their clubs exposed to further problems.
Collingwood sits comfortably on the ladder after 12 matches with nine wins, but it is now without a player who has revolutionised its forward-line machinations with vibrancy and speed, and who has netted 59 goals in the 38 matches played in his opening two seasons in the AFL.
Kennett's dumbness was his Monday interview with 3AW's Neil Mitchell where he was talking about the actions of security guards at Marvel Stadium.
Find In the Game on Apple Podcasts, Google Podcasts or Spotify
"I'm not being racist when I say this, but when I saw some of the footage, the people who are making judgements while they wear these authoritative coats are not people who appear to have a great knowledge of our game," he said.
He also used the phrase "new arrivals".
It is extraordinary that Kennett hasn't copped more serious public scrutiny for his unacceptable comments, and one can only hope that people in the crowds at this weekend's matches don't use his words against the security guards assigned their matches.
WHO MAKES FINALS? Do the 2019 Ladder Predictor
Rest assured, several people in senior positions at club level around the country were appalled with Kennett, as were several people within the AFL hierarchy.
Kennett is not wired to admit error or wrong, and on the Monday afternoon after he had made the comments, and again, quite extraordinarily given the conversations he had with senior AFL industry people who were telling him to apologise, for a period on Tuesday morning he actually doubled-down on his right to make such observations.
There was tense standoff between AFL industry people and the Hawks president.
Finally, and not long before the start of a press conference already scheduled for AFL CEO Gillon McLachlan, Kennett finally realised his errors.
THINGS WE LEARNED Time to make some big calls, Clarko
The comments were dumb, and the initial refusal to listen to people who knew better was dumber.
It was the second time in two years where Kennett's words were seriously ill-thought.
He created significant tension with words he said to then-Hawk Cyril Rioli's wife in the Launceston airport lounge last year.
Kennett made a comment about the fashionably torn jeans being worn by Cyril's wife, and she took offence.
Cyril Rioli and Jeff Kennett share a smile after a game last season. Picture: AFL Photos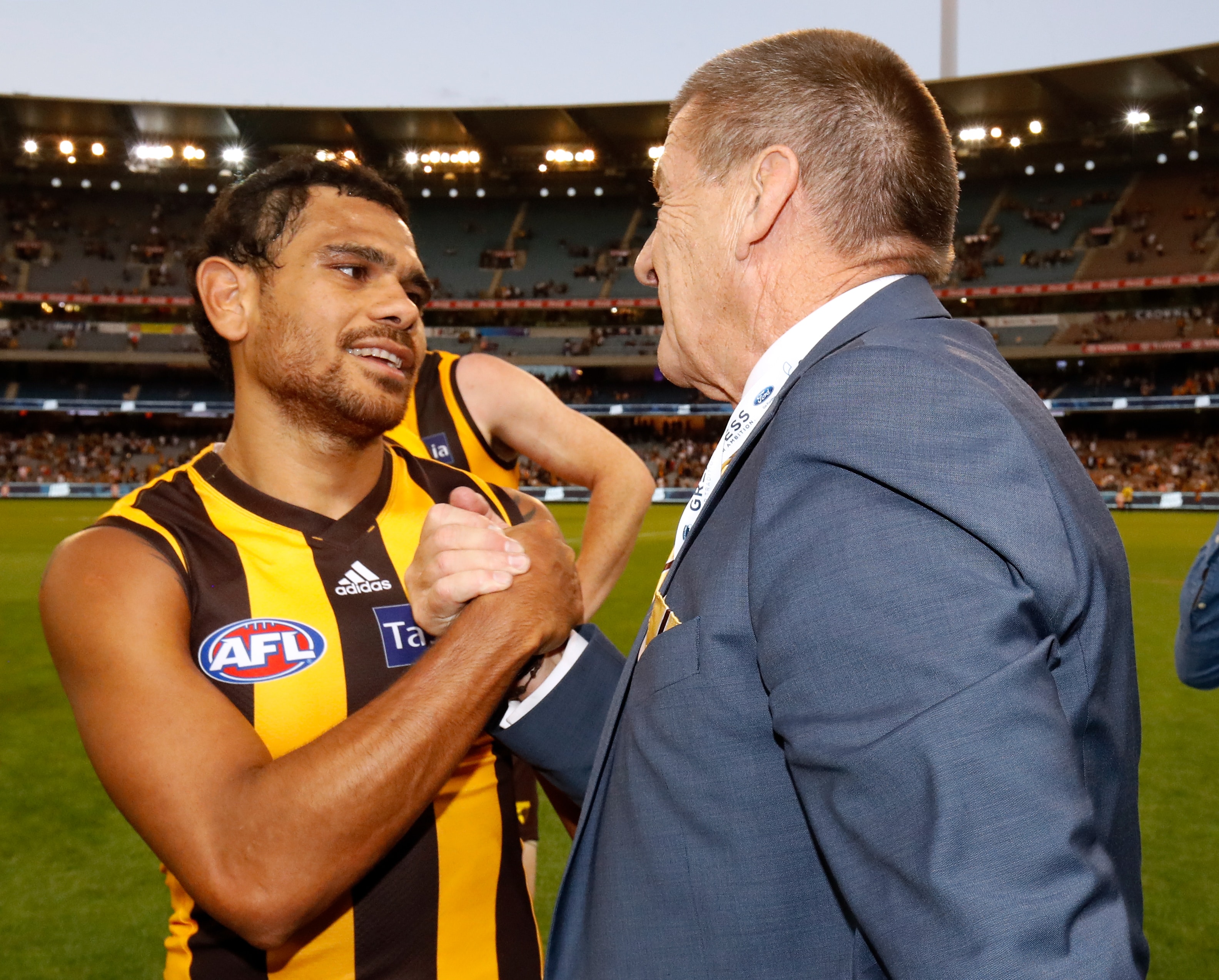 When made aware of the offence taken, Kennett apologised.
While it certainly wasn't the main reason Rioli retired, the incident occurred at a delicate time of Hawthorn's attempts to keep him playing.
Stephenson copped a 10-week suspension and $20,000 fine from the AFL on Wednesday. It is a sizeable sanction, but one which leaves him eligible to play in a premiership this year.
'STUPID THING TO DO' Emotional Magpie speaks
The AFL clearly mitigated the punishment due to Stephenson's self-reporting of his actions, his admissions and co-operation with investigators.
Jaidyn Stephenson fronts the media after being suspended and fined. Picture: AFL Photos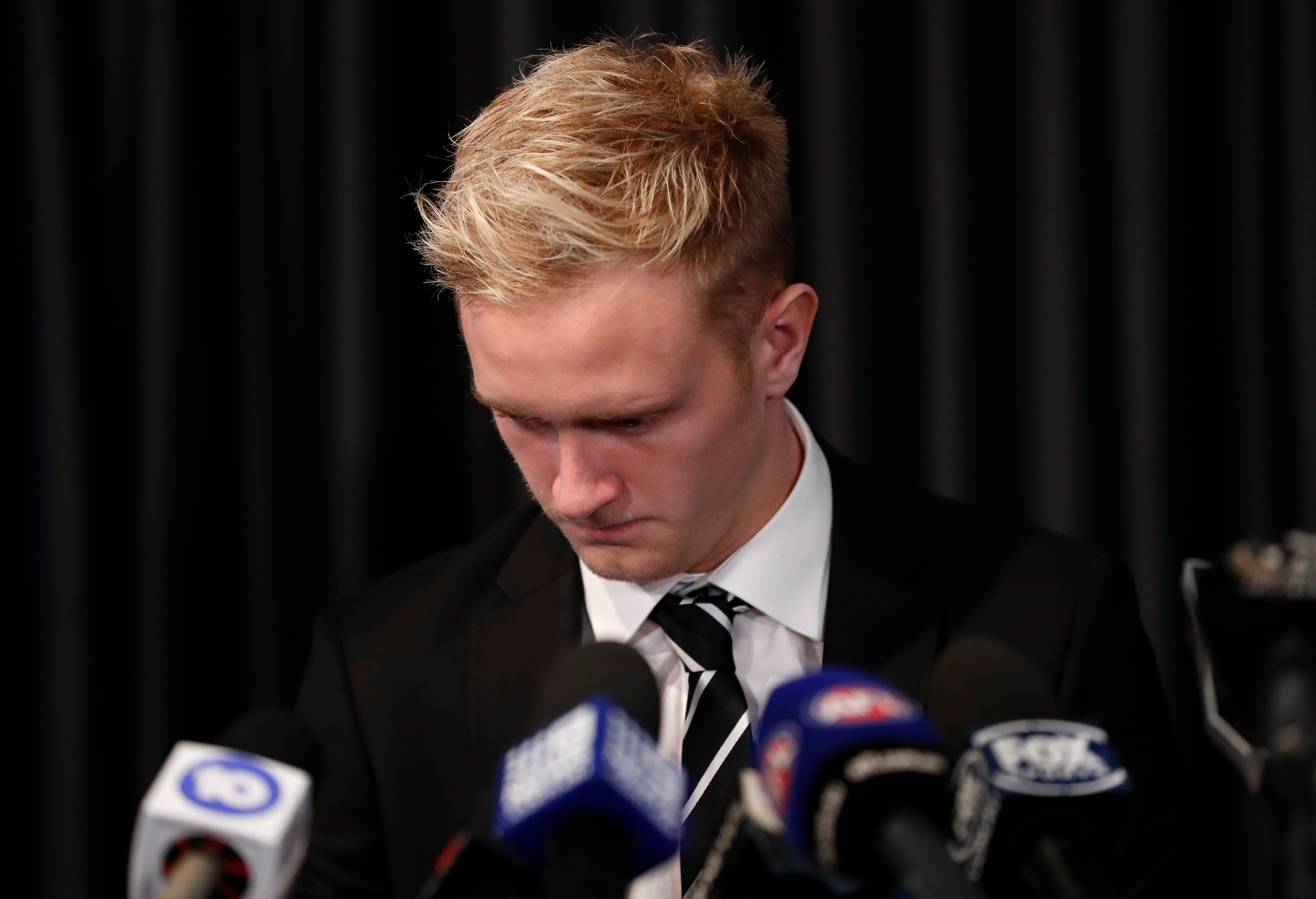 But I feel the sheer dumbness attached to his actions - which saw him in three Collingwood matches (rounds four, six and nine against Bulldogs, Bombers and Saints) make a range of bets as part of multis, including wagering on himself and teammates to kick a certain amount of goals, on teammates accumulating a certain disposal count, and for the Magpies to both win and also win by a certain margin – should have seen a complete ban on the 2019 season.
BARRETT Move over, Lenny. Ross has a new favourite
Forget the total of bets in question tallied $36, and that the multis ultimately were losing bets.
Even in his short time in the AFL since being drafted at No.6 overall in the 2017 national draft, Stephenson would have been formally lectured by experts of the competition's complete ban on betting on matches on at least two occasions (every off-season, AFL integrity officers brief every clubs' players of their responsibilities), and quite possibly a half-dozen times more.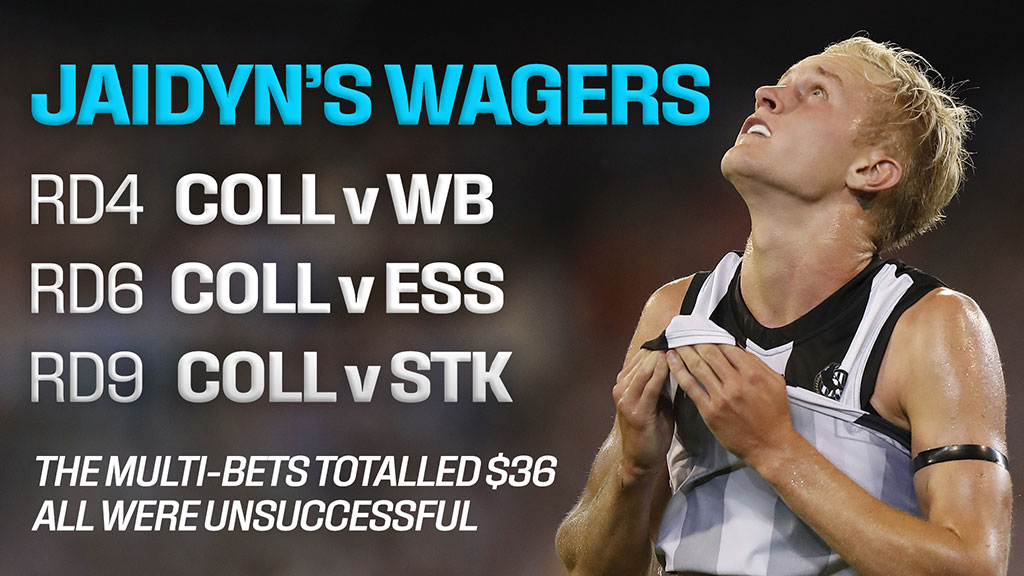 In placing bets of this type, Stephenson had an ulterior reason to spot-fix and to make decisions based on the bets.
The AFL investigation lined up his actions in the games in which he wagered and found his performances were not questionable in that regard.
In the days after his third series of AFL bets, Stephenson approached a senior Magpie teammate, alerting him to his actions, which by then had started to play on his mind.
FULL FIXTURE Every round, every game
That player referred Stephenson to captain Scott Pendlebury and the leadership group, and in turn senior officials of the club were briefed.
On Wednesday, after the AFL delivered its sanctions, Stephenson apologised.
Two dumb actions, two apologies – one naturally forthcoming and one which required negotiation.
But at least both were genuine.
Twitter: @barrettdamian