RHYCE Shaw may be the best candidate to coach the North Melbourne Football Club.
But the "process" the Roos claim to be running would be incapable of proving that.
Not since St Kilda sacked Malcolm Blight and convened a boat race to install Grant Thomas as coach in 2001 has a football club been so flippant with some aspects of its search for a new coach.
North chairman Ben Buckley, with former director Glenn Archer, exited Brad Scott after round 10 this season when it was decided his ideas about the playing list were out of sync with theirs.
Brad Scott and Ben Buckley at Scott's departure media conference. Picture: AFL Photos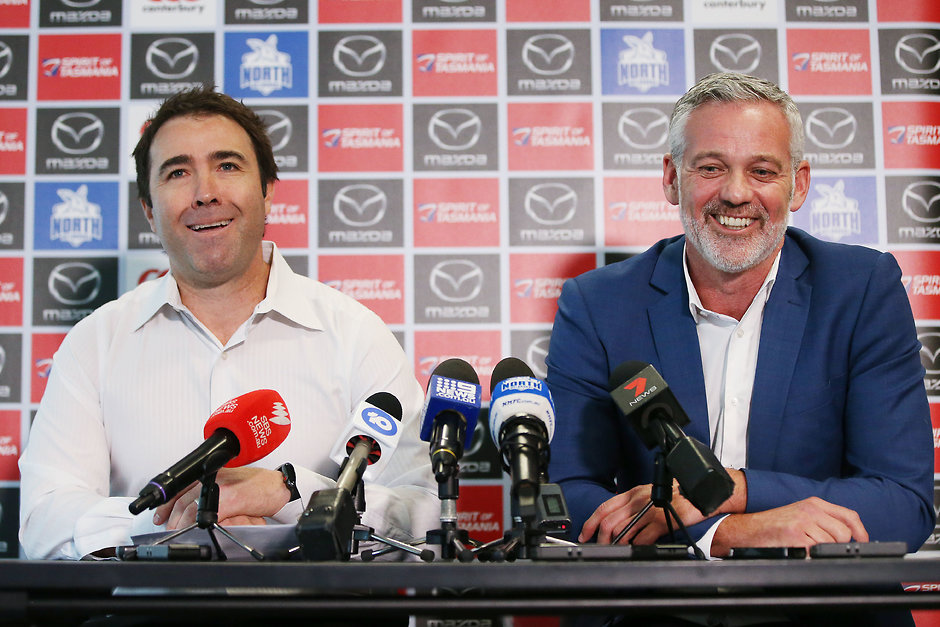 It was a big call, given Buckley and his North board (which at that stage included Archer) had contracted Scott until the end of 2020, but a justifiable one if it was deemed that the relationship was never going to achieve ultimate success after a 10-season partnership.
Deep consideration was given to installing Darren Crocker or Leigh Tudor as caretaker coach, before Shaw was chosen.
At that moment, Shaw was not even in the backs of the minds of Archer and Buckley as a potential permanent replacement.

Calls were immediately made to Adam Simpson, Alastair Clarkson and John Longmire, ex-North Melbourne players who had respectively won premierships as coaches with West Coast, Hawthorn and Sydney.
West Coast chief executive Trevor Nisbett was furious with the brazen approach to Simpson and its list manager Brady Rawlings, another ex-Roo.
Simpson batted away the Archer approach. Rawlings accepted it, agreeing to become North's new football department boss.
Brady Rawlings will become North's new head of football. Picture: AFL Photos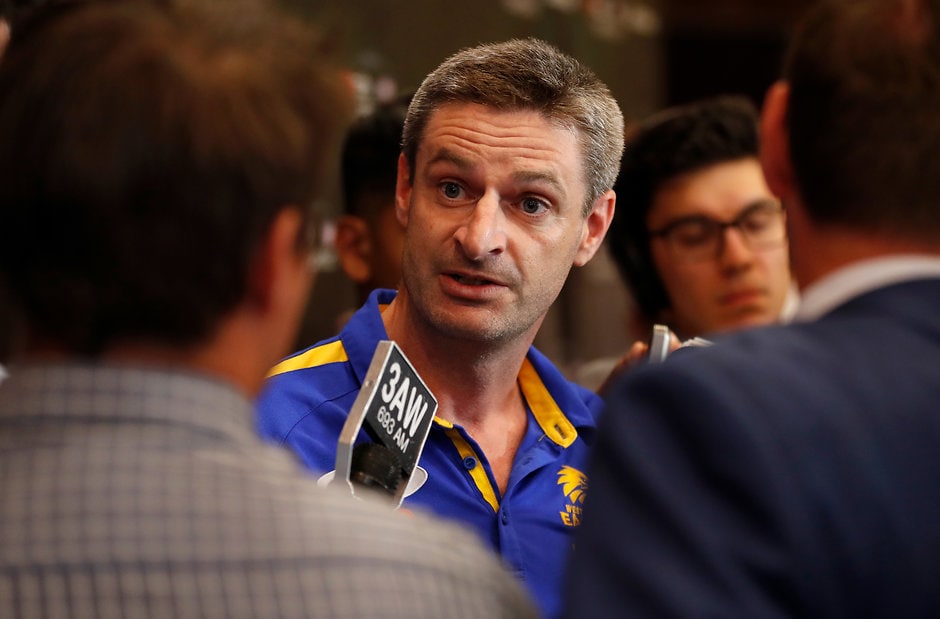 Clarkson quickly said no, too. Longmire mulled over a massive offer, which ultimately compelled the Swans to add a third season to their offer to him to stay beyond the already-contracted 2020 season, and he too rejected the Roos' lure.
Shaw won consecutive matches to open his coaching account, and by the time Longmire said he was staying with Sydney, had taken his tally to four from five, including victories against Richmond and Collingwood.
From not being considered for the permanent role just six weeks earlier, Shaw was now a lock in the eyes of Archer and Buckley – after their Plans A, B and C had failed.
Nothing wrong with aiming high on Clarkson, Longmire and Simpson, but when you fall short, you owe it those you represent to go wide.
North now knows it needs to at least be seen to be adhering to a "process", and interviewed Shaw on Monday.
Rhyce Shaw celebrates his first win as North coach. Picture: AFL Photos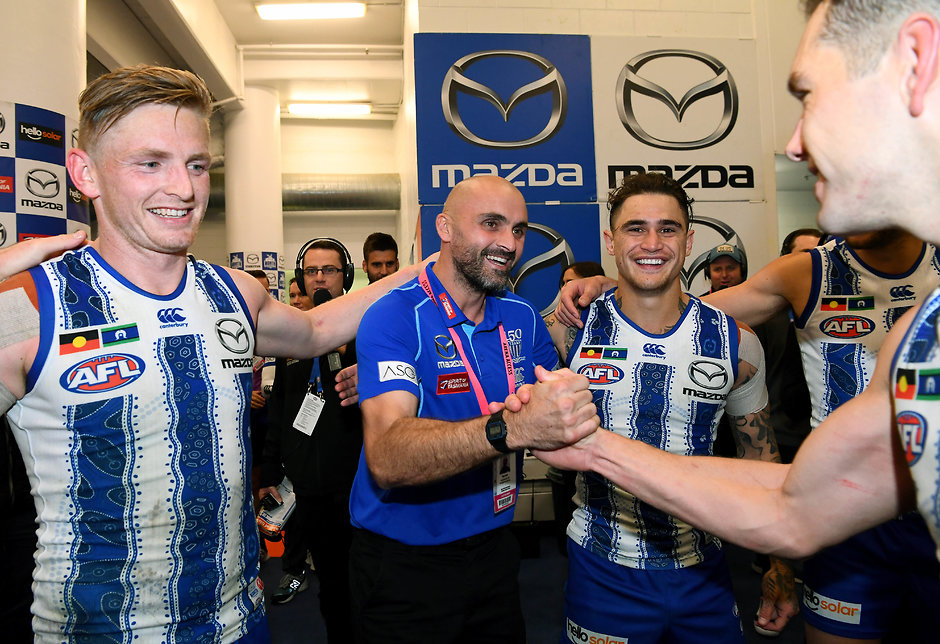 Apparently, other candidates are being interviewed too. Though it is known that some will be saying no to any approaches from North, for fear of being used in a game that already has a winner in the eyes of the two men who will be making the final decision.
Shaw has performed brilliantly since taking over from Scott. His naturally effervescent ways have been greatly appreciated by the entire playing group.
North chief executive Carl Dilena inexplicably took off on an overseas holiday during this tumultuous time of a young caretaker coach being installed, and of a football manager in Cameron Joyce being rendered immediately powerless after the Rawlings appointment.
Find In the Game on Apple Podcasts, Google Podcasts or Spotify
Recruiting staff have had no guidance on who they should target and along with several other members of staff, have been wondering who is actually making the big picture calls, if any are indeed being made.
With this uncertainty at every level, it has been Shaw who has filled the breach, in many ways acting as CEO in Dilena's absence as well as a confidant to the dozens of players and staff who have gone to him seeking advice.
Again, he may well be the best man for the North job, maybe even deserves it given what he has already done.
But there is no way the North "process" could actually prove that.
Just an aside, wonder if Shaw knows that if Scott doesn't get a senior coaching job at either Carlton or St Kilda next year, that a large part of his wage will need to be included in North's 2020 football department soft cap.
Twitter: @barrettdamian