IVAN Soldo and Toby Nankervis are Richmond's odd couple, but the Tiger ruck pair helped deliver Punt Road another premiership.
Soldo is the soccer and basketball convert who hadn't played a game of football before the Tigers selected him as a category B rookie five years ago.
Nankervis is the hard and tough-bodied big man from Tasmania who grew up wanting to play at the top level and was an All Australian in his draft year.
Ivan Soldo is still relatively new to the game. Picture: AFL Photos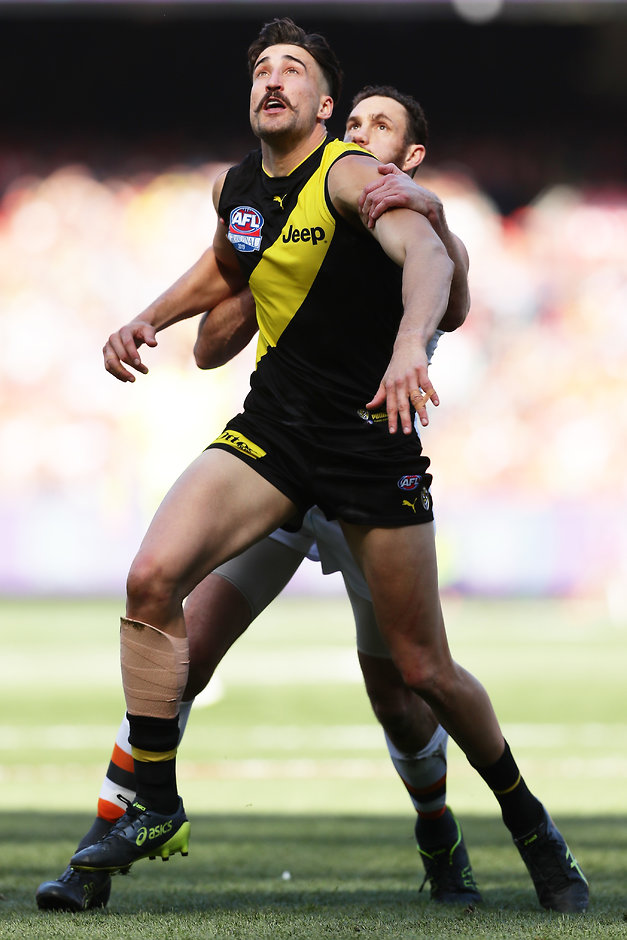 Together, they managed to outrun, outjump and outplay opposing ruck Shane Mumford as the Tigers pounded the Giants by 89 points.
Nankervis, who was traded from Sydney at the end of 2016 and has been a key player in both of the Tigers 2017 and 2019 flags, said he hoped their partnership continued.
"I've really enjoyed playing with Ivan, he's come on so well. It's so good to see. He was a category B rookie when he first got here and he's worked his arse off, so I'm so happy for him," Nankervis said.
GRAND FINAL MATCH REPORT Orange crushed as Tigers roar again
"We have played together a little bit in the past and it's worked alright, so hopefully we can play a lot more together."
Soldo is one of the stories of Richmond's premiership. The Croatian signed as a project player in the middle of 2014, the Tigers having been tipped off about an athletic cross-coder by his cousin, then Richmond ruckman Ivan Maric.
Maric, who has been a ruck coach at Richmond since retiring at the end of 2016, has been working closely with Soldo.
10 THINGS WE LEARNED The Grand Final gamble that backfired
He says it hasn't been an easy road for Soldo, whose 14th game of the season was Saturday's Grand Final. Richmond has had many different views on the best shape of its ruck division this year, but settled on the Soldo-Nankervis pairing late in the year.
"He's done all the work. It's been a really hard journey. I know that, being there next to him. There's not been so many ups for him until today and this season," Maric said.
"It's been a lot of feedback for him, like 'Do this, do this and do this' instead of 'Good work'. I think that's hard for anyone to take.
"It's what I saw in him as a strength of him as a man. He's really disciplined. I'm really proud. Just because of the journey he has been through. He deserves it."
Maric said he had worked closely with Nankervis and Soldo in the lead-up to battling Mumford, who had been a key figure in the Giants' push to the Grand Final with his physicality and aggression.
"We prepare for every game pretty much the same way. We have a few little tactics, but it was more so just for [Ivan] to play his way and go for the ball. When he just goes for the ball he's pretty hard to stop," Maric said.
WHO TORE IT APART? Every Tiger rated from their record Grand Final win
"He's got pretty good hands and he marked a few today which was good."
Nankervis had an injury-affected season in 2019, with his Grand Final only his fourth game of the year since round eight.
But he timed his run to perfect, including kicking the winning goal in Richmond's VFL qualifying final win over Essendon before returning to the senior line-up.
He said his move from the Swans, after just 12 games, was driven by one thing.
"I was just chasing a flag," he said. "I wanted the opportunity to play some more senior footy and it's worked out alright."