SHE'S the Lion who stayed.
Dangerous forward Jess Wuetschner turned down an offer to move to expansion team North Melbourne for the 2019 NAB AFL Women's season, sticking with the club she has played in back-to-back Grand Finals with.
The Kangaroos have an alliance with Tasmania and a commitment to having 10 of their inaugural 30 players from the southern state.
As a native Tasmanian and highly talented player, Wuetschner was expected to be high on the Kangaroos' shopping list. But what surprised many was her choice to stay in Brisbane.
"I was approached around round five or six in the AFLW season, and said I wanted to focus on footy," Wuetschner told AFL.com.au.
"Then at the season's end I was approached again, but I told them I wanted to stay in Brisbane and they moved on to other players.
"They're the only colours I think I look good in, so I have to stick it out," she said with a laugh.
Former teammates Kaitlyn Ashmore, Brittany Gibson, Jamie Stanton and Tahlia Randall all made the move down south to join North Melbourne.
Ashmore played her state league football for North Melbourne-aligned club Melbourne University, so was expected to leave. Likewise, Tasmanian native Gibson, whose fiancée is pregnant with the couple's first child.
But Wuetschner, who has played for Clarence (in Tasmania), East Fremantle (Western Australia) and now Brisbane and Coorparoo (in Queensland's state competition), wasn't going to move again.
"If you asked me a few years ago if I'd ever move to Queensland, the answer would have been 'No, never'. But it's the place I've enjoyed living in the most," she said.
The 26-year-old kicked 13 goals in eight matches this year (after five in season one) and was named in the Virgin Australia AFLW All-Australian team. She would have been the competition's leading goalkicker if the Grand Final was counted in overall standings.

Wuetschner kicked two in the Lions' agonising six-point Grand Final loss to the Western Bulldogs and was a constant threat.
"I started off the year pretty strongly. I got a full pre-season in, which always helps," she said.
"I had a little bit of a slow patch, but I was able to bring it back towards the end of the season. So, I was happy with my performance, but I've certainly got more to give."
Wuetschner's ability to slot set-shots from the boundary puts her in elite company in the fledgling competition.
"It's something I've always enjoyed doing, but also worked pretty hard on," she said.
"I don't just rock up to training and do set shots from directly in front. I really work hard to practice those [from the boundary], so in the moments when they're needed in a game, I'm confident in what I'm doing."
How good was this!

What was your favourite goal in 2018? pic.twitter.com/KHMmcGjzmh

— Brisbane Lions AFLW (@lionsaflw) May 20, 2018
The Grand Final loss – the team's second in two years, both by six points – still stings.
"The second loss was much harder than the first and that was well-known by the staff, so we had a bit of time to ourselves after the season," Wuetschner said.
"Two weeks later, we had a review with the coaches and staff and looked at where we excelled in the season, then also what they wanted us to work on individually and as a team in the off-season, so it was pretty thorough."
Away from football, Wuetschner works as a stevedore on the docks, loading and unloading ships.
It's physically demanding work, and on two occasions this year, she worked a full night shift directly after playing an AFLW match.
"I was pretty much fatigued for 24-48 hours afterwards, so a lot of coffee helps," she said.
"The work itself can change day-to-day. I could be up on the ship lashing (securing goods), which is pretty physical, or I could be under a crane, moving boxes here and there. It's fairly active, but I still enjoy my gym work."
Jess Wuetschner loves celebrating a goal. Picture: AFL Photos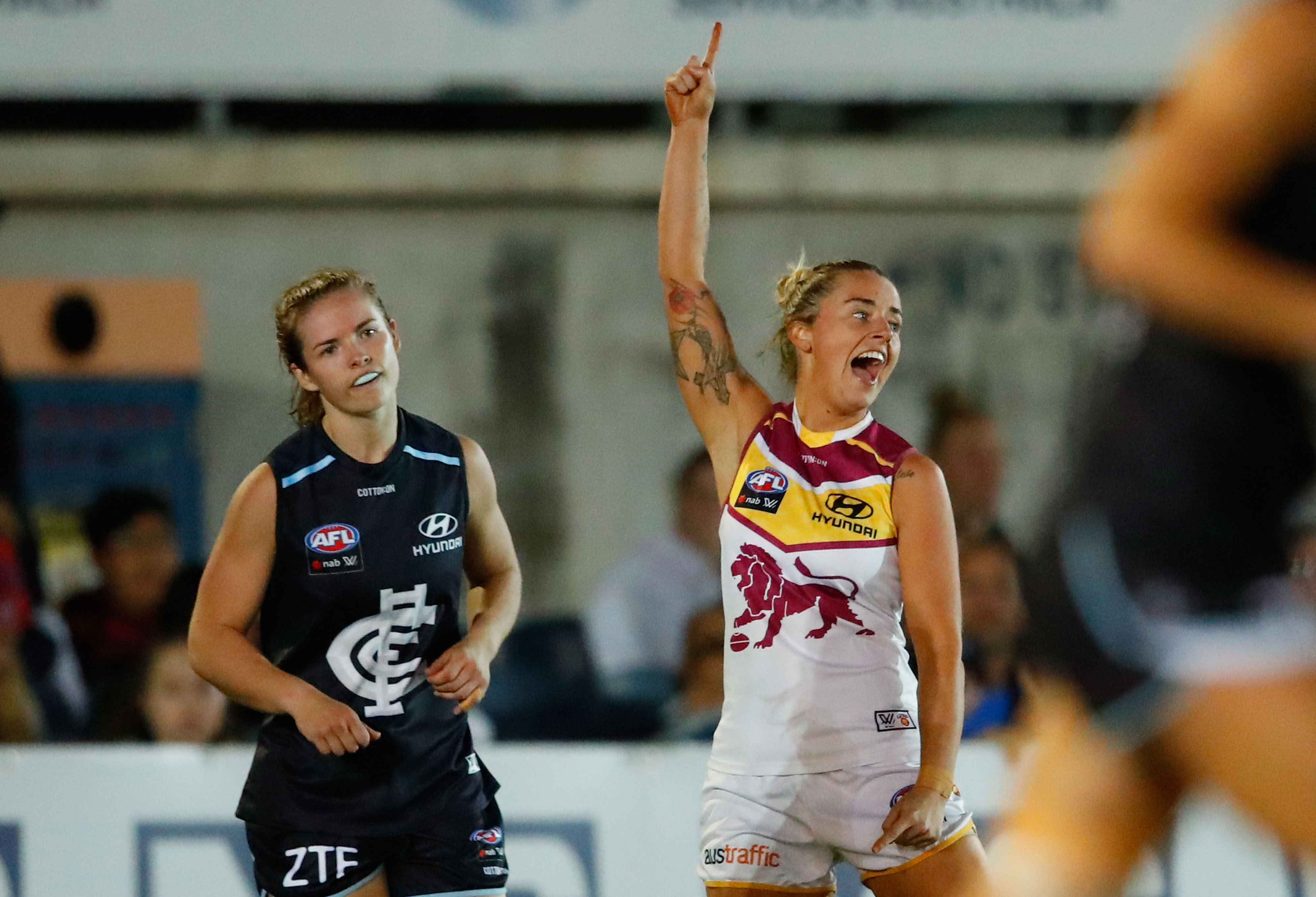 Brisbane is participating in the Winter Series, a competition also involving Gold Coast and two sides representing Greater Western Sydney (Northern and Southern Giants).
Wuetschner had some fun in an unfamiliar position in the team's most recent match, an 11-point win over the Northern Giants.
"I played the second half off the half-back flank, which was new, but quite enjoyable," she said.
"It was definitely different. I didn't really know what I was doing, but I got a few pointers from the girls down back like Kate Lutkins and it was a lot of fun."
Wuetschner noted the form of two young teammates, who will be playing for Queensland in the NAB AFL Women's Under-18 Championships starting Monday.
"Jesse Wardlaw is quite a tall forward who's pretty new to the game but is fantastic with her leading patterns and has really good hands," she said,
"I call Jacqui Yorston the young bull. For an 18-year-old, she has a fully built body that's ready to play AFLW."
The Lions' final Winter Series match is on July 14, against Gold Coast at Metricon Stadium, a curtain-raiser to the Suns-Bombers AFL match.