AFTER North Melbourne great John Blakey's son Nick sparked debate by choosing to join Sydney as a Next Generation Academy player, our writers have canvassed every club's father-son prospects.
We look at who's a genuine chance to join your team in the next couple of years, and identify the young sons of club greats who could qualify if footy becomes their calling.
And as of last year, talented daughters of past AFL players can join their father's club as long as he played at least one senior game. We'll take a look later this year, ahead of the AFLW draft, at the women who could continue their family's history at the top level.

Who is eligible: The sons of Crows players with 100 or more games for the club are eligible as father-son selections. The Crows also have father-son rights over players with 200 or more games at SANFL clubs Norwood, Glenelg, Sturt and South Adelaide, provided those games were in a 20-year period between 1970 and 1990, before the Crows entered the AFL in 1991. A famous case involved No.1 overall draft pick Bryce Gibbs, who the Crows wanted as a father-son pick because his father Ross played 253 games for Glenelg. However, only 191 of those were between 1970 and 1990, meaning Gibbs was allowed to go into the draft and was picked up by Carlton.
On the horizon: Zac Hart could be the Crows' third father-son selection in as many years. Zac is the son of Crows assistant coach and AFL Hall of Famer Ben Hart, who played 311 games for the side, including their back-to-back premierships in 1997-98. Zac is a hard and tough defender who is playing with the Oakleigh Chargers in the TAC Cup. Another coming through is Luke Edwards, the middle son of another Crows champion in Tyson Edwards. Luke plays for Glenelg, has been involved in South Australia under-age representative teams and is eligible for the draft in 2019.
Watch list: Fraser McDermott (son of Chris), Tyler Welsh (Scott), Luke and Brodie Edwards (Tyson), Caleb and Joseph Tregenza (Simon) and Noah Smart (Nigel) are part of the Next Generation Father-Son Academy. Champion goal-sneak Eddie Betts needs to play just two more games for five-year-old Lewis and one-year-old Billy Betts to be eligible as father-son selections, but it could be a tug of war with Betts' former club, Carlton. There could be another Sloane running out for the Crows in about 18 years, with Rory Sloane and wife Belinda expecting their first child later this year. Sam Jacobs, Tom Lynch and Josh Jenkins are also expecting children.
Past father-son successes: Darren and Ben Jarman, Tyson and Jackson Edwards. Ben was a rookie-draft selection in 2016, while Jackson was also selected in the rookie draft last year. Both players are currently on the Crows' list. - Lee Gaskin
GET BREAKING NEWS ALERTS Subscribe for free with the AFL on Messenger

On the horizon: The most likely prospect this year for the Lions is Sandringham leader James Rendell. The son of former Fitzroy ruckman Matt, Rendell has been a regular goalkicker for the Dragons in the TAC Cup and has been to Brisbane on multiple occasions to train with the Lions. There's a few other players eligible this year too including Casey Voss, son of triple premiership captain Michael, who is developing nicely in South Australia. Jake Bradshaw (son of Daniel) is also in the mix, while there's a tug-of-war looming over Chris Johnson's son Lachlan, who is draft eligible in 2019. The Calder Cannon is also eligible for Essendon under the Next Generation Academy. Lachlan Harris (son of Fitzroy's Leon) was overlooked last year but is still available.
Watch list: It might be a while away, but a couple of Lions legends have young sons that could be handy footballers down the track. Simon Black has two young blokes – Lachlan, 6, and Lucas, 4 – and although they're trying a number of sports as youngsters, if they have half their old man's football ability, the Lions are on a winner. Then there's Jonathan Brown, whose five-year-old boy Jack led Brisbane on to the field in the opening round against St Kilda. Fingers crossed one of them works out!
Past father-son successes: Remarkably, since becoming the Lions in 1996, the club has had just two father-sons – but one is an all-time great. When Brian Brown chalked up 51 games for Fitzroy in the late 1970s and early 1980s, little did he know how significant those games would be. With 50 games the minimum requirement to be father-son eligible, the Lions took Brian's hulking son Jonathan in the 1999 draft. And 256 games, 594 goals, three premierships, two All Australians and a Coleman Medal later, they had one of the best forwards of his generation. - Michael Whiting

On the horizon: Get excited Blues fans – another Silvagni appears on the way. Ben Silvagni, the middle son of club legend Stephen and Jo, has been impressive for the Oakleigh Chargers in the TAC Cup this season. He is a key position forward, unlike his older brother Jack, who is more of a flanker. In Western Australia, brothers Liam and Will Hickmott, sons of West Coast assistant Adrian who played 134 games with the Blues between 1996-2003, are turning heads with their performances in the colts for WAFL club Subiaco. Oskar Manton, son of 1995 premiership defender Glenn, is playing with the Western Jets this season.
Watch list: Chris Judd's three boys have a choice of clubs, but the Blues have done the smart thing and put the dual Brownlow medallist on their board, hoping that will help sway their decisions if they are interested/good enough. Imagine three Judds in the team – what a prospect to look forward to in 2035! Throw in former midfielder Bryce Gibbs' son Charlie and skipper Marc Murphy's three-month-old boy Max and Carlton could have a superb midfield in about 20 years. Blues fans hope they don't have to wait that long to taste success.
Past father-son successes: The Sergio and Stephen Silvagni combination played 551 games between them for the Blues to sit in seventh place in the all-time AFL/VFL list for father-sons. Sergio played 239 games between 1958-71 and AFL full-back of the century Stephen 312 between 1985-2001 – both played in two premierships and twice won the Blues' best and fairest award. While Scott Howell played only 39 games between 1980-85, he was a member of the 1981 premiership team, joining his father Jack as a premiership player. Jack played 137 games between 1942-54 including the 1947 flag. He was equal second in the 1946 Brownlow Medal, won the best and fairest award twice (1946, 1948) and was an All Australian in 1953. Vin Waite played 153 games for Carlton between 1966-75 and played in two premiership teams (1970, 1972). Son Jarrad played 184 games for the Blues between 2003-14 before joining North Melbourne as an unrestricted free agent. - Howard Kotton
Ben Silvagni could join his brother Jack at Carlton. Picture: AFL Photos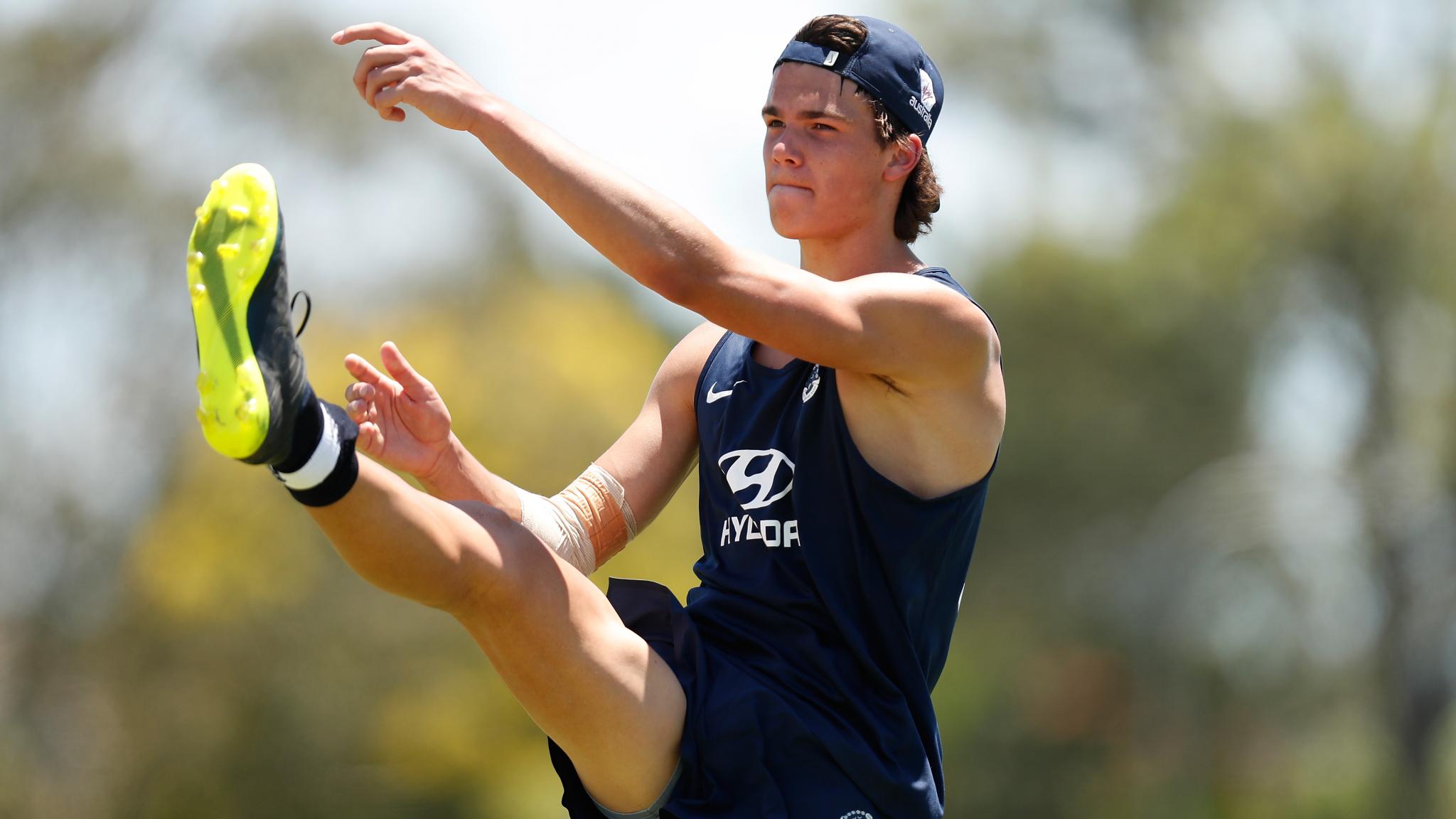 On the horizon: The Magpies passed up the chance to claim 1990 premiership player Craig Kelly's son Jake, who is now entrenched at Adelaide, so they might find it harder to overlook younger brother Will Kelly this year. The versatile Oakleigh Charger is tall, athletic and an elite runner and is said to be a better kick than his brother. Pies fans will have to wait longer for a potential matchwinner, the great Peter Daicos' youngest son Nick. A precocious, goalkicking midfielder for Kew Rovers, Nick Daicos last year won the Yarra Junior League's under-15s best and fairest despite still being eligible for under-14s. He'll become available for the 2021 draft when he could join older brother Josh and fellow sons of guns Darcy Moore and Callum and Tyler Moore.
Watch list: We need look no further than the club's current coach and captain for some rolled-gold father-son potential. Pies coach Nathan Buckley has two footy-mad sons, Jett and Ayce Buckley, and they are often seen in the changerooms post-match mixing with players and officials and having a kick. Skipper Scott Pendlebury also became a father last year and Pies fans dream about little Jax Pendlebury following in his father's footsteps. No pressure though, boys.

Past father-son successes: David and Travis Cloke, Ray and Rhyce/Heath Shaw, Ken and Jamie Turner, Charlie senior and Charlie junior/Alby Pannam, Bill senior and Bill junior/Mick/Pat Twomey - Ben Collins


ROAD TO THE DRAFT PODCAST Magpie recruiter spills the beans

On the horizon: On the radar this year for the Bombers is Mason Fletcher, the son of champion 400-gamer Dustin Fletcher. Mason is a clone of his famous father and also plays as a key defender at the Calder Cannons, where he has shown some talent. He is lean and wiry and looks a back-end or rookie selection at this year's draft if the Bombers deem him good enough.
Watch list: Alwyn Davey's twins Alwyn Jnr and Jayden are only 14 but are already turning heads with their talent and will be closely monitored. Max Fletcher, younger brother of Mason, is 15 and also showing good progress. There are plenty of sons available from Essendon's 2000 premiership team. James Hird has three boys – Tom (17 years old), Alex (14) and William (9) – while Kurtis and Luke Barnard (son of Paul), Alex Alessio (son of Steve) and Noah Caracella (son of Blake) are also part of the club's father-son academy. Tex Wanganeen, who is 14 and has been at The Hangar recently to train with the James Hird Academy, could have the choice of playing with Port or Essendon, where his father 1993 Brownlow medallist Gavin was a champion, while well down the track Bomber fans will be looking out for Jacob Lloyd, son of champion goalkicker Matthew. Jacob is only five but is often spotted around Essendon in his Bombers gear.
Past father-son successes: If Mason Fletcher makes Essendon's list he would be a third-generation player from his family, following Dustin and grandfather Ken as Bombers. The Bombers have had great success through their father-sons, including Jobe Watson who came after the brilliant career of his father Tim, while current star forward Joe Daniher was a father-son pick after his father Anthony's career. Jake Long, the son of 1993 Norm Smith medallist Michael, is also on Essendon's list. - Callum Twomey

Who is eligible: In addition to the son of any player who reached 100 games for the club, Fremantle has been eligible to recruit a player if their father played 150 senior WAFL games for South Fremantle, East Fremantle, Perth or Swan Districts before 1995.
On the horizon: The eldest of Shaun McManus' three sons, Lachlan, is 16 and has played junior football at East Fremantle. There would be undeniable romance if he followed in the footsteps of his iconic dad, who was an inaugural Docker, co-captained the club during some of its darkest days and notched 228 games. Maurice Rioli Jnr – the son of the late WAFL and VFL champion – is eligible at Freo and Richmond in 2020, although it could be tough for the Dockers to lure him west given he has relocated to Melbourne and has strong family ties to Tigers star Daniel. Chayce Black, the son of Heath, has played TAC Cup at Eastern Ranges. The Dockers just missed out on rights to East Fremantle key forward Dillon O'Reilly, the son of former full-back Stephen, who fell two games short of qualifying.
Watch list: It will be a long wait but Freo fans would love nothing more than to see club legend and six-time Doig medallist Matthew Pavlich's three-year-old son Jack and 20-month old William one day don the purple guernsey. Pavlich and current players Michael Walters, Aaron Sandilands and Hayden Ballantyne also have daughters who could qualify for AFLW in future.
Past father-son successes: Brett Peake, son of East Fremantle great Brian, is the Dockers' only father-son so far, playing 75 games and 43 for St Kilda. - Travis King

On the horizon: Geelong will have two father-son prospects in the NAB AFL Under-18 Championships this year eligible for the draft – Bailey Scott (Robert, Allies) and Oscar Brownless (Billy, Vic Country). Scott, a tough midfielder, has three options at the draft table this year with Geelong and North Melbourne (father-son) and Gold Coast (Academy) vying for his services. Brownless' Geelong Falcons teammate Baxter Mensch (son of David) has averaged 35 disposals in the past two weeks. Both Brownless (186cm) and Mensch (177cm) play midfield roles compared to their fathers who were forwards. Lochlan Hocking (Garry's son) also spent time training with the Falcons this pre-season.
Watch list: Can you picture Johnny Ottens palming down to Aston Bartel who feeds it out to the run of Boh Enright, flicks onto Myles Chapman, shares with Archie Johnson and hits up Jagger Mooney in attack? That's the prospect that awaits Geelong in 2037. Incredibly from the Cats' three flags from 2007-2011, the club has 26 eligible father-sons. Other names such as Scarlett, Taylor, Mackie, Harley, Wojcinski, Kelly, Milburn, King, Ling, Corey, Hunt and Lonergan could be donning the blue and white in future years. William Kilpatrick (son of Glenn) played U16's for Geelong Falcons earlier this year.

Past father-son successes: Gary and Nathan Ablett, Matthew Scarlett, Tom Hawkins and Mark Blake played a combined nine premierships between 2007-2011. Hawkins and Gary Ablett are joined on the current list by Jed Bews and Sam Simpson. - Mitch Cleary
Oscar Brownless is eligible to join the Cats later this year. Picture: AFL Photos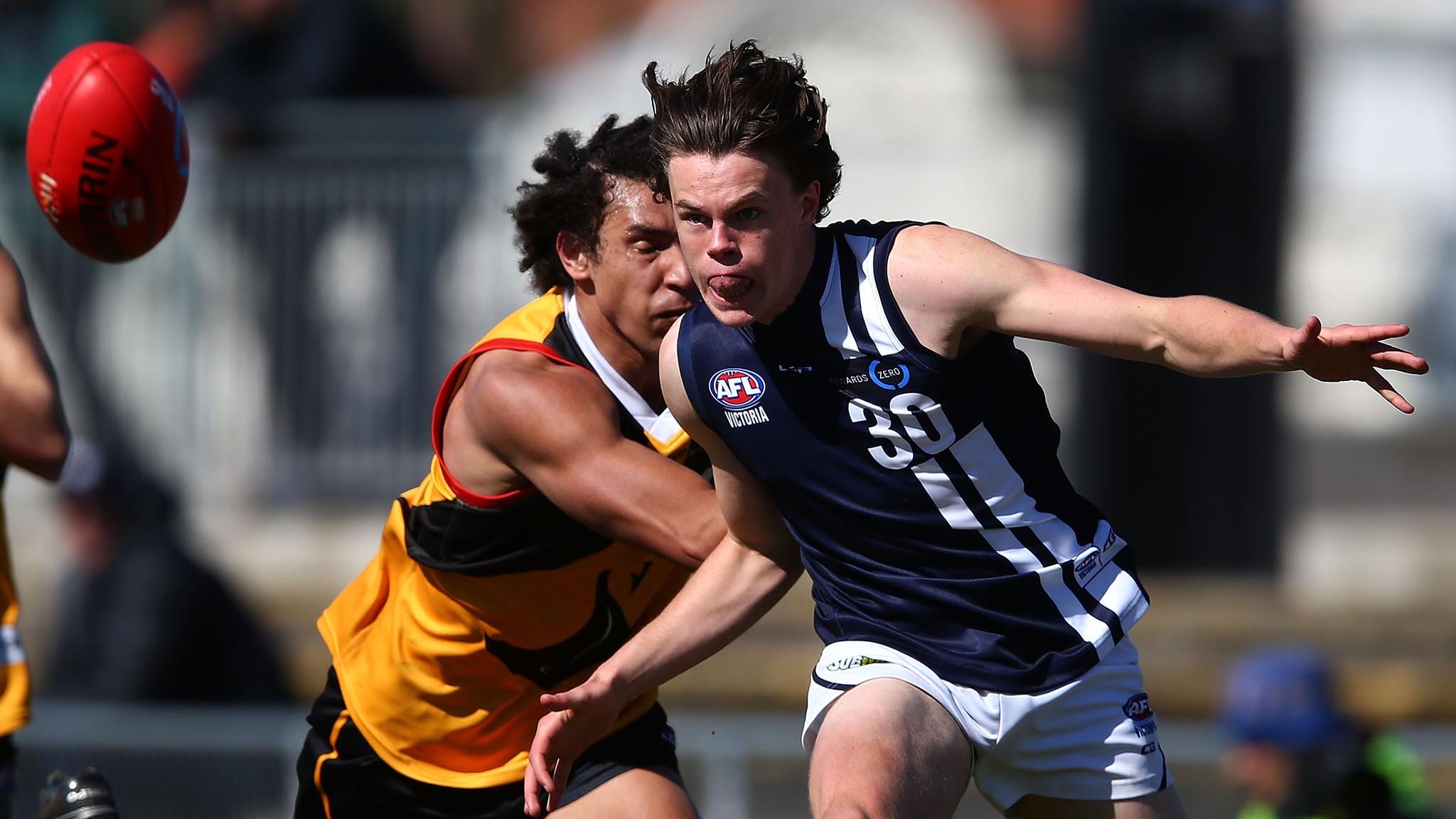 There's a good crop already tipping over the 100-game mark for the Suns, even if not many of them have children yet. Michael Rischitelli has a five-year-old son, Kai (who would also be eligible for Brisbane under the father-son rule), while David Swallow has a newborn son, Charlie. Aaron Hall and Jarrod Harbrow have daughters, while Tom Lynch, Steven May and Sam Day have also cracked the ton. Yes, any future sons Gary Ablett might have would be eligible for the Suns, but it's hard to see them playing anywhere but Geelong, while Trent McKenzie, Matt Shaw and Brandon Matera all played in excess of 100 games before being moved on. - Michael Whiting

The Giants don't have any father-sons on the horizon, but Daniel Lloyd has a young son Parker, so he could be a chance in 15 years, if his dad can add to his 14-game career. Former enforcer Shane Mumford has two infant sons Ollie and Theo, but the retired ruckman only played 72 games with GWS, while another ex-Giant Nathan Wilson welcomed a baby boy Jayce earlier this year, but he's destined to don the purple of the Dockers. Jeremy Cameron, Stephen Coniglio, Toby Greene, Phil Davis, Tom Scully, Dylan Shiel and Callan Ward are the Giants' current 100-gamers, but they're all yet to enter fatherhood. - Adam Curley

On the horizon: Kye Barlow (son of Kris, and cousin of young Swan Ryley Stoddart) is on Oakleigh Chargers' list and eligible to be drafted this year, but yet to play a TAC Cup match. He has appeared for Vermont's under-19s. Finn Maginness (son of Scott) represented Vic Metro and Sandringham in 2017 and is a midfielder who can be drafted in 2019. Unfortunately for the Hawks, one of the top talents in next year's draft, Noah Anderson, falls narrowly short of father-son qualification because his dad, Dean, played only 83 of his 150 matches for Hawthorn.
Watch list: There is no shortage of long-term options for the Hawks, whose media team even created an imaginary team of father-sons for the 2034 season. That side includes Cooper, Chase and Leo Hodge (son of Luke), Smith Mitchell (son of Sam), Percy Burgoyne (son of Shaun) and the Crawford twins – Jack and Harry – and their brother Charlie (son of Shane), and Freddie Lewis (son of Jordan).
Past father-son successes: Only Steven (42 games), son of Russell Greene; Travis (20 games), son of Michael Tuck; and Josh (13 games), son of John Kennedy jnr were formally selected under the father-son rule. Kennedy became a Sydney champion after being traded in 2009. Will Langford, the 2014 premiership star and the son of champion full-back Chris, was picked up under the NSW scholarship system at the end of 2010 and has played 68 games to date. Hawthorn passed on Devlin Brereton (son of Dermott), James Langford (son of Chris) and Adelaide-listed pair Harry Dear (son of Paul) and Ben Jarman (son of Darren) in recent years. - Marc McGowan

On the horizon: After the successes of recent seasons that saw the Demons land Jack Viney and Billy Stretch as father-son picks, the depth of Melbourne father-son prospects is relatively slim over the next couple of years. However, Kobe Farmer, 16, the son of former livewire Jeff, is showing plenty of promise playing at Mandurah in Western Australia. The youngster would be eligible to play for Melbourne or Fremantle with Jeff playing more than 100 games for both clubs. The Demons are hoping Kobe may be able to participate in some of their father-son academy activities later this year.
Watch list: Jeff White's son Kalani, 11, is another the club is keeping an eye on while he plays his footy for Surfers Paradise in Queensland. White also has twin sons named Kai and Tahj, still only seven years old. Adem Yze's son Noah, 12, Aaron Davey's son Marley, 8, David Schwarz's son Cooper, 14 and Shane Woewodin's son Taj, 15, are others on the Demons' radar, although admittedly they are all very young. Defender Nathan Brown also has three sons – Kynan, 13, Jake, 11, a talented soccer player, and Ryder, 9.
Past father-son successes: Todd and Jack Viney are the club's major success story, with father and son both winners of the Demons' best and fairest award (1993, 1998 and 2016 respectively). Steven and Billy Stretch, Ron Barassi snr and jnr, Alan and Chris Johnson and Glenn Molloy and Graham Molloy are other examples of Melbourne's father-son combinations. - Ben Guthrie
Jack Viney was just 16 when he nominated as a father-son with Melbourne. Picture: AFL Photos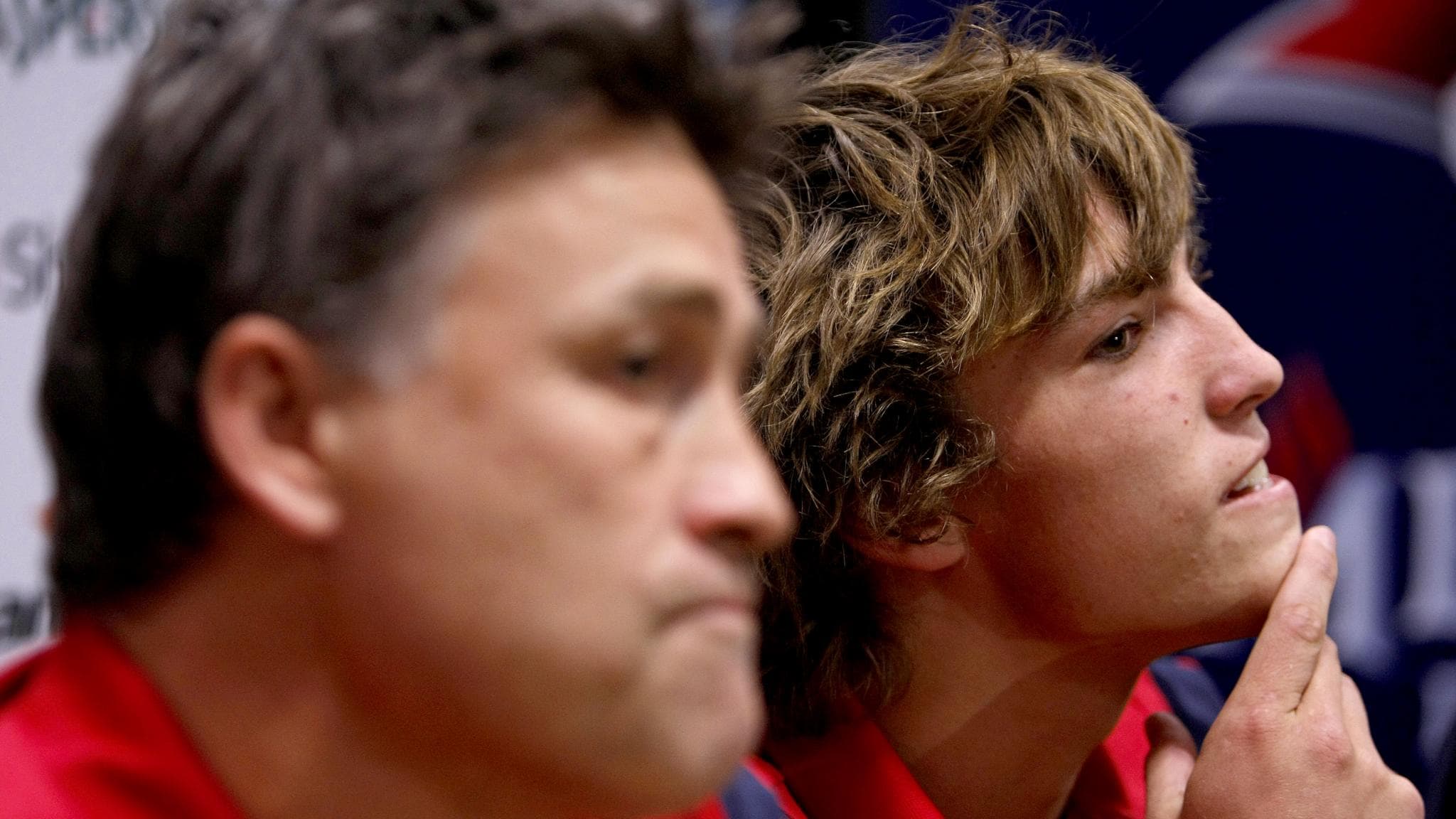 On the horizon: It's a busy year on the father-son front for the Roos, who already missed out on top-10 talent Nick Blakey (son of John) to the Swans. They also have competition for Bailey Scott (son of Robert), with his options also including Geelong as a father-son or Gold Coast as an academy selection. Scott, a midfielder, is in the AFL Academy and played for the Suns' NEAFL team last year. North can also pick swingman Joel Crocker (son of Darren, who is a Roos assistant coach) without any rivals muscling in, unless the teenager elected not to be a father-son choice.
Watch list: North Melbourne's father-son academy hosted a number of the club's famous surnames in recent years, including Cooper Harvey (son of Brent), Jackson Archer (son of Glenn), Darcy Sholl (son of Craig), River Stevens (son of Anthony), Byron Pickett jnr – imagine him laying out opponents on the AFL stage, just like his dad – and Thomas and Billy Longmire (son of John). Bailey Scott's younger brother Darby is also on the radar.
Past father-son successes: Jesse Smith (son of Ross, 27 games) and Luke McDonald (son of Donald, 81 and counting) are the Roos' only father-son selections to date. A series of injuries cut Smith's career short. - Marc McGowan

Who is eligible: A player must have played 200 or more SANFL games for Port Adelaide before 1997 – the year the Power entered the AFL. A contentious case is one of Darryl Borlase and his son James, who is a key position player at Sturt and a chance for the 2020 AFL Draft. Darryl was credited with 201 SANFL games for Port when he played in the 1996 SANFL Grand Final, but that was stripped back to 177 games when the AFL declared Escort Cup games were ineligible. To make matters worse, James, a member of the AFL's Australian under-15 team last year, is part of Adelaide's Next Generation Academy because he was born in the Middle East.
On the horizon: Taj Schofield, 15, was the first player to join the Power's father/son academy in January. The son of premiership-winner Jarrad Schofield is an exciting midfielder with Subiaco in the WAFL Colts and has been picked in the under-16 WA squad. Taj spent a few days during the pre-season training with the Power. His father is the senior coach of Subiaco in the WAFL. Another exciting prospect is Mitchell Mead. The 18-year-old is the eldest son of Port Adelaide Magpies premiership player Darren. Mitchell has played the past two games in the SANFL with the Magpies, playing alongside Tom Rockliff and Sam Powell-Pepper. Younger brother Jackson, 16, is also in the Power's academy. Trent Burgoyne, the oldest son of premiership-winning Power star Peter, has been picked in a preliminary 52-man SA under-18 squad.
Watch list: Jase Burgoyne, 14, is one to watch. The younger son of Peter Burgoyne is a gun and will represent the Rio Tinto Flying Boomerangs in two exhibition matches at the under-16 national championships. Jase's older brother Trent, 16, is also in the academy, as is 14-year-old Tex Wanganeen. The son of Power and Essendon great Gavin is part of Sturt's development programs, and can also nominate the Bombers . Others famous names to watch out for in the future include Raphael and Sonny Cornes (sons of Kane), Nate and Leo Tredrea (sons of Warren), William, Oliver and Ben Francou (sons of Josh) and Bode Westhoff (son of Justin).
Past father-son successes: Russell Ebert is a Port Adelaide great, playing 391 games for the Magpies in the SANFL, allowing his son Brett to be claimed by the Power as a father/son selection. - Lee Gaskin

On the horizon: The Tigers have another Rioli in view with Maurice jnr, son of the late 118-game Tiger Maurice, recently moving to Melbourne to board at Scotch College, where cousins Cyril and Shannon were schooled. He's only 15 and eligible for the draft in 2020, but he's already showcased his skills, defensive pressure and ability to find the goals in his first season with NTFL club St Mary's last year. Fremantle is also eligible to recruit him as his father played 168 games for WAFL club South Fremantle, but his closeness to current Tiger and cousin Daniel and the fact he's already in Victoria could prove decisive. The Tigers also have the Northern Knights' Xavier Naish eligible next year, younger brother of Patrick, who they drafted last year, and son of Chris (143 games), while Zac Knights, son of 279-game midfielder Matthew, is on the Geelong Falcons list and eligible this draft.
Watch list: There's been a flurry of girls born at Richmond in recent years, which bodes well for the Tigers' incoming AFLW team should Harper and Mackenzie Cotchin, Zoey Richardson, Sarah Houli, Indi and Macie Newman or even Milla Deledio have an interest in following in their dads' footsteps. As for boys, fans will have to wait awhile to see if toddler Sonny and baby Spencer Grigg have the back-up rucking ability of their dad, or if Oscar and Phoenix Johnson are in a position to choose Richmond over Adelaide given Kane played 104 games for the Crows before 116 in the yellow and black. But, they might get to see Harry Broderick sooner, with the athletic midfielder currently impressing as captain of Fitzroy's under 14s.
Past father-son successes: Probably the most famous combination is Alan and Matthew Richardson, with the pair combining for 385 games. Michael Bowden had two sons play for Richmond, Joel and Patrick, after his 59 games that included the 1969 premiership. Joel went on to play 265 games for the Tigers while Patrick racked up 25 after 50 for the Western Bulldogs. Francis Bourke played 300 games for the club before his son David ran out for 85. - Jennifer Phelan

On the horizon: Jackson Voss, son of hard-nosed defender Brett, made his TAC Cup debut recently – an impressive feat in a squad of 72. A backman, Voss' determination and toughness are obvious and he showed poise with the football against the Western Jets. Tyson Milne is a rangy forward who is taller than his father Stephen, who booted 574 goals from 275 matches. He's not as physically mature as Voss but has footy smarts, leads up well, has impressive goal sense and has some of his old man's cheek. It's tough to tell this far out whether either of them will ever run out for the Saints.
Watch list: The Saints haven't had many of their past players produce boys, although that trend is starting to turn. There's plenty of time to go before any rewards can be reaped, but perhaps James or William Riewoldt will emerge as inspirational forwards, Aston or Jude Dal Santo may turn out to be silky-smooth midfielders, or Hunter Hayes will become a lion-hearted onballer. Justin Koschitzke's son Jack is another candidate.

Past father-son successes: A couple of premiership players had sons who also represented the club: Brian Sierakowski and Allan Davis were in the 1966 premiership team and their sons, David and Chad, lined up for the club. Triple Brownlow medallist Ian Stewart's son Ben never managed to debut. St Kilda beat Carlton for the services of Bailey Rice in 2015 and while the son of Dean is yet to play a senior game, he isn't far away. – Dinny Navaratnam



On the horizon: The Swans have already won the father-son lottery with young gun Nick Blakey deciding to nominate them as his club of choice, and he'll join his father John at this year's NAB AFL Draft. Blakey could have also joined North Melbourne or Brisbane because of his father's playing ties to the Kangaroos and Fitzroy. Jake and Josh Cresswell, whose father Daryn played 244 games for the club, could also be Sydney players in coming years.
Watch list: Skipper Josh Kennedy might need to get his young son Emilio away from the round ball soon or he might be lost to the Swans. Kennedy's wife Ana is Colombian, so she might be hoping to turn him into a Socceroo.
Past father-son successes: Barry and Tom Mitchell. - Adam Curley
Nick Blakey was in-demand and will become a Swan. Picture: AFL Photos

Who is eligible: In addition to the son of any player who reached 100 games for the club, West Coast has been eligible to recruit a player if their father played 150 senior WAFL games for Claremont, East Perth, West Perth or Subiaco before 1987.
On the horizon: Zac Mainwaring, Sunny Kemp and Ben Evans – the sons of premiership heroes Chris Mainwaring, Dean Kemp and Tony Evans – are aged 16 and above, have been involved in WAFL programs and have gone through the Eagles' second generation academy, which is more about connecting past players and their children (daughters are now also involved) with the club rather than guiding them into AFL football. Two of Chris Waterman's sons, Alec and NAB AFL Rising Star nominee Jake Waterman, were drafted after being part of the academy.
Watch list: There is a long list of boys involved in the Eagles academy, including Noah Braun, 10, Drew Banfield's eldest son Bailey, who won't be draft age until the early 2020s, plus brothers Charlie and Harper. Club great Glen Jakovich is father to Bryce, who turns 14 this year, while Levi Lamb is the same age. Jack Turnbull, the son of former ruckman Ryan, is about to turn 13, while ex-skipper Darren Glass' son, Nixon, plus Andrew Embley's boys, Van and Lux, and Adam Selwood's offspring, Lenny, could eventually be involved. But no doubt the biggest talking point over coming years will be after the Eagles invite Chris Judd's eldest son Oscar, plus twins Tom and Darcy, who would also qualify as Carlton father-son prospects, to join the academy. Current players Jack Darling and Chris Masten also have sons, while free agent Jeremy McGovern is expecting his first boy soon.
Past father-son successes: Ashley and John McIntosh, Ben and Bryan Cousins, Jacob and Michael Brennan, Jake and Chris Waterman. - Travis King

On the horizon: Rhylee West, the son of five-time All Australian and seven-time club champion Scott West, is draft eligible this year and rugged midfielder is likely to end up at Whitten Oval as the club's latest father-son recruit. The Calder Cannons product could attract a bid in the top 20 in November's NAB AFL Draft, due to his contested-ball ability and aerial prowess. The only knock on the AFL Academy member is his kicking can be hit and miss. With a few similar types to West on their list, the Dogs have shown in the past they'll overlook sons of guns (Darcy MacPherson and Jayden Foster) if they don't measure up.
Watch list: There are more than 30 potential father-sons who could follow in their fathers' footsteps, and several available in the coming seasons. Tom Liberatore's brother Oliver is impressing at the Calder Cannons and is draft eligible next year. Former ruckman Luke Darcy's oldest boy Sam is 14 and already over six feet tall and could become a third-generation Bulldog, while West has two twin boys, Cooper and Kobi, impressing in junior footy ahead of the 2022 draft. Leon Cameron could be coaching against his son Harry if he's still at the helm of Greater Western Sydney in 2024. And recently retired club Matthew Boyd's infant son James could be in the 2034 talent pool.
Past father-son successes: While VFL legend Ted Whitten was a hard act to follow, Ted jnr was a solid contributor with 133 goals in 144 games. Former captain Luke Darcy was a 200-gamer and All Australian after his father David played 133 games for the club. While Tom Liberatore might not have won a Brownlow Medal like his dad Tony, he has won a club best and fairest. Current Bulldogs Lachie Hunter and Mitch Wallis have also been great servants like their fathers Mark and Steve. - Ryan Davidson
Rhylee West is likely to become a Bulldog in this year's draft. Picture: AFL Photos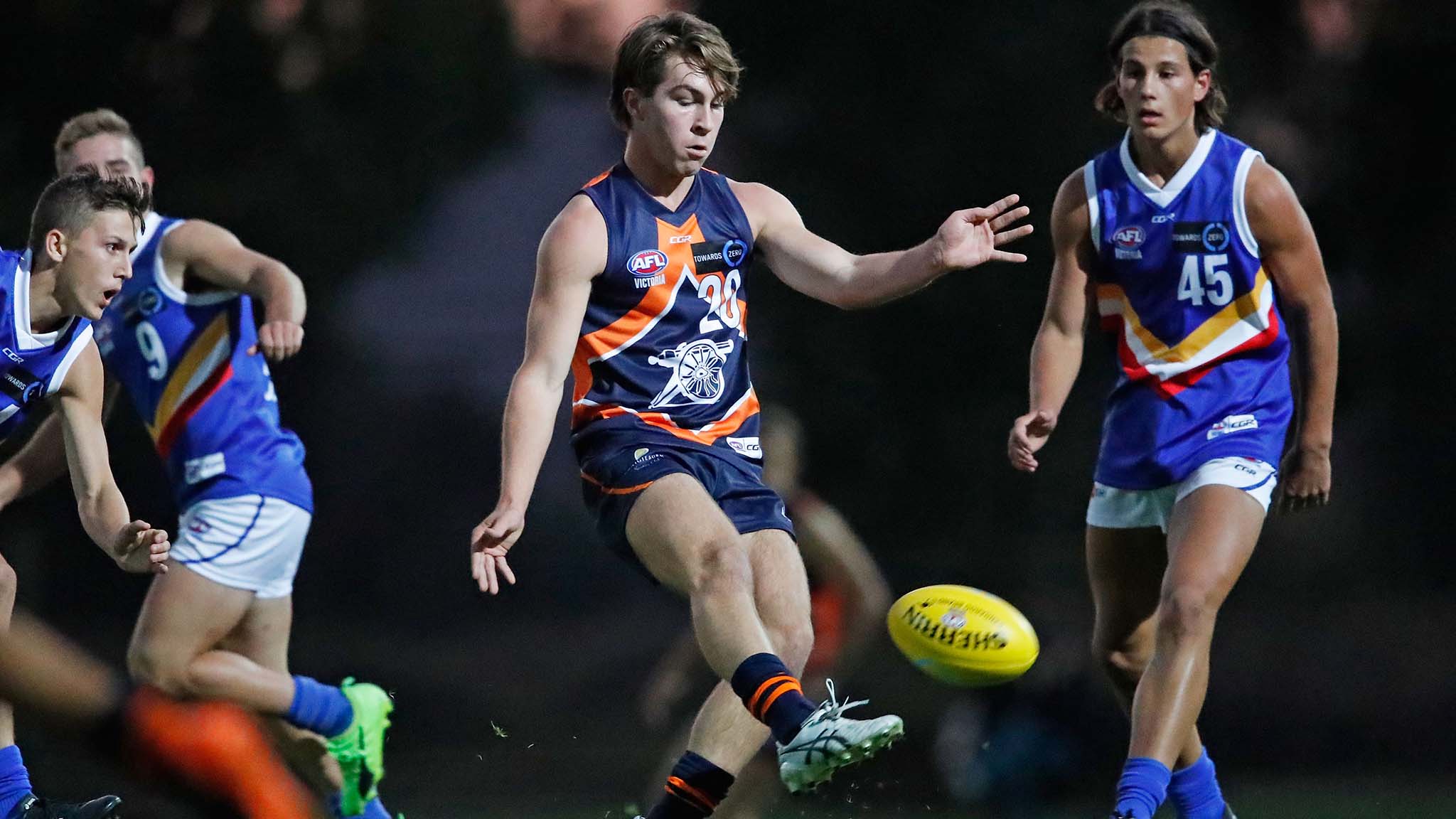 AFL Exchange podcast
Demon Angus Brayshaw joins the crew to discuss if Nic Nat should be whacked, whether Hogan was staging and who is the coach of the year so far: