AMID the gloom of St Kilda's deflating loss to the Western Bulldogs on Saturday night was one of the best feelgood footy stories of the season.
Nathan Freeman finally made his long-awaited AFL debut and later described it as "a dream", which was apt given it happened 1716 days after he was drafted, in his fifth season and at his second club, after a cursed run of hamstring and other injuries.
And it was a promising debut, too.
The speedy midfielder had 19 possessions on a wing in a team that was beaten comprehensively after quarter-time at Etihad Stadium.
DOGS SAVAGE SAINTS Full match coverage and stats
The milestone and the sideshow out the way, Freeman, 23, now hopes to be viewed as simply "a normal footballer".
Everything felt abnormal early in the game, though. Freeman is renowned for his speed, but the tempo of the game required the biggest adjustment.
"It was a bit of a blur but good to finally get out there," he told reporters.
"I always knew I had the ability but (when) it's your first game I think anyone would be pretty nervous going into it, whether you've waited five years or six months.
"It was a good experience but it would've been good to get the win."
Nathan Freeman, with Seb Ross, looked to be enjoying every minute of his AFL debut. Picture: AFL Photos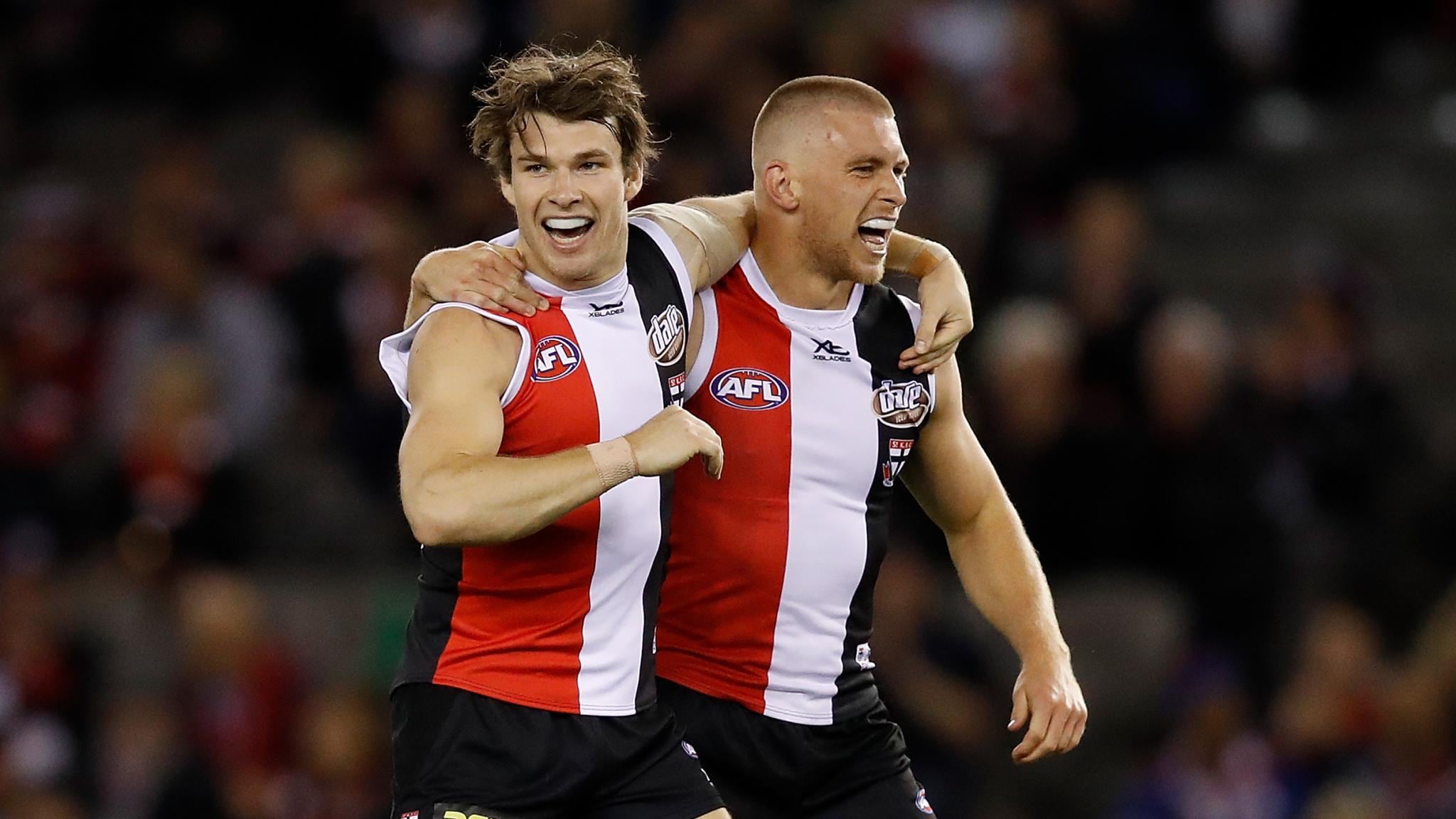 Saints coach Alan Richardson was simply pleased that Freeman had finally played at the highest level.
"It was a massive week for him. We told him as late as possible, but you can imagine the build-up – five years," Richardson said.
"It was a real step up, so there were times when I'd imagine things were just zipping around him."
Despite Freeman's encouraging showing, Richardson stopped short of guaranteeing him a game against Essendon at the same venue on Friday.
"We'll have to wait and see. We've got a few guys potentially back for selection," he said.
'RECKLESS' SAINTS Richo not happy with collapse
Freeman is focused on finishing the season strongly, which he hoped would earn him a new contract.
"I'll just play and that'll take care of itself," he said.
Pretty crazy night but obviously not the result we wanted. To teammates, mates, family, coaches, physios and everyone in between thanks for the support along the way. Honour to pull the jumper on and finally get one under the belt, hopefully a few more to come yew ⚪️⚫️ pic.twitter.com/T5zc3ovrLl

— Nathan Freeman (@nathfreeman9) August 5, 2018
The way Freeman played against the Dogs, he gave every indication he might well make up for lost time.
And that's a prospect which would loom as a great relief to St Kilda fans, given Freeman – the No. 10 pick by Collingwood in the 2013 NAB AFL Draft – has given a virtual 100-game head start to some of his draft alumni, which includes the likes of Bulldogs premiership star Marcus Bontempelli (101), Giants gun Josh Kelly (96) and Brisbane runner Lewis Taylor (103).
The debut of the pocket rocket in the No.10 guernsey was a big event, and the Saints cheersquad duly paid tribute on the banner:
Here at the Saints
We never stop dreamin'
Anything can happen
Just ask Nathan Freeman
Freeman runs onto Etihad Stadium ahead of his debut. Picture: Adam Trafford, AFL Photos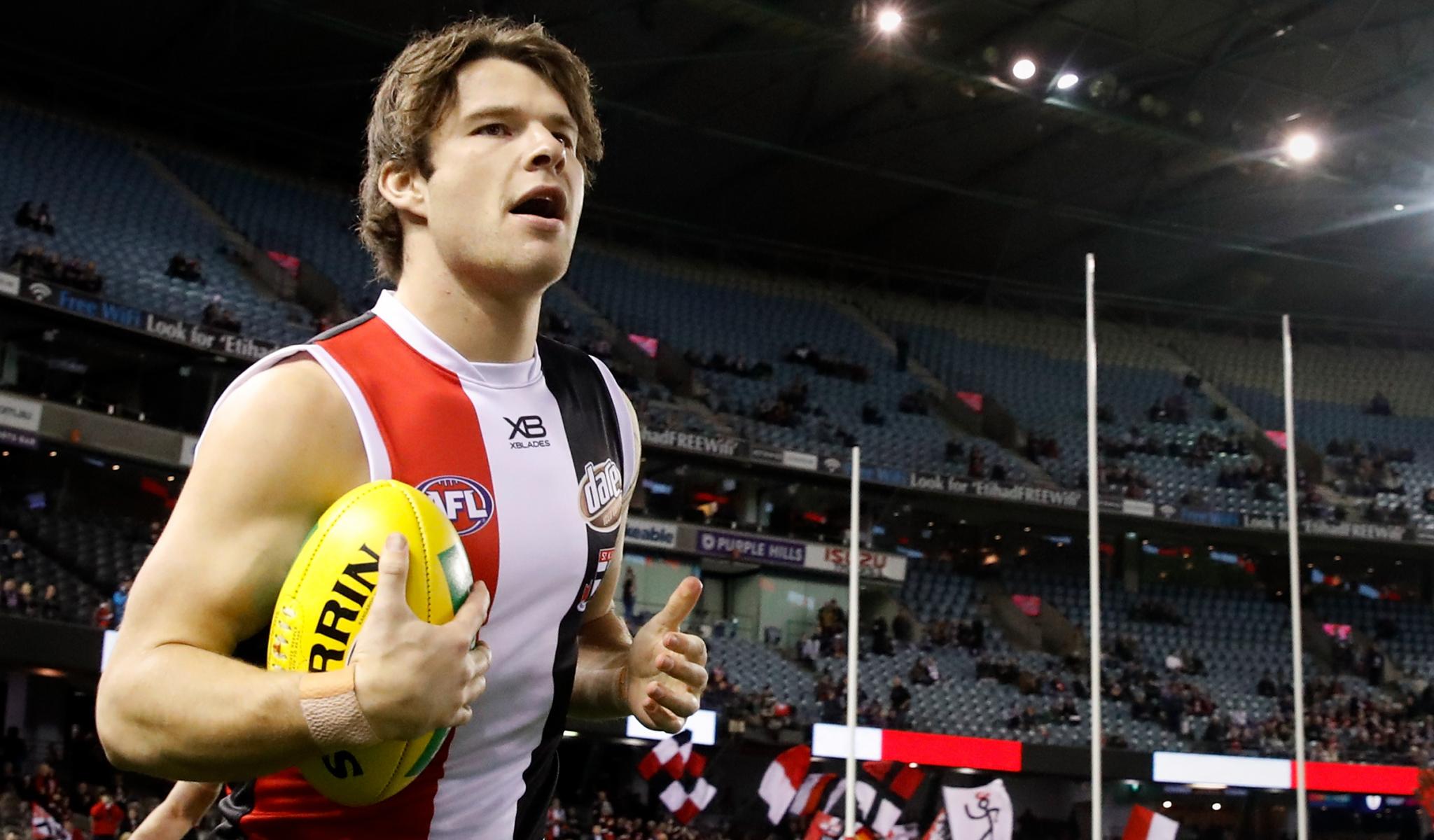 Indeed, much like Sydney's comeback kid Alex Johnson, who was simultaneously making his first AFL appearance in almost six years, Freeman has been an inspiration to his club and the broader football world with his mental toughness, dedication and positivity.
He was also supported by his own personal cheersquad, which included a large contingent of his mates from Dingley and Haileybury College.
"They were a big support. I could actually hear them out there," he chuckled.
Freeman was more nervous travelling to the stadium than he was when he ran onto the field, but naturally there were a few nervous moments, particularly early.
His first touch – a regulation handball backwards in defence after six minutes – was followed by a clanger kick when he shinned a short pass attempt on the wing.
"It was pretty surreal. My head was spinning in the first five minutes, but the boys were good, speaking to me out there and calming me down," Freeman told reporters.
Freeman soon settled, nicely crumbing packs, linking up with handball and kicking well to position.
He also provided plenty of unrewarded running and could have been used more on the outside when he found space. That will presumably come as his teammates become more familiar with him.
As a star junior, Freeman had been likened to West Coast star Luke Shuey and ex-Eagle Daniel Kerr, but against the Bulldogs he more resembled another Nathan, diminutive former Tiger Nathan Foley, with his busy nature and his slightly hunched running style when he carried the ball.
The pacy Saint's best quarter was his team's worst – he had eight touches in the third term despite St Kilda being outscored eight goals to nil, with Bontempelli nailing four.
After having 17 touches in the opening three quarters, Freeman's game petered out with the contest.
Freeman rated his performance as "OK".
"I can't remember too many of my touches. It was just good to get my hands on it and get a few kicks. I hope I didn't stuff up too much," he said.
Melbourne's Luke Molan – the No.9 selection in the 2001 draft – is now the most recent top-10 draft pick not to have played an AFL game.