• Cal Twomey's 2017 Phantom Draft
• Final draft order: Check out all of your club's picks
• Cal Twomey's latest phantom form guide
• View profiles of this year's prospects and predict the top 10 for a chance to win $10k
AT THE NAB AFL Draft in Sydney on Friday night, the Brisbane Lions will announce their No. 1 pick – a young gun they hope will become a 10 to 12-year superstar.
That eventuality would far outstrip the efforts of Brisbane's previous three No. 1 draft picks, who spent just 12 seasons at the club between them.
Martin Leslie (1986) and John Hutton (1991) were selected under the club's original guise as the Brisbane Bears, while Des Headland (1998) was the only member of the trio to achieve any form of team success.
Given recruiting is a far more scientific exercise these days, the new Lions' top pick will be favoured to enjoy a more distinguished AFL career than each of his predecessors.
MARTIN LESLIE – No. 1 pick, 1986 National Draft
Brisbane Bears 1989-95: 107 games, 11 goals
The versatile defender proved a terrific acquisition for the Brisbane Bears but he was certainly a reluctant recruit.
The Port Adelaide SANFL star was the first pick in the first National Draft in 1986 as the Bears prepared for their first season, but Leslie resisted the fledgling club's overtures until finally deciding to test himself in the big league in 1989 when he was 26.
As former Bears coach Robert Walls noted in The Brisbane Times in 2013: "For the next seven years he gave his all, setting the standard for youngsters such as Justin Leppitsch, Chris Scott and Nigel Lappin. As such, the Leslie name is held in high regard at the Lions."
Leslie shared the club best and fairest with David Bain in 1990, at times performed the role of acting captain, and represented SA in six separate seasons.
Martin Leslie in action for the Bears against Carlton. Picture: AFL Photos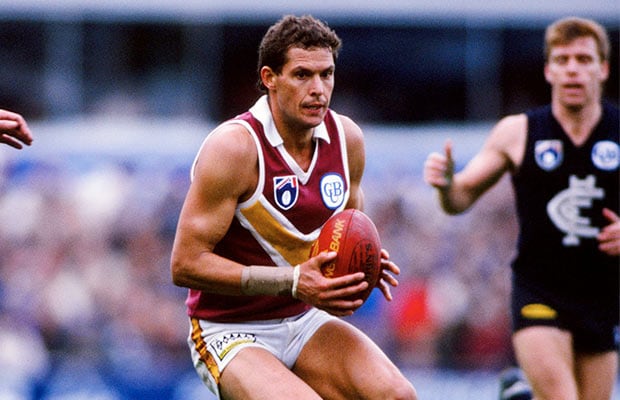 JOHN HUTTON – No. 1 pick, 1991 AFL National Draft
Brisbane Bears 1992: 18 games, 43 goals; Sydney 1993: 5 games, 9 goals; Fremantle 1995: 13 games, 27 goals.
The helmeted full-forward topped the WAFL goalkicking table in 1991 with 100 goals for Claremont, slotting five goals in its Grand Final triumph.
The Bears snared Hutton with the first pick that year but the 25-year-old was always going to find it difficult to survive as a spearhead given he was undersized at just 185cm and would struggle for scoring opportunities with the bottom team.
In 1992 Hutton easily led Brisbane's goalkicking with 43 goals in 18 games, including two hauls of 8.0 – the first of which contributed the bulk of the Bears' 11 goals, bettered at the other end by one Gary Ablett senior, who bagged nine as Geelong amassed the League record score of 37.17 (239).
After just one season with the Bears, Hutton joined Sydney, another reigning wooden spooner. It proved a disaster – the Swans remained anchored to the bottom of the ladder and Hutton played just five games and kicked nine goals before being delisted at the age of 27.
He returned to the AFL in 1995 as a member of Fremantle's inaugural playing list under Gerard Neesham (who'd coached him at Claremont), kicking 27 goals in 13 games, including 8.5 against the Swans, before being cut from the Dockers' list.
John Hutton's helmet was a familiar sight for the Bears in their early days. Picture: AFL Photos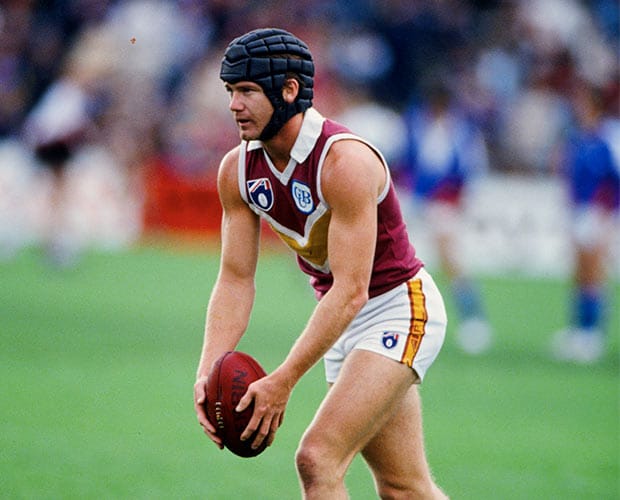 DES HEADLAND – No. 1 pick, 1998 AFL National Draft
Brisbane Lions 1999-2002: 52 games, 52 goals; Fremantle 2003-10: 114 games, 125 goals.
Before the 1998 AFL National Draft, teenage prodigy Headland had held a forlorn hope that he might slip to No. 2 so he could join Fremantle and pursue an AFL career in his home state.
But there was little chance of Brisbane overlooking the Subiaco midfielder/forward given his performances at elite junior level and his ultra-impressive debut season in the WAFL as a 17-year-old.
The Lions pounced and Headland remains eternally grateful for the opportunity to play a role in the club's only successful era.
In 2001 he played 20 games but wasn't selected in the Lions' side that won their first premiership.
Headland didn't return to the senior team until round six the following year, after which he enjoyed a career-defining 12-game purple patch in which he averaged 22 possessions, tallied 28 goals and was awarded 15 votes in the Brownlow Medal.
In that 2002 season he became the second of only four No.1 picks to play in a premiership. (The others are West Coast's Drew Banfield, Hawthorn's Luke Hodge and the Western Bulldogs' Tom Boyd, who'd been drafted by Greater Western Sydney.)
It would be Headland's final season with the Lions before returning home to play for the Dockers, where he added a further 114 games over eight seasons.