Don Pyke (Adelaide)
Our 'Crow stare' proved a real hit in the finals until Richmond broke our spell on Grand Final day, so my challenge is to devise a new method of psyching out the opposition. We could choreograph a war dance, or maybe even form a human pyramid. Or how about this for a novelty: we could stand to attention and sing the national anthem loud and proud, and then intimidate them with our play.
Chris Fagan (Brisbane Lions)
It was a hard sell to get Luke Hodge to come out of retirement and relocate to Brisbane to help out the wooden spooner. So we're providing 'Hodgey' and his family with a Hodgepodge of personal services – a chef, chauffeur, nanny, babysitter, cleaner, laundress, masseuse, barista … I need to keep thinking of ways to make them more comfortable. Uncle Chrissy will even read the Hodge kids some bedtime stories, starting with The Lion King.
Starting off well with some cuddles for little Leo the Lion. Picture: AFL Photos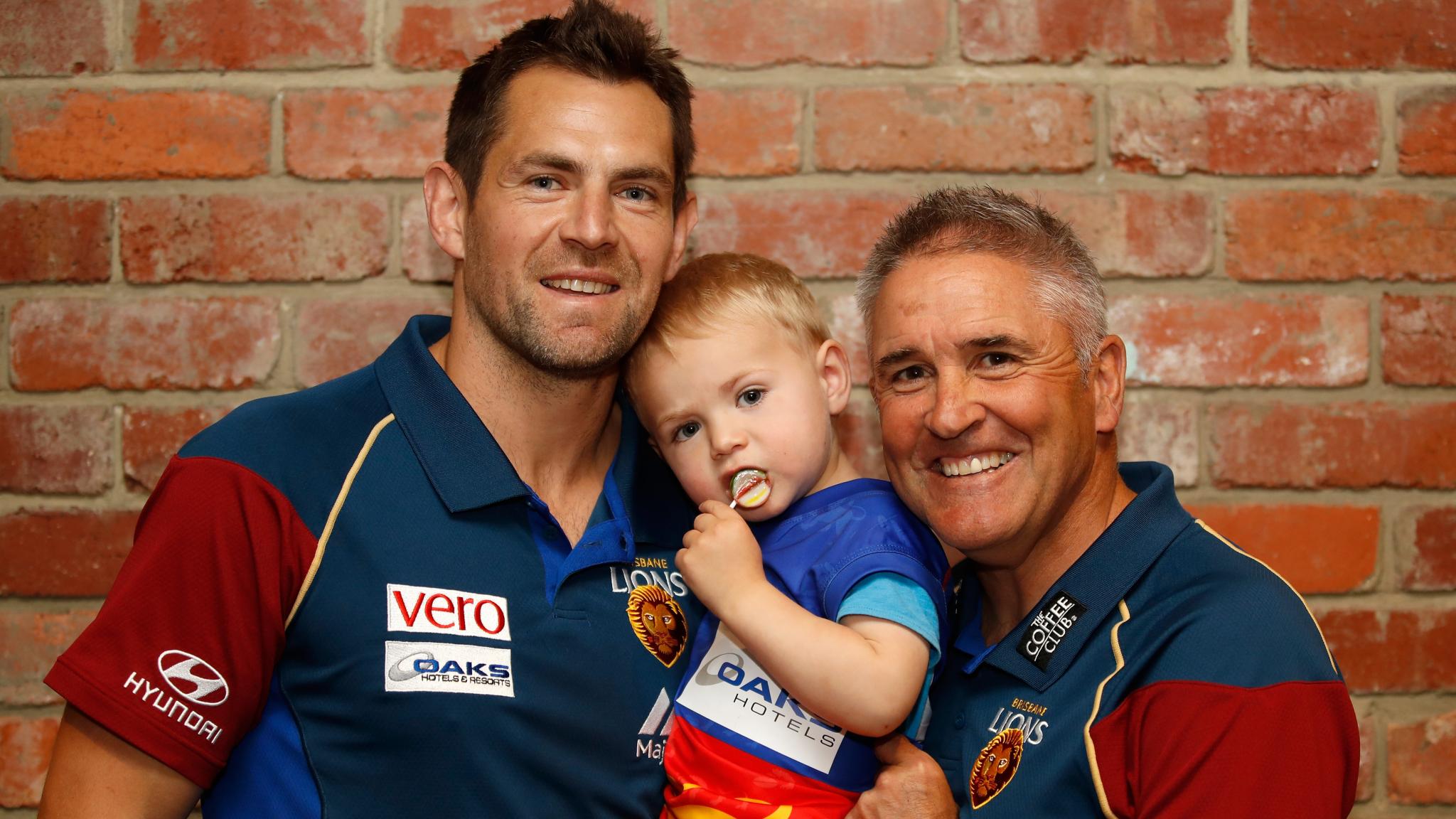 Brendon Bolton (Carlton)
I've re-hashed our 're-set' message so re-ligiously that it's starting to give me re-flux. So I said, 'Bolts, it's time you undertook a little re-set yourself by finding a different word to re-gurgitate.' Re-birth, re-boot, re-model, re-fuel, re-fresh, re-vamp, re-generation, re-calibration, re-habilitate, re-decorate, re-cycled Giants, re-luctantly re-leased Gibbsy … I expect the odd re-buke, but re-gardless, the new word will be re-hearsed and re-peated to new levels of re-diculousness.
Nathan Buckley (Collingwood)
I love to win any contest going, but one thing I've always struggled at is poker because I just can't seem to nail the facial expression and I end up thumping the table. It's the same in the coach's box, and I'd like to finally control it. But when a game deals me a dud hand, the poker face disappears and I feel like grabbing a red-hot poker and … OK, calm down and remember what the body language coach said: Just breathe … in … and out … in … and out … Arrgghh! Who am I kidding?
John Worsfold (Essendon)
Google 'how to manage expectations' and soak up all I can to deal with all the hype about us. And don't enter the season without a contract extension. My meeting with Xavier Campbell in February should be a breeze. After all, what more could I have done? I mean, I've guided the club through its toughest period and lifted it to the point where we're ready to … keep a lid on it publicly, 'Woosha'. Save your optimism for contract negotiations.
Ross Lyon (Fremantle)
What's my New Year's resolution? You mean to tell me that at the end of another challenging year that's the best question you can come up with? You're quite brilliant, aren't you? Look – can you at least be more specific? Resolutions in regard to what: kick-to-handball ratio, time in forward half, marbles, tiddlywinks, what? Isn't my resolution patently obvious? I vow to be more tolerant of the media … hmmph … does that make sense?
Chris Scott (Geelong)
We've just added Gary Ablett junior to our famed 'Dangerwood' duo, so our CEO Brian Cook has asked me to suggest a new nickname and slogan for them for marketing purposes. This wasn't in the job description, but Cooky figured the coach would keep it real. I've told them not to forget Mitch Duncan, so perhaps we could go with 'Dangerwoodlettcan. My word they can.' Or 'Another game in the can.' Or maybe 'Catch us if you can.' … Yeah, it might need a bit of work.
Gaz's return has caused some issues on the marketing front. Picture: AFL Photos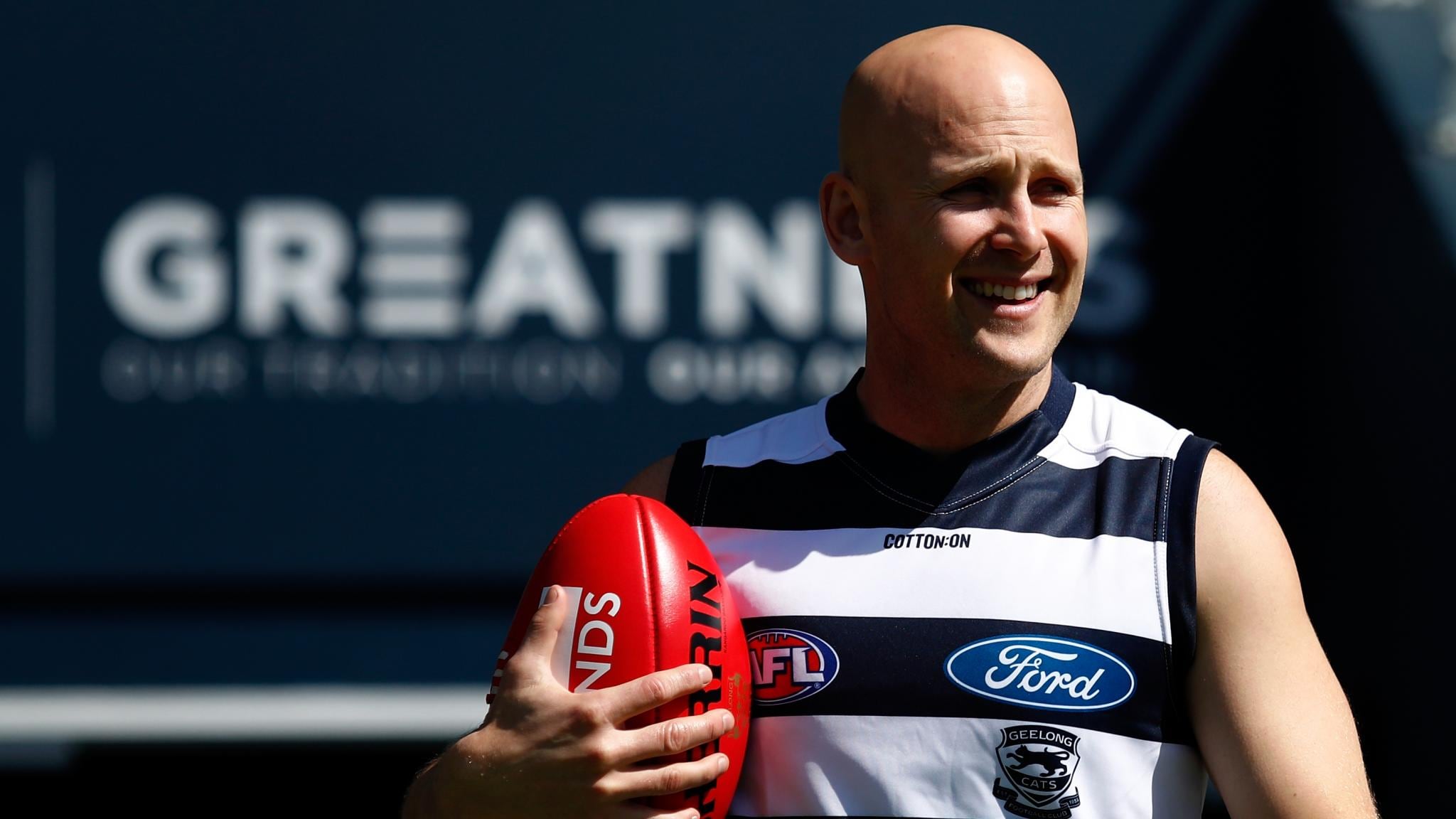 Stuart Dew (Gold Coast)
We have to find a way to convince Tom Lynch to stay, and I might have just come up with a juicy enough proposition. With Metricon Stadium out of action due to the Commonwealth Games, we have to play our first nine games on the road, which means we can stockpile enough frequent flyer points to give big Tommy free air travel for the rest of his career. On one condition: he'd never be allowed to fly Emirates.
Leon Cameron (Greater Western Sydney)
I'm campaigning to be a plus-one in Toby Greene's anger management sessions. I just need to get inside that beautiful, but occasionally erratic, mind of his. But any time I raise the matter he goes all Jackie Chan on me. I know I've said previously we want Tobes playing on the edge, but I certainly didn't mean the edge of darkness, or sending me over the edge.
Alastair Clarkson (Hawthorn)
Just when I'd become accustomed to the Hawthorn president being very circumspect, Jeff Kennett returned. We won a flag together in '08 but Jeff also once said a coach shouldn't stay in a job longer than 10 years. On that rationale, I'd have been gone in 2014 after back-to-back premierships. Gimme a spell, Jeffrey! … I also reckon his long-term plan for a flag every 4.7 years is a bit conservative. Then again, he was a Liberal Premier. I'd love to force him to modify that forecast.
Jeff's back for another crack at the presidency. Picture: AFL Photos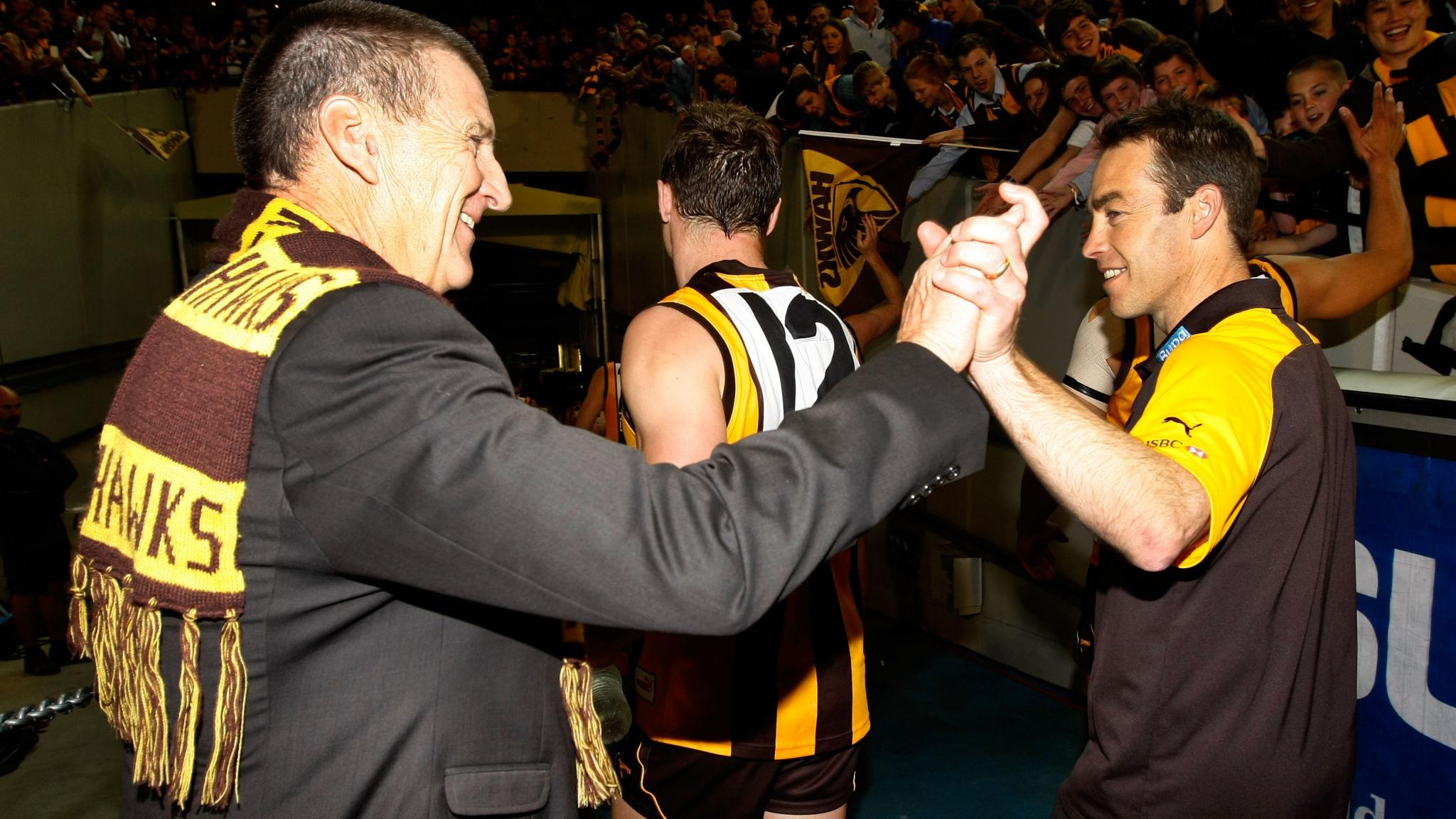 Simon Goodwin (Melbourne)
Pour concrete in the players' drink bottles to harden them up. First, they blew their chance to break an 11-year finals drought, and then they wussed out of a pre-season boot camp. 'Blighty' wouldn't have taken it as well as I have. But times have changed and I consider myself a SNAC (Sensitive New Age Coach). I just hope the boys don't become SNAPs (Sensitive New Age Players) on the field.
Brad Scott (North Melbourne)
I recently stumbled across footage of 'Choco' Williams' 2004 victory speech, and it inspired me to start compiling a list of you-were-wrongs. Those old Hawks Terry Wallace and Gary Buckenara are the top of an ever-expanding hit-list of Roo cullers. And when we win the flag I want to outdo Choco's choking gesture. Maybe I could take a boxing kangaroo onto the dais.
Ken Hinkley (Port Adelaide)
See Woosha's resolution regarding expectations. Which might in turn help me deal with our now drooling president who, despite bending over backwards to make peace with me during our recent crisis talks, has since warned me that anything short of a flag will be a bust. I hope I don't come to regret not taking the Gold Coast job. At least the 'Kochie' & Kenny saga will take a back seat to the 'Clarko' & Jeff show.
Damien Hardwick (Richmond)
When I started my coaching career, Mrs Hardwick asked me not to draw any attention to her. But love can make even the hardest men do the silliest things, and somehow I've managed to publicly refer to my beloved wife 73 times at her last count. (74 now). So it's time to splash that premiership bonus on gifts for Mrs Hardwick. Part of which could include a muzzle for her love-struck husband.
Mr and Mrs Hardwick at the 2017 Brownlow count. Picture: AFL Photos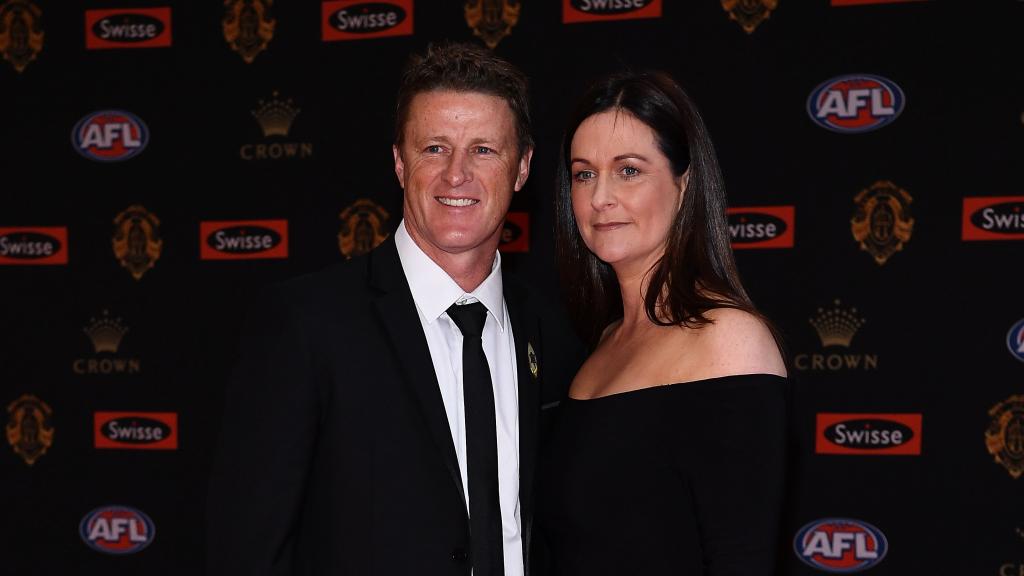 Alan Richardson (St Kilda)
At the end of 2016 I went on a self-discovery trip to India where I learned the power of meditation. Since then I haven't maintained the habit as much as I'd like, and I've found it increasingly difficult to cope with Josh Bruce's gimme misses, so I'll seek out the Saints' own Zen master Mav Weller for some spiritual guidance. Mav might even agree to do a few sessions with me. Not sure we need candles and incense though.
John Longmire (Sydney)
With Stuart Dew leaving our coaching panel to take the Gold Coast job, it was critical to inject some fresh talent, and we've certainly done that in the form of Steve Johnson and Tadhg Kennelly. I've made it my mission to ensure Stevie J doesn't focus too much on teaching players how to take outrageous shots at goal. So far he's demanding they play the percentages, but they're not listening because they know he never played that way himself.
Adam Simpson (West Coast)
I'm determined to regain some quality control over the music selection in the gym. Since the retirements of Priddis, Mitchell, Butler and Petrie, the young bucks have been getting their way with their doof-doof garbage. I'm trying to organise a rebel group of the remaining elder statesman – the likes of Hurn, LeCras, Kennedy and Mackenzie – to bring back the retro rock. If that doesn't succeed I guess I'll just have to dose up on the anti-nausea pills.
We like to keep it old school at West Coast. Picture: AFL Photos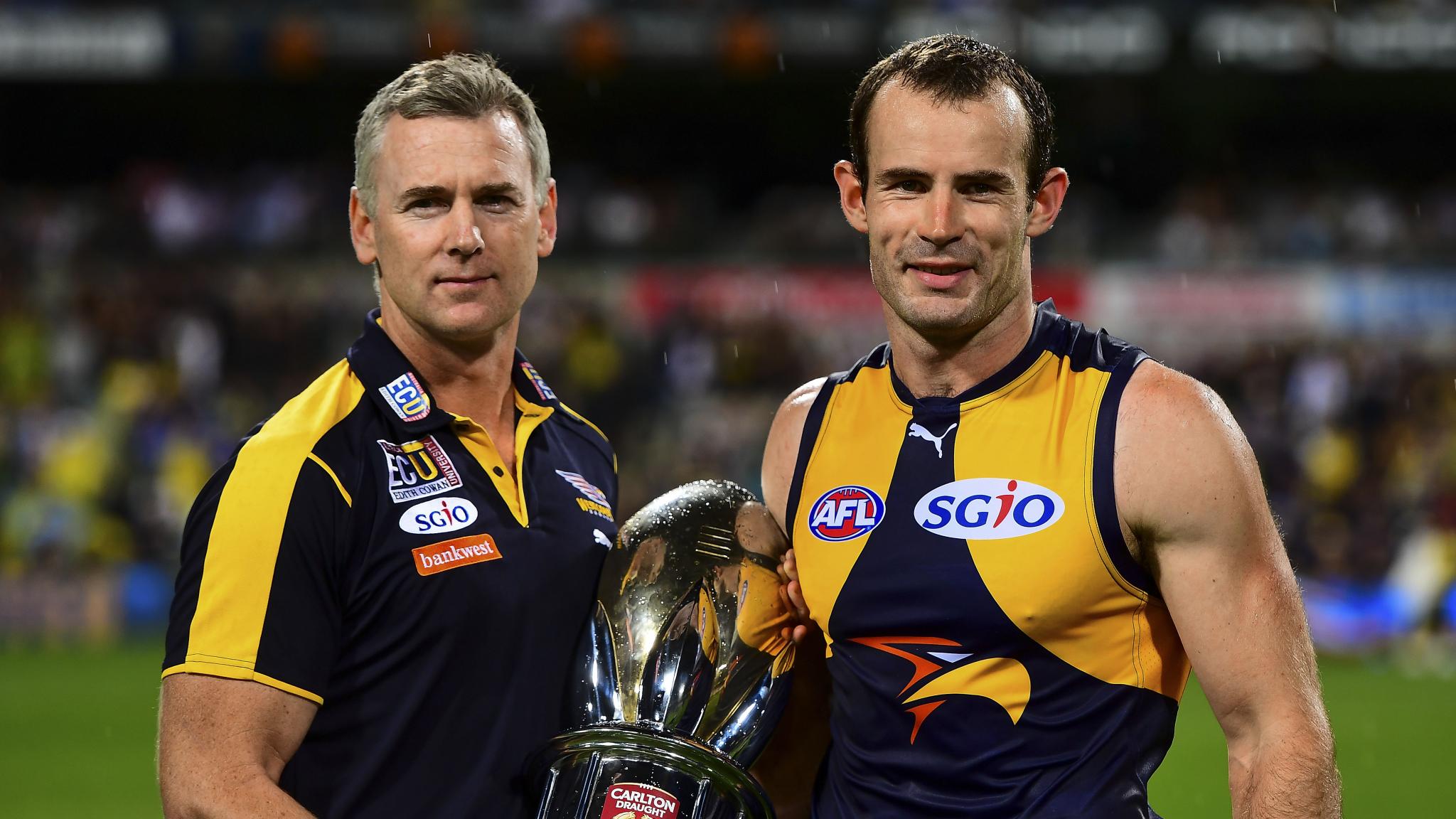 Luke Beveridge (Western Bulldogs)
I find inspiration everywhere, and I've managed to liven up my coaching addresses and public appearances with references to songs, poems, films and even kids' stuff like Dr Seuss and Willy Wonka and the Chocolate Factory. After the first bad year of my coaching career I need to dig even deeper into my bag of tricks, so I aim to make a quirky reference every time I front players or reporters. Perhaps I should hire Titus O'Reily as a consultant.