ADELAIDE forward Mitch McGovern has been ruled out of Friday night's preliminary final against Geelong at Adelaide Oval.
The Crows are hopeful McGovern will recover in time from a hamstring injury to be available for the Grand Final next weekend if they are there.
"He won't play tomorrow night," Crows coach Don Pyke said on Thursday.
"Unfortunately, he's got a slight injury with his hamstring, so he won't be available tomorrow night.
"We're hopeful he could be right for the following week."
McGovern's left hamstring pulled up sore during the club's match simulation at training last Saturday.
It's the other hamstring that he injured in round three this year that forced him to miss three months.
"He's made some good progress since Saturday," Pyke said.
"It was a reach too far for tomorrow night, but we remain hopeful and should we progress, we'll give him every chance."
Pyke didn't reveal who would be coming into the side to replace McGovern.
Experienced utility Andy Otten and midfielder/forward Wayne Milera are the two leading contenders, the pair among an extended squad who trained with the Crows at Adelaide Oval on Thursday morning.
"I'm not willing to share, but we have made a decision on who is going to replace him, that will get announced with the teams later this afternoon," Pyke said.
"We have to make sure we maintain the right balance of our team, get the blend right with not only our running capability, but also our tall, small numbers against a Geelong side that we know have some real strengths and some real weapons."
Defenders Kyle Cheney and Alex Keath and veteran midfielder Scott Thompson also trained with the team.
Vice-captain Rory Sloane returns to the side for injured half-back flanker Brodie Smith, forcing a reshuffle in defence.
"We've got some options down there with some guys who played some footy down back," Pyke said.
"David Mackay went back for us (in the qualifying final) and did a good job against GWS, we've had (Paul) Seedsman down back, we've had (Richard) Douglas down back, so we've got some options there, so we'll see which way we start."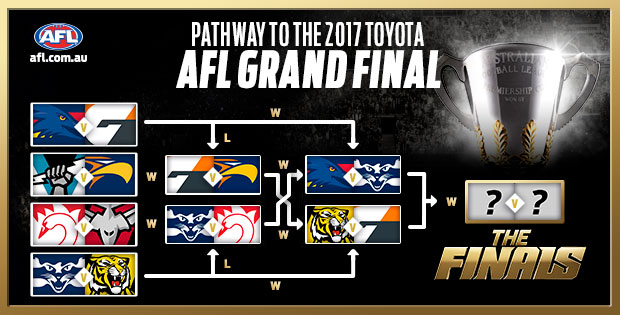 It's the fourth time the Crows and the Cats have played each other this year after a pre-season encounter and sharing the spoils in two home and away games.
"We've had a fair bit of experience against Geelong recently," Pyke said.
"The two home and away games have been same, but different, in terms of how they played out and we've learned out of both of them.
"I'm sure they'll come with a clear plan with how to beat us, and we'll come with a clear plan of what's going to get it done against Geelong."