ANOTHER Telstra AFL Trade Period is in the books.
There was an underwhelming number of trades by the deadline but there was no shortage of drama or talking points along the way.
Saints' five-pack of recruits (plus three losses)
St Kilda emerged as one of the biggest winners and was certainly the most active club in this year's exchange period. The size of the Saints' task grew throughout the fortnight, with Port Adelaide swingman Dougal Howard nominating them over North Melbourne and Essendon. James Gallagher, Simon Lethlean, Graeme 'Gubby' Allan and co. deserve plenty of plaudits for convincing players to choose St Kilda but then also for their ability to pull the right levers to complete the deals. Bradley Hill was the big fish, but Howard, Paddy Ryder, Zak Jones and Dan Butler were wonderful complements. On the flipside, the Saints sent four-time club champion Jack Steven, Josh Bruce and Blake Acres to other clubs and probably not at maximum value. Whether they got it right will be determined on the field in the coming seasons.
TRADE PERIOD WASH-UP Who are the newest members of the three-club club?
Former Swan Zak Jones arrives at St Kilda. Picture: saints.com.au


Trade Period superstars
St Kilda newcomer Dougal Howard create immense discussion throughout the Trade Period. Past Port Adelaide greats chimed in on what the Power should do, Trade Radio personality Dwayne Russell said Howard was worth a top-10 pick and Port itself wanted a first-round selection for him. Howard was contracted until 2022 but fell so far down the defensive pecking order he was playing as a forward and then spent the last month of the season in the SANFL. There's no doubting the 199cm swingman's potential, at age 23, but there's just as much certainty around players' value inflating at trade time.
Where's the dislike button? My thoughts coming up next on @traderadio... https://t.co/XZPZkEzkah

— Kane Cornes (@kanecornes) October 15, 2019
Tim Kelly gets his wish
A year after Kelly's trade request from Geelong to West Coast was denied at the buzzer, the two clubs took just two-and-a-half days to finalise the gun midfielder's path home. Others postured relentlessly but these two high-performing teams worked out a way for both of them to prosper, as well as the player at the centre of it. Essendon also joined in the fun in the three-way deal, but ultimately the Cats' compensation of two first-round picks, plus second- and third-round selections was a great haul. The Eagles would be glad they didn't have to find a top-10 pick to get the job done and they got their man.
HOME SWEET HOME Kelly finally an Eagle after mega-trade with Cats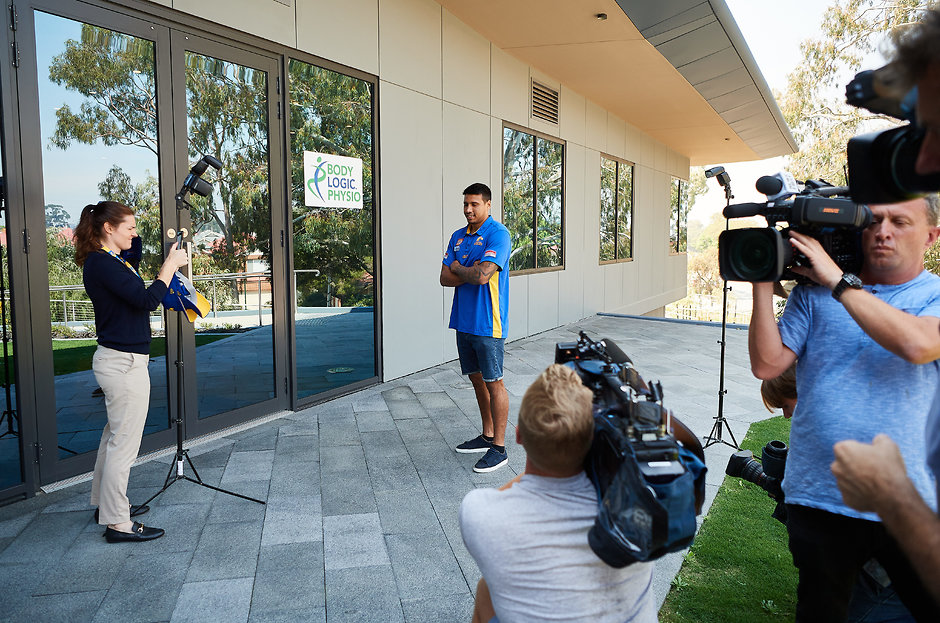 No go for Joe
Besides Tim Kelly and maybe even including Kelly, the biggest name on the trade table was Essendon's star forward Joe Daniher. His request to join Sydney on the weekend before the Trade Period began was massive news but negotiations broke down in the hour before the deadline. In reality, Daniher never came close to becoming a Swan. Sydney never offered pick five, didn't trade Tom Papley to Carlton for selection nine and wasn't willing to give up any of the players the Bombers proposed, including Nick Blakey. Daniher will be a restricted free agent next year and this story will bubble along until he re-signs or leaves. Will Essendon match any forthcoming free agency offer and force him to stay at Tullamarine, if that scenario eventuates?
Tom Papley and Jack Martin stay put
It wasn't just Joe Daniher who didn't get traded. Papley and Martin wanted to be Carlton footballers next season – and that could yet happen for the latter. Gold Coast's Martin is uncontracted and can put a price on his head that could get him to the Blues regardless in the national or pre-season drafts. However, Papley doesn't have that option. AFL.com.au broke the story about the Swan being contracted through the 2023 season rather than just next year. That became a significant part of the narrative, along with his future being tied to that of Daniher. Sydney simply wasn't going to give Papley up unless Daniher headed to the Harbour City, which didn't happen.
UNDER CONTRACT Blues bid for electric Swan hits stumbling block
The drama that engulfed Orazio Fantasia
AFL.com.au's story in July about Fantasia's wish to return home to South Australia before his career ended was laughed off at the time but it wasn't long before it was legitimised. Fantasia is under contract through the 2021 season and is receiving far less in the next two years than what he did in 2019. He seriously considered requesting a trade to Port Adelaide, and his new manager Michael Doughty met with the Power. Adelaide-based TLA Australia agent Doughty's appointment was part of the developing story, with Fantasia cutting ties with Anthony McConville. If that matter was sorted earlier, there's every chance the talented Bomber would be pulling on the boots for Port next year. Instead, the 24-year-old told Essendon he was staying – but this will continue to be a story to follow.
NOT GOING Star Bomber staying put ... for now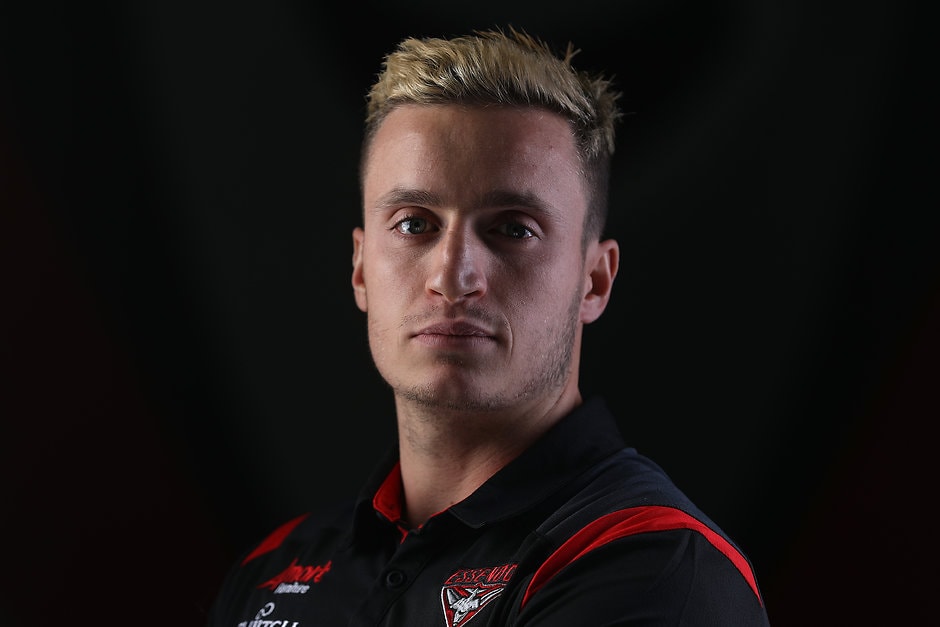 The surprise moves
James Aish and Blake Acres (both Fremantle) and Aiden Bonar (North Melbourne) all found new clubs in interesting – and late – circumstances after not being at the forefront initially. Acres and Bonar were briefly mentioned throughout the year, while Aish is onto his third AFL club after starting at Brisbane and moving to Collingwood. Aish was a victim of the Pies' salary cap squeeze, Acres was going to struggle to play regularly with the Saints' high volume of recruits, and Bonar hasn't realised his potential yet after being the No.11 draft pick in 2017. Bonar wanted to return to Victoria and the Giants were happy to shed his contract ahead of their bid to re-sign free agents Jeremy Cameron, Lachie Whitfield and Zac Williams.
Former Lion and Pies James Aish is now at his third club. Picture: AFL Photos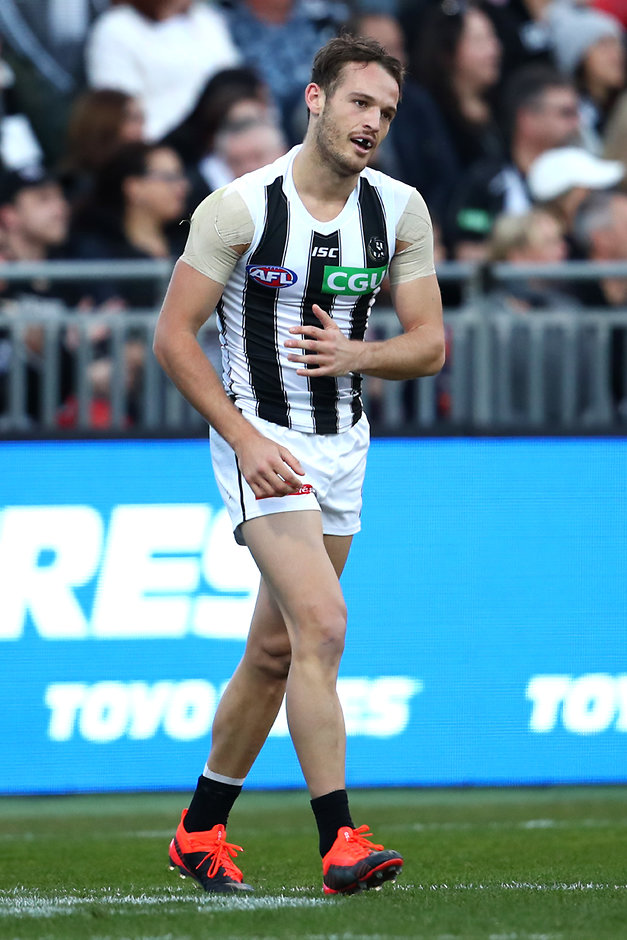 Tension between Crows and Dogs
The Western Bulldogs gave Adelaide a round 23 touch-up that sealed their finals berth but the follow-up act between the sides was far more interesting. Crows defender Alex Keath requested to be traded to the Dogs as part of his club's purge of older players. What seemed like a straightforward move dragged into the last half an hour and multiple times, including on deadline day, the deal looked in danger. Adelaide list manager Justin Reid was critical of the Bulldogs' lack of communication throughout the process before they ultimately came to terms just in time.
STALEMATE BROKEN Crows defender joins Dogs after tense talks
Alex Keath is presented with the Showdown Medal in round eight. Picture: AFL Photos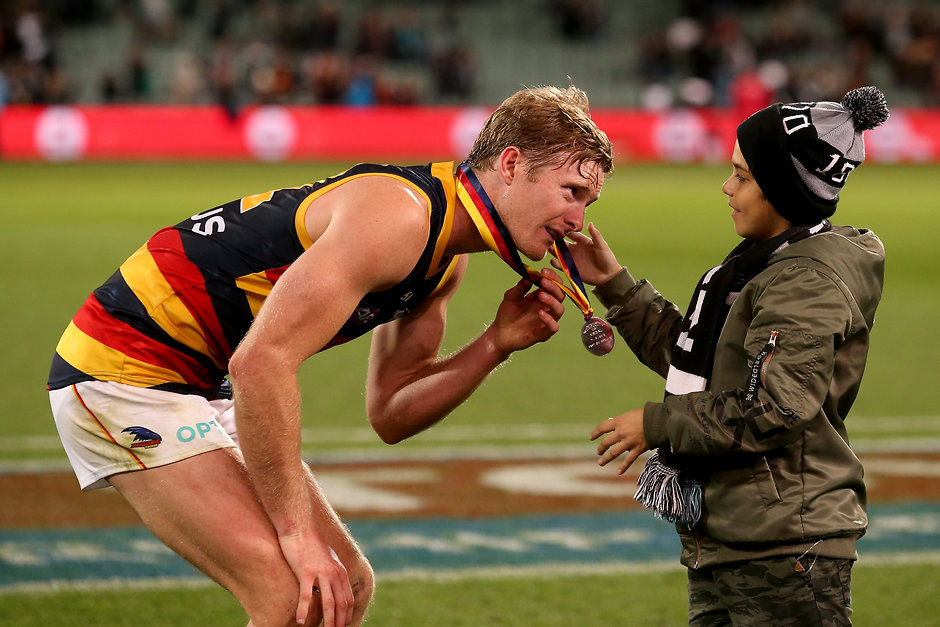 Paying departing players' wage
Staying with the Crows, outspoken forward Josh Jenkins was another player to leave West Lakes for another club. However, it wasn't until Chris Scott's and Patrick Dangerfield's intervention that Jenkins found a home at the Cattery. Even then, Adelaide will pay some of Jenkins' salary despite him being in the blue and white hoops. That's how keen the Crows were to move him on. St Kilda will also chip in on another Geelong recruit Jack Steven's wage, although the circumstances are much different. Steven finished eighth in the 2018 Brownlow Medal but took indefinite breaks this year to focus on his mental health. He was desperate to return to his Lorne roots.
CAT STEVEN Former Saint Jack Steven tries out his new colours. Picture: AFL Photos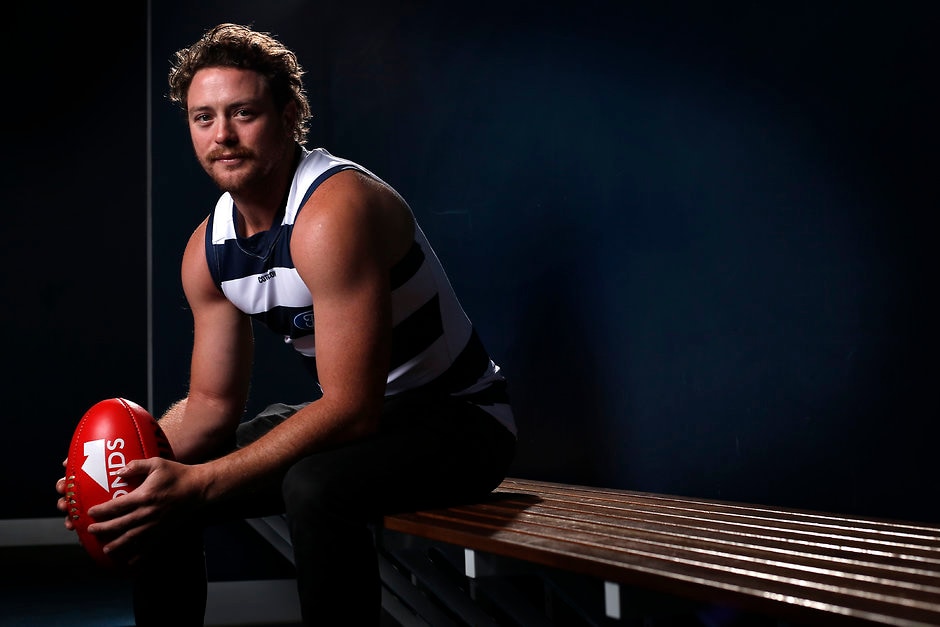 The phenomenon that is Telstra AFL Trade Radio
Anyone who semi-regularly tuned into Trade Radio will know off by heart advertisements such as IMAR Tradies' Tools, Beaumont Tiles and Soap for Tradies. The lack of trades in the first week meant the same names and scenarios were played out repeatedly, and you have to love the trade propositions the listeners come up with. It's all part of the charm, as is how movies, Melbourne's traffic and specific topics like your favourite wingman in 2001 somehow become part of the discussion. It isn't Trade Period without Matthew Lloyd, Terry Wallace, Damian Barrett, Mitch Cleary and co. delivering hard-hitting news and opinions each day.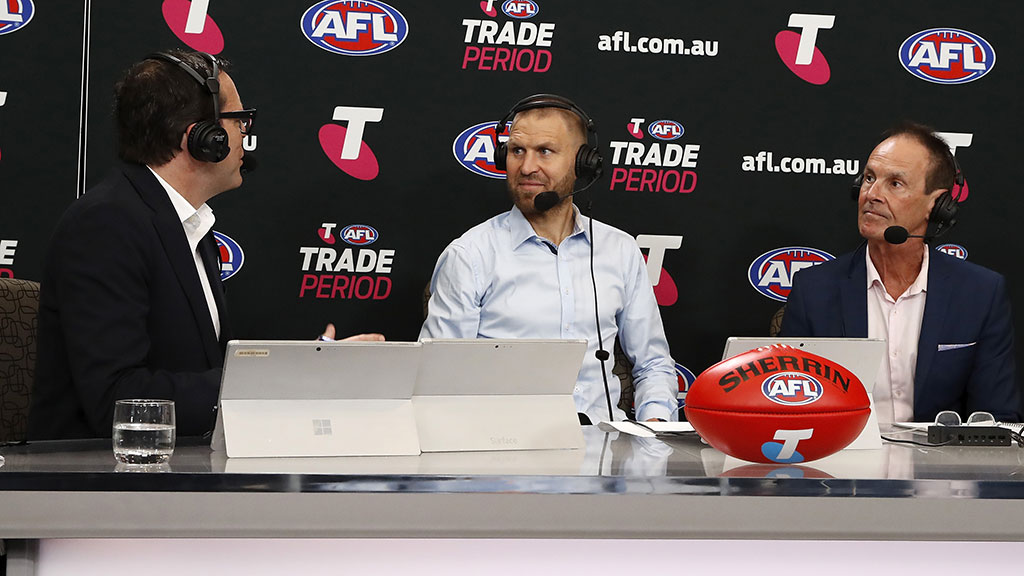 Mason Cox and the festival of lies
The American Pie became the news of the day when The Age reported that Essendon had engaged in trade talks with Collingwood about him. Bombers list boss Adrian Dodoro, as he does, subsequently issued a denial to the media organisation that loves running such stories. Soon enough, Cox's manager, Adam Ramanauskas, confirmed the clubs had engaged in preliminary discussions about the 211cm forward-ruck. Meanwhile, Port Adelaide co-captain Ollie Wines had his own trade saga, with denials all over the place, before Carlton list boss Stephen Silvagni confirmed the day after the trade deadline that Wines' name had come up (without going too in-depth).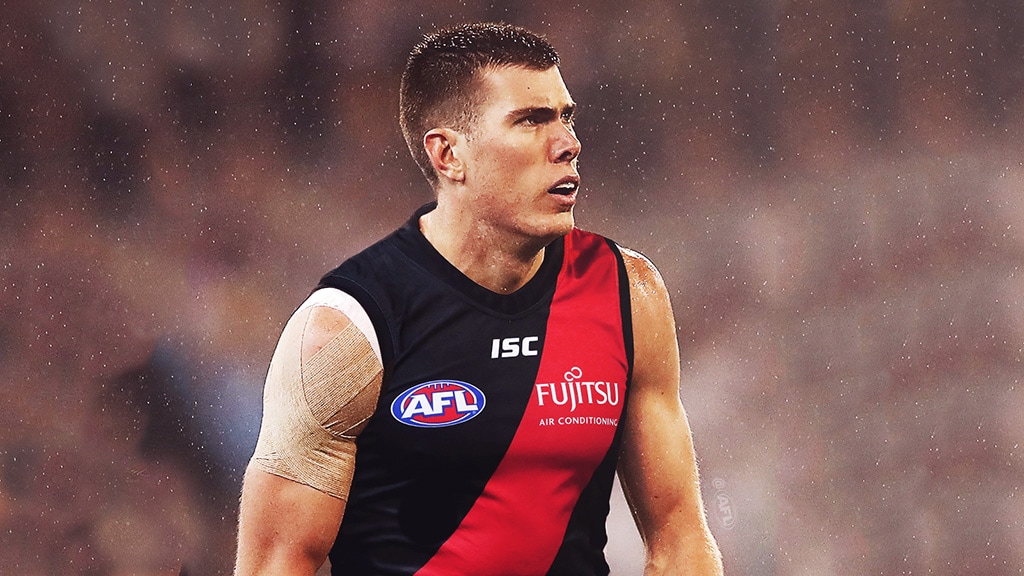 Hawthorn hunts Giants again
Another year, another No.1 draft pick from Greater Western Sydney with an injury history becomes a Hawk, in another bargain trade and salary dump. Jon Patton followed Tom Scully's lead in leaving the Giants to join Alastair Clarkson at Waverley Park. Hawthorn wooed both players months before their trades were sealed, with AFL.com.au reporting the Hawks' interest in Patton back in April. The brown and gold were ruthlessly efficient in October again, also bringing in Demons defender Sam Frost for peanuts.
Welcome to the Hawks family Frosty. #Always pic.twitter.com/omCbNcPYC2

— Hawthorn FC (@HawthornFC) October 18, 2019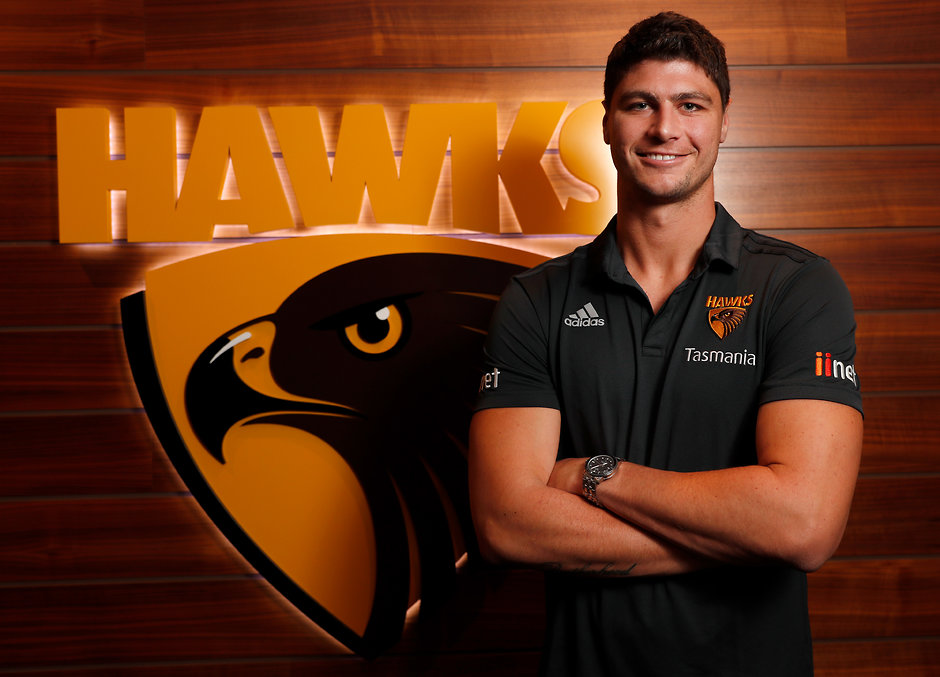 Melbourne's passed-around future fourth-round pick
Who would have thought a future round-four selection could be so productive? The Demons started the chain when they sent it to Hawthorn in the Sam Frost trade, then the Hawks flipped it to the Giants for Jon Patton, only for GWS to flick it to North Melbourne as part of the package for Aiden Bonar to become a Roo.
TRADE TRACKER Check out all the moves as they happened
Interesting face on the trade floor
Following big-name agent Paul Connors around on deadline day was none other than former Magpie and Saint Nathan Freeman, who is still gathering bulk possessions for Frankston in the VFL. Freeman's AFL career was marred by injuries but he's staying involved in the industry as a budding player agent.
Nathan Freeman in action in the VFL. Picture: AFL Photos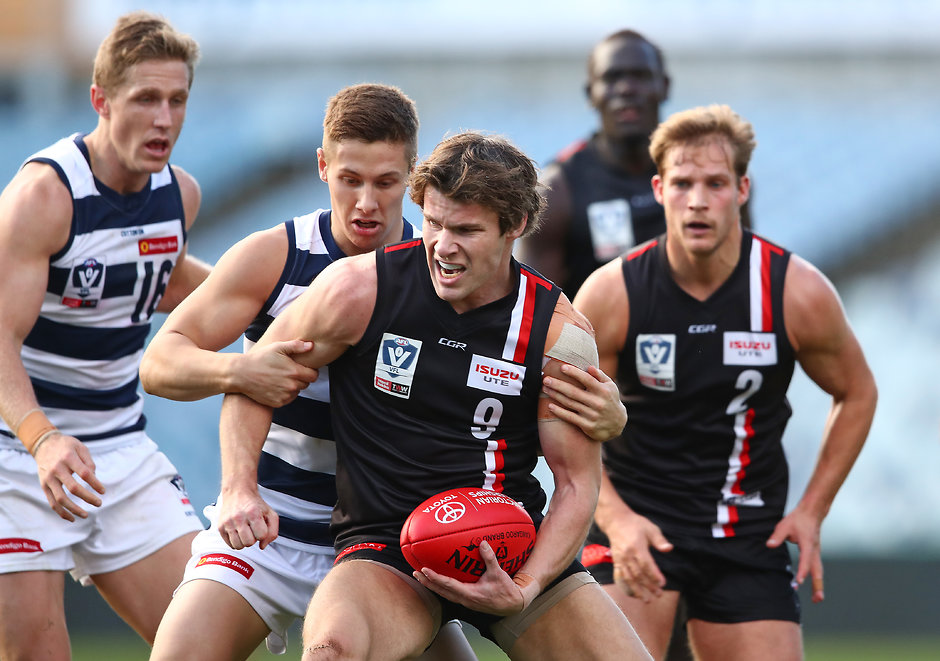 The pick swap we'll all be tracking
Last year it was Adelaide and Carlton's future pick swap that had our undivided attention throughout this season. Now it's Melbourne and North Melbourne's turn. The Dees traded their 2020 first-round pick, as well as Nos.26 and 50 this year to the Kangaroos for selection eight in November's draft. Melbourne is backing itself to rebound in a big way from its second-from-bottom finish in 2019 and will have to for this deal not to be a massive win for North.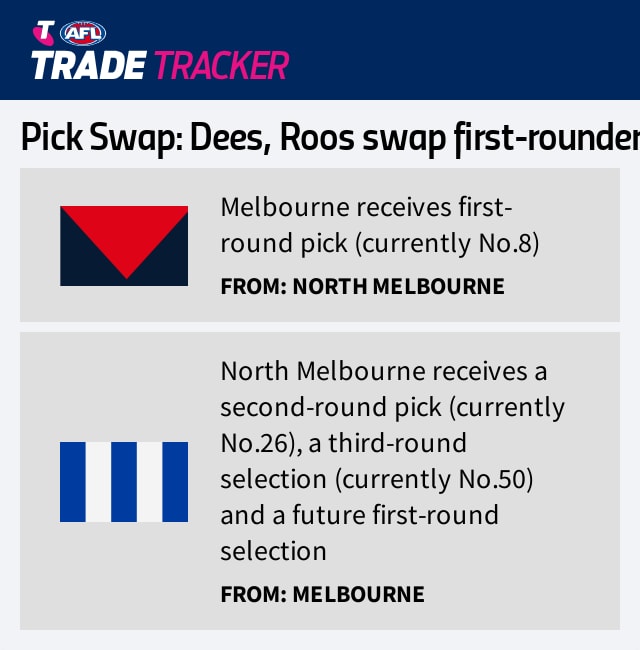 The ruck merry-go-round
Ruckmen are the AFL's equivalent of gridiron's quarterbacks and cricket's wicketkeepers. There aren't many first-choice spots, so there is always a lot of movement from club to club to try to improve their position in the pecking order. There was more of the same in this year's Trade Period, with Sam Jacobs (GWS Giants), Andrew Phillips (Essendon), Marc Pittonet (Carlton), Paddy Ryder (St Kilda), Darcy Cameron (Collingwood) and Zac Smith (Gold Coast) moving to fresh clubs.
TRADE PERIOD WASH-UP Who are the newest members of the three-club club?
Sam Jacobs and Paddy Ryder have both moved to their third AFL club. Picture: AFL Photos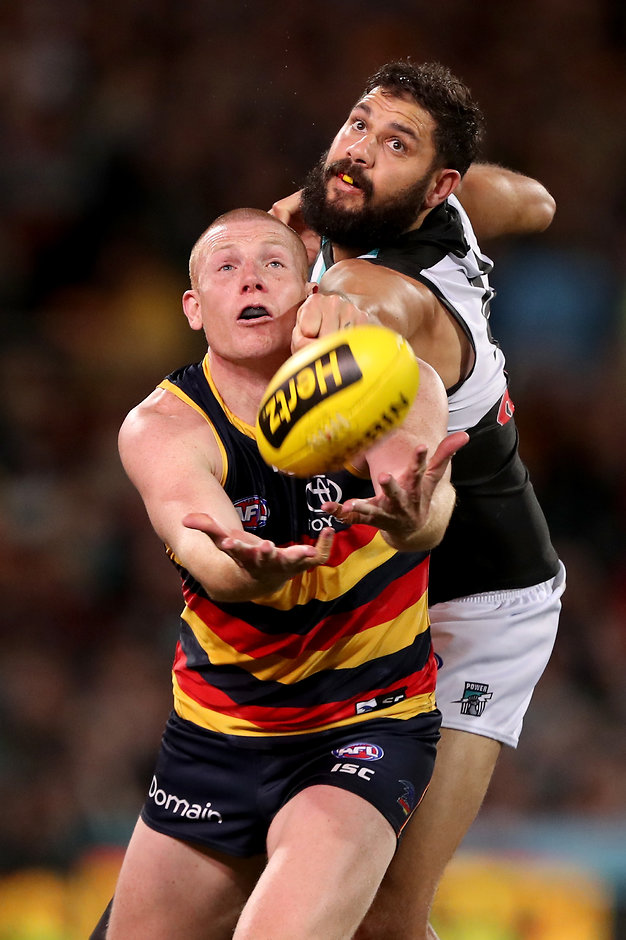 Happy homecomings
Zac Smith was not only part of the ruck reshuffle but was one of two footballers to return to his former team. Smith started his career at the Suns before crossing to Geelong and is now set to finish his playing days at Gold Coast. Eddie Betts is doing the same at Carlton, after reaching superstar status in between his Blues stints as a Crow.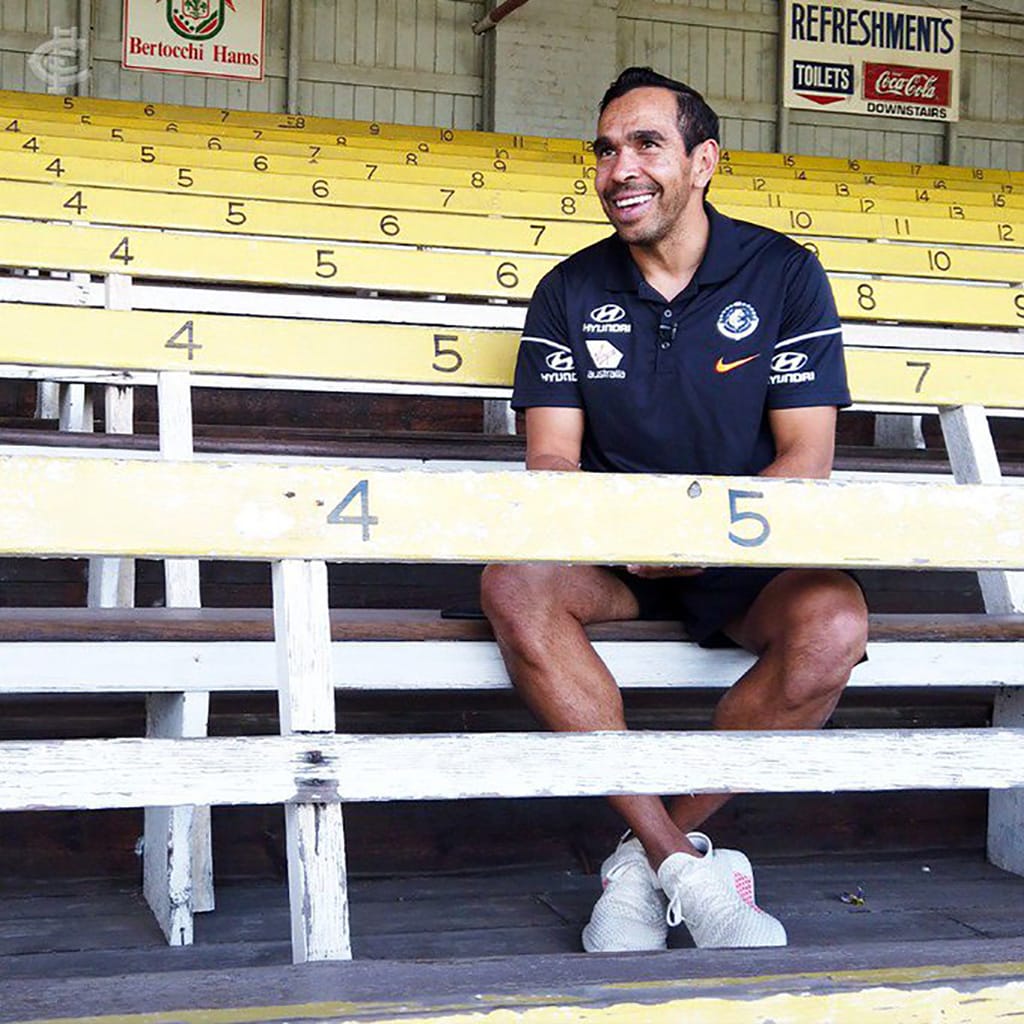 Free agency serves its purpose
Adam Tomlinson (Melbourne), Brandon Ellis (Gold Coast), Cam Ellis-Yolmen and Grant Birchall (both Brisbane) all joined new clubs as unrestricted or restricted free agents. Tomlinson and Ellis were the most interesting, given they switched from the Grand Finalists to the bottom two teams. Free agency is often criticised for making the rich richer but worked in the opposite in their cases. Birchall departs the Hawks as a 248-game, four-time premiership player but has had a horror injury run the past three seasons and will hope the fresh start brings better luck. Ellis-Yolmen has also had his fair share of setbacks.
FROM FLAG TO SPOON CLUB Seven weird stats from the Trade Period
Coach appointment lost in trade frenzy
The Crows chose the penultimate day of the Trade Period to unveil Matthew Nicks as Don Pyke's senior coach successor. There hadn't been many deals up to that stage but it officially became moving day as the action started heating up, but it also meant Nicks' news was buried somewhat. He's earned his stripes as a senior assistant, most recently at GWS, and will oversee Adelaide's list regeneration.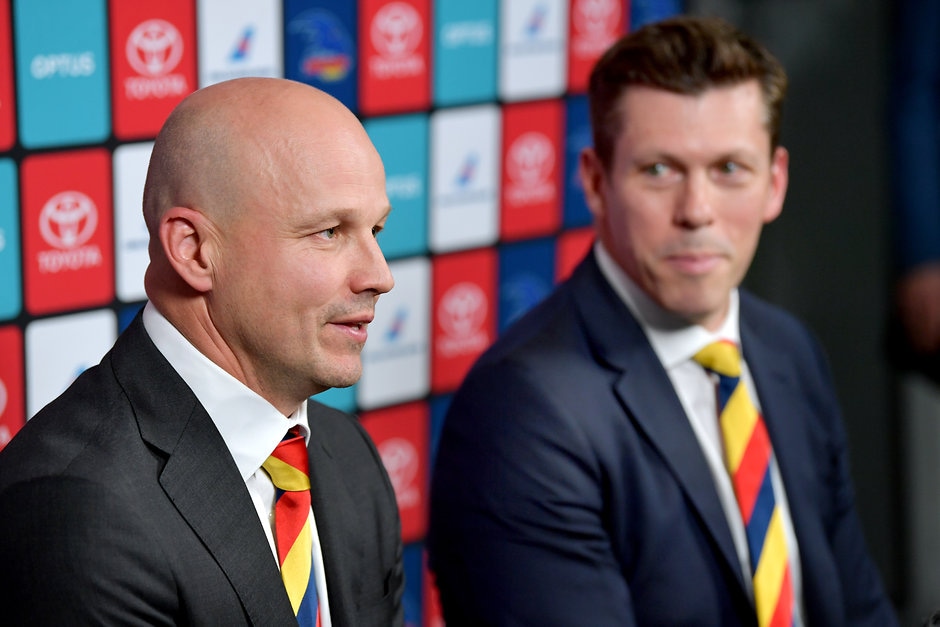 Fringe Lions seek greater opportunity
There was long a suspicion that a few of Brisbane's group of senior staples-turned-NEAFL regulars would be elsewhere in 2020. The only question was which of them would it be. Ultimately, it was Tom Cutler (Essendon) and 2014 NAB AFL Rising Star winner Lewis Taylor (Sydney), while Nick Robertson could follow as a delisted free agent. Other Lions still in limbo include Allen Christensen, Josh Walker, Ryan Bastinac, Ben Keays, Corey Lyons and Sam Skinner.
Lewis Taylor with the 2014 Rising Star trophy. Picture: AFL Photos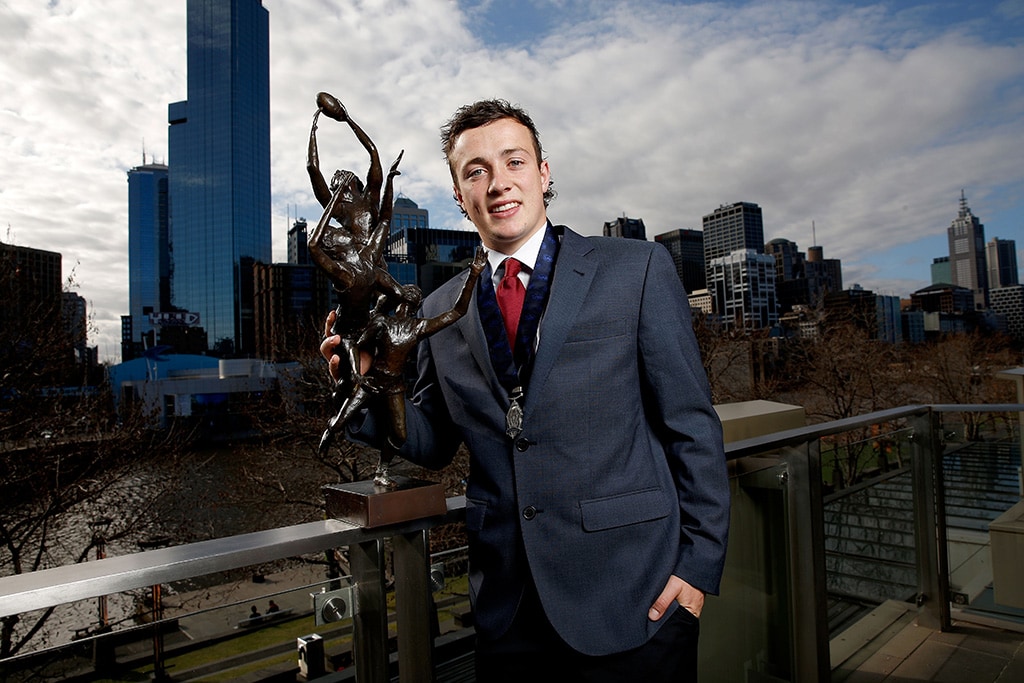 Rare move for Crows' solitary recruit
Billy Frampton enjoyed a productive season in the SANFL this year but added just two games to his AFL tally for Port Adelaide. However, his form impressed the cross-town Crows enough for them to trade for him and he could become just the sixth footballer to play for both South Australian clubs.
Billy Frampton in action against the Hawks in round 10. Picture: AFL Photos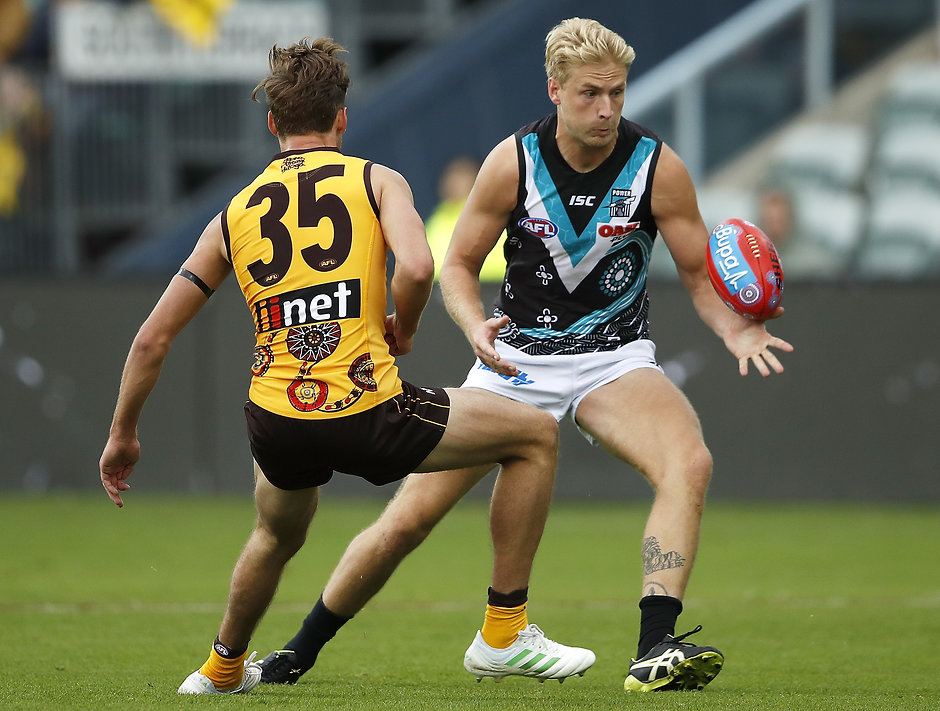 Feeding the chooks?
It's the insult sporting figures love to use to describe the media, but the set-up during the opening and closing days of the Trade Period certainly helps this narrative. List and football bosses and even coaches – at least in Rhyce Shaw's case – often wanted to breeze past expectant reporters after emerging from negotiations. They were compelled in certain cases to stop, while others timed their run perfectly to sneak past while counterparts were engaged with journalists already. The dynamic doesn't always work but typically the rapid-fire interviews were good-natured, informative and thorough to enable news to quickly reach the fans.
Reporters, including Marc McGowan, hold up Hawthorn's footy manager Graham Wright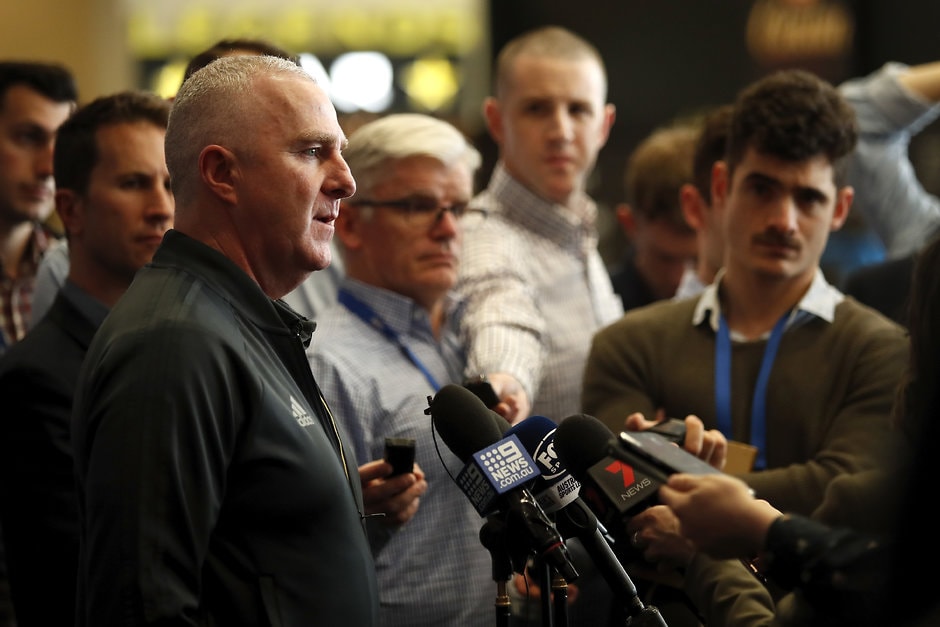 Trade Period: too long, or just right?
An oldie but a goodie to finish with. The ten long days of the Trade Period feel like an eternity for everyone involved, from club officials, players and the media to the fans. There were 29 trades completed, including players and pick swaps, with 23 of them in the last two days and seven in the last half an hour. The length is debated every year, and enables list bosses to organise player medicals but also to be stubborn with demands and drag deals out. The dollars and interest the exchange period drives means it's not shortening anytime soon. There will almost certainly be additional or extended Trade Periods as the years go by.