IT DIDN'T take new Adelaide senior coach Matthew Nicks long to get asked the question that will arise almost every time he steps in front of a microphone this season.
"Are you confident that Brad Crouch will re-sign with the club?"
>> The 2019 NAB AFL Draft runs from November 27-28. Follow all the latest news in the draft hub
This will be a recurring theme until the star midfielder – who is a restricted free agent at the end of 2020 – puts pen to paper with the Crows.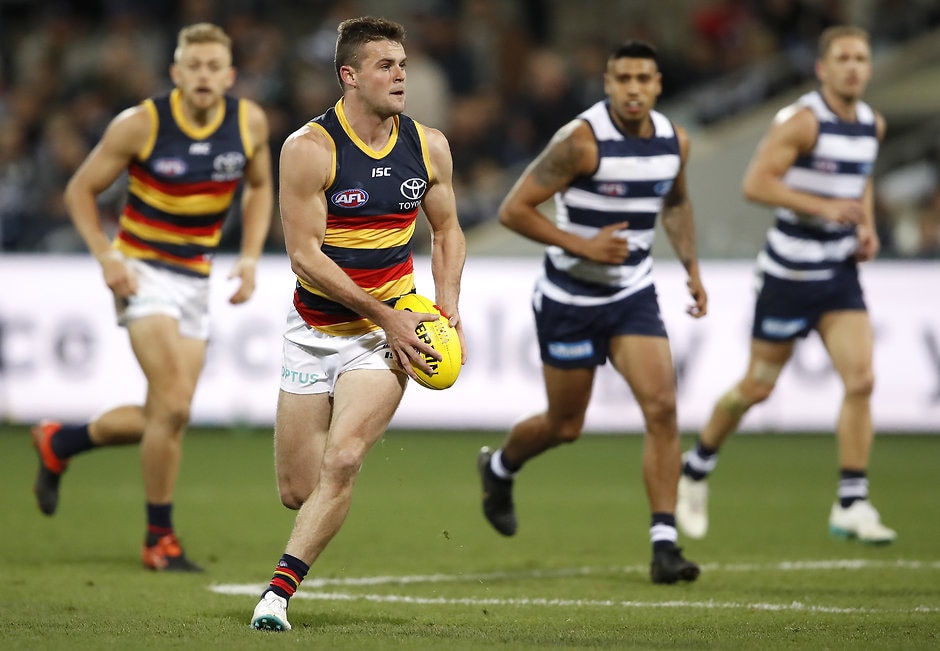 For the record, Nicks had no doubt a deal would get done.
"Yes, we are. You get to know people," Nicks said.
"I'm confident that Brad wants to work for our side, that's his priority."
New Adelaide coach Matthew Nicks and Crows CEO Andrew Fagan.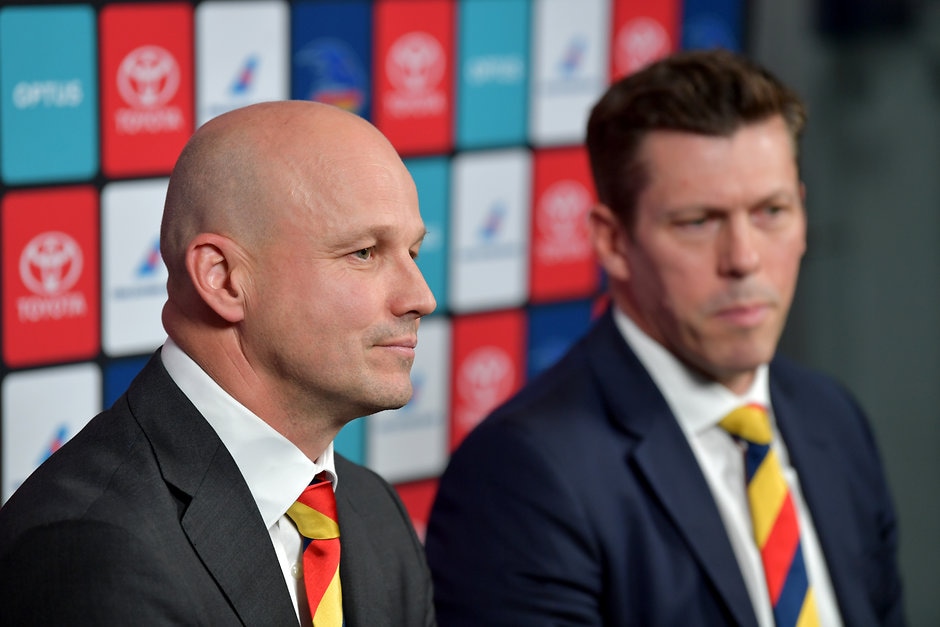 Crouch returns to training on Monday, along with the rest of the Crows' senior players, with doubt hanging over his future.
Those reports of interest from another club – in this case, Gold Coast – won't go away … which is often the case when a player is due to enter free agency in 12 months' time.
RETIREMENTS, DELISTINGS AND TRADES Your club's list changes
Crouch is at the point in his career where he's keen to a sign a long-term deal.
His stock has never been higher, coming off winning his first best and fairest.
He'll be 27 by the start of the 2021 season and wants security.
Who can blame him? The career of an AFL player is short and you never know when injuries will cut you down in your prime.
And that, right there, is why there is an impasse between what Crouch and his management are after, and what the Crows are prepared to offer.
Crouch wants a long-term deal to stay at the Crows, in the range of five years, while it might take a six-year contract to entice him to a rival club.
The Crows, on the other hand, are cautious of offering more than a three-year extension, although there's probably wriggle room to stretch it out to a four-year deal.
You can't blame either side for standing their ground.
Crouch's camp will point to the fact he's put his injury issues to bed, having played all 22 games in 2019, and is entering the prime of his career.
They can also point to the five-year deal the Suns handed Brandon Ellis, who at 26 is one year older than Crouch.
The last time the Crows re-signed a player for five years was last year when co-captain Rory Sloane signed a deal until the end of 2023.
He will be 33 in the final year of that contract.
Matt Crouch, Rory Sloane, Brad Crouch and Taylor Walker after a win against St Kilda in round six.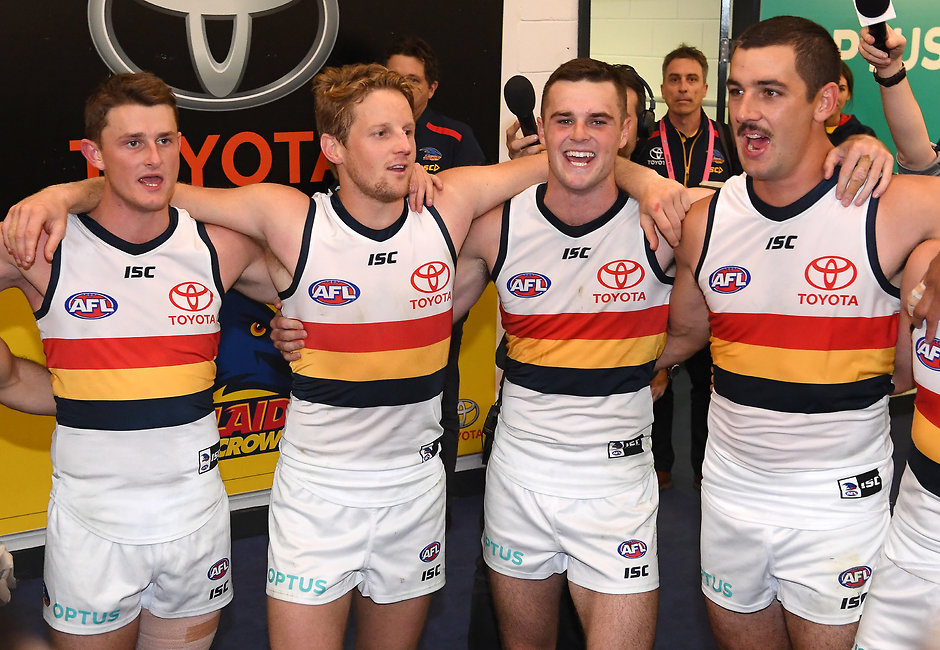 However, Sloane has well and truly earned that lengthy commitment given his amazing record at the Crows.
He's not only a two-time best and fairest, but he's finished in the top-three of the Malcolm Blight Medal in seven of the past eight seasons.
Sloane's played 199 games for the Crows in his 11 seasons, at an average of 18.1 per year.
Crouch has played 83 games in seven seasons, at an average of 11.9, having missed all of the 2015 and 2018 seasons through injury.
The Crows are understandably wary of handing a long-term contract to player who has had injury issues in the past.
Other clubs may be prepared to take that risk.
Brad Crouch hasn't played since the 2017 Grand Final.

The Crows got right around him as he kicked a goal early in his return!#AFLCrowsHawks pic.twitter.com/OVf3lvJD7Y

— AFL (@AFL) March 23, 2019
It's a delicate situation for both parties and one they would prefer is settled early to avoid it becoming a distraction heading into next season.
There's every chance it could drag out.
Sloane's deal wasn't finalised until July last year after speculation he was headed to St Kilda.
Crouch has said all the right things publicly and clearly wants to stay.
It's about closing the gap between what he's after and what the Crows are prepared to give.
Find Road to the Draft on Apple Podcasts, Google Podcasts and Spotify.