WESTERN Bulldogs star Marcus Bontempelli has revealed he used last weekend's bye to perform some reconnaissance ahead of Saturday's massive clash with the Sydney Swans at the SCG.
Renowned for his professional approach to the game, the 20-year-old scoped out the SCG while holidaying in the harbour city.
Bontempelli said it was good to mix business with pleasure ahead of a game where many believe the eighth-placed Dogs' top-four credentials are on the line.
"I was actually up in Sydney (during the bye) and used (the trip) for a couple of days to suss out the area and have a look at the ground in preparation for this week's game," Bontempelli told AFL.com.au.
"Maybe it's a bit over the top, but it was a good couple of days because Sydney is a lovely city and it was nice to get up there and chill out."
The Dogs recorded a stirring four-point win over the Swans at the ground last year, and while Bontempelli admits the triumph was a memorable one, it hasn't been used as motivation for the rematch.
"We haven't touched on it too much," he said.
"From an emotional cue you can certainly lean on it, and I think each player will do that, but from a team perspective we're looking to bring a mean style of footy that can hopefully test them out."
That uncompromising approach by the League's best contested ball outfit will be required against a hardened Swans' midfield unit.
With both the Bulldogs (first) and the Swans (fourth) high possession teams, Bontempelli is anticipating another brutal battle against an on-ball division led by Josh Kennedy and Dan Hannebery.
And the Swans will be wary of him, with Bontempelli holding his own against the premiership-winning duo by racking up 23 possessions, nine clearances, six tackles and two goals in round five last year.
It was an unforgettable win for the Dogs last year against the Swans at the SCG. Picture: AFL Media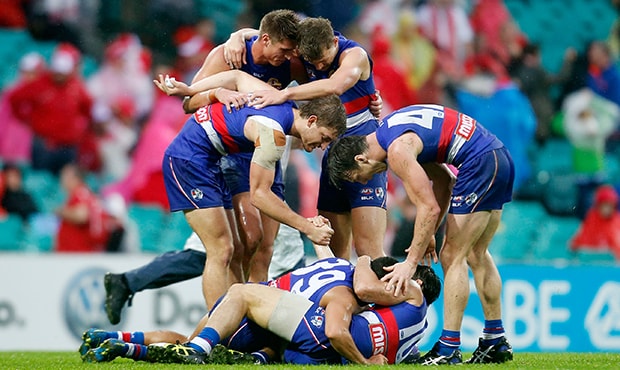 "It's the modern-day battle these days with midfields going head-to-head and they've certainly (got) an experienced and strong one we're really going to work hard to combat," Bontempelli said.
"We're both really good contested ball teams and in any game that's important.
"We'll back our troops to go punch for punch with a strong team that's been strong in that area for quite a number of years."
While finding the footy isn't a problem for Luke Beveridge's men, hitting the scoreboard is, and it's stymieing the Bulldogs' efforts to give its lone 1954 premiership cup some long overdue company.
Despite its No.1 ranking for disposals this year with an average of 429 a game, the Bulldogs are only 10th for scoring by averaging just 88 points a match.
Another telling stat is the Bulldogs are third last (71 per cent) for scoring once they retain the ball from an inside forward 50 entry, compared with fellow premiership contender Adelaide's competition-best 85 per cent.
While he concedes inefficiency is hindering the side, Bontempelli believes composure and better decision-making is the key to kicking bigger scores.
"It's one of the things we really tried to work on in the pre-season and early parts of the season," he said.
"It is knowing when to hold the ball up or choose a wider option than just kicking the ball in long.
"The positive is we're getting the ball in there, but we need to use the ball a bit better when it's in there."