THE AFL would prefer melees to stop rather than be fining players.
Not only could the Match Review Panel use the time it spends sorting out who incurs fines more productively but, with discipline, it's a cost players could avoid.
It's why clubs were asked last week to remind players that melees should be avoided because they were wasting everyone's time and money.
But melees continued in round nine, and the fines reached record levels.
Melee fines on the up despite memo
It all begs the question: what purpose does engaging in a melee serve clubs, players and the game?
The reality is that flying the flag under the one-in all-in ethos has become a pantomime that no longer serves any purpose.
Geelong coach Chris Scott threw his balanced eye over the issue on AFL 360 when discussing Port Adelaide defender Tom Jonas' hit on West Coast's Andrew Gaff.
Jonas gets six games for Gaff hit
"Where we seem a little confused is what should happen next. If West Coast didn't remonstrate at all, they would have been heavily criticised," Scott said.
"That [Jonas hit] just looks terrible, so there needs to be a reaction.
"[But] what does it really achieve? I tend to think some players are worried about not doing it, for fear of criticism."
One wonders what Scott – who was once charged with being involved in a melee in his career but found not guilty – would expect if the same thing that happened to Gaff happened to, say, Cam Guthrie, and what he would say to the players if they did nothing but wait for the stretcher.
I'd expect the same, given his comments after the melee involving his players when the Cats met Adelaide, where he said he'd prefer his team didn't become involved.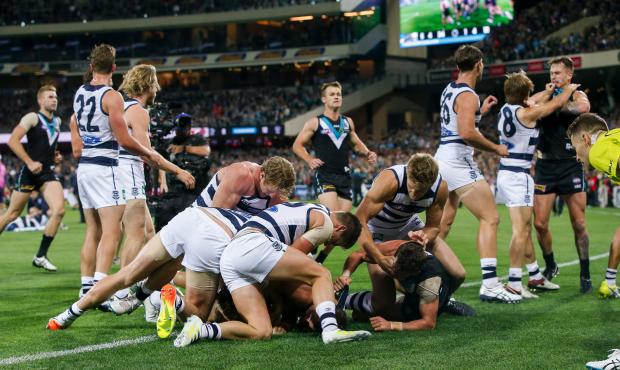 Thirteen players were charged after the Port Adelaide and Geelong melee in round five. Picture: AFL Media
But the reality is most people in football think some response is a must if something untoward happens on the field.
Former Hawthorn star Brad Sewell – a fair player and sensible person who Essendon champion Matthew Lloyd knocked flat to spark a melee in 2009 – is in the heavily populated 'must do something' camp.
"Whilst you don't want your teammates to get fined, I'd like to think that emotion and that mateship overrides any rational financial sanction that might occur," Sewell told AFL.com.au
Five of his teammates – Luke Hodge, Michael Osborne, Grant Birchall, Campbell Brown and Brent Renouf – were fined a total of $6000 that day when they "flew the flag".
Scott's counterpart, West Coast coach Adam Simpson, suggested his players had "not much choice" when they saw Jonas knock out Gaff.
No choice is a dangerous approach to anything, but his comments sum up the cultural, and perhaps emotional response, most have to such incidents.
To respond fosters camaraderie, according to the 'must do something' camp.
Even the fair-minded ruckman Nic Naitanui saw the need to react.
"In the end you're not doing anything silly – you're just sticking up for your teammate. You'd probably get fined by the boys if you didn't go in," Naitanui said.
Jonas, whose actions sparked the melee, congratulated the Eagles in his mea culpa for attacking him after he knocked Gaff out.
"I think the way that his teammates flew the flag for him would be something that he is proud of," Jonas said.
Just to underline how entrenched the culture is, Geelong's Corey Enright, suspended for just one week in 317 games, joked to teammates that he could tell who likes their money when he looked at those not fined after seven Cats incurred $7000 worth of fines for their involvement in the melee against Port Adelaide.
While pushing and shoving might be seen as a natural response to seeing a teammate smashed, it also reveals that language encourages a conventional response.
The reality is we fall into condemning an act of violence with a violent, or perhaps more accurately, macho response or even closer, a theatrical response.
Spectators love the theatre and it's all accepted … and then the fines come.
If Naitanui watched the behind the goals vision after the Gaff incident, he'd see teammates Jeremy McGovern and skipper Shannon Hurn ambling down from defence to talk to the umpire rather than speeding to the scene to 'fly the flag'.
Are the players who get involved less tight with money, or undisciplined, or so close to the action as to react instinctively as West Coast's Elliot Yeo appeared to on Saturday?
Did they have no choice? I don't think so. I suspect they're conditioned to react in such a manner.
Perhaps it's time for clubs to cop fines for involvement in a melee rather than individuals, which might force the coach to change the players' attitudes to one of choice: respond in a disciplined matter.
And let the Match Review Panel sort out what sparked it.
Club involvement in melees incurring fines since 2010
9 – Richmond
8 – St Kilda
7 – Essendon
5 – Greater Western Sydney*, North Melbourne, Port Adelaide
4 – Sydney Swans, Fremantle, Carlton, Brisbane Lions, Melbourne, Western Bulldogs
3 – Hawthorn, Collingwood
2 – West Coast, Gold Coast**, Adelaide
1 – Geelong
51: Number of current players fined more than once for being involved in a melee.
Most melee involvements of current players
4 – Ty Vickery, Dane Swan, Hamish Hartlett
* Club made AFL debut in 2012
** Club made AFL debut in 2011