THE 2016 AFL Grand Final will start at 2.30pm AEST on Saturday, October 1 at the Melbourne Cricket Ground.
The Grand Final traditionally takes place on the last Saturday in September. This year's Grand Final will be the 28th in October in VFL/AFL history and the second in a row, after the 2015 season started later to accommodate the Cricket World Cup, held at AFL venues in February and March.
Starting times for those watching around the world:
United Kingdom: 5.30am, Saturday
Europe: 6.30am, Saturday (western); 7.30am, Saturday (eastern)
USA: 9.30pm, Friday (west coast); 12.30am, Saturday (east coast)
Dubai: 8.30am, Saturday
New Zealand: 5.30pm, Saturday
Thailand: 11.30am, Saturday
Japan: 1.30pm, Saturday
Bali: 12.30pm, Saturday
Overseas? Grab your Watch AFL Global Pass here or find a party in your region of the world here.
Who is performing at the Grand Final?
UK rocker Sting will join Aussie singer-songwriter Vance Joy and homegrown rockers The Living End as the feature acts of the Virgin Australia pre-game show. Joy, who topped the Triple J Hottest 100 in 2013 with his hit 'Riptide', confirmed the news by joining a Twitter video Q&A with AFL boss Gillon McLachlan.
Vance Joy and The Living End will perform at the Virgin Australia premiership party, from 6-8pm. Entry is free; enter from gates 5, 6 and 7.
Eagle agony and Hawk ecstasy after the 2015 AFL Grand Final. Picture: AFL Photos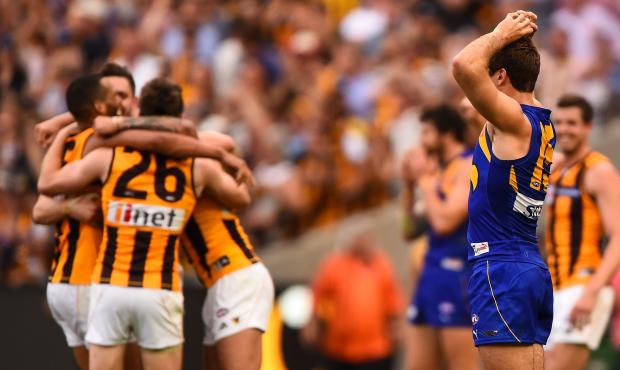 What about the Brownlow Medal and the Toyota AFL Grand Final Parade? What time do the gates at the MCG open?
Scroll down for a rundown of key events, including starting times and other details. All times are AEST.
MONDAY, SEPTEMBER 26
Brownlow Medal count
Crown Palladium, Melbourne
Review the night here:
http://www.afl.com.au/brownlow
TUESDAY, SEPTEMBER 27
AFL Coaches' Association awards
Melbourne
WEDNESDAY, SEPTEMBER 28
12-5pm: Foxtel Footy Festival/Toyota AFL Grand Final Live Site
Yarra Park, MCG
Entry is free
THURSDAY, SEPTEMBER 29
10am-7pm: Foxtel Footy Festival/Toyota AFL Grand Final Live Site
Yarra Park, MCG
FRIDAY, SEPTEMBER 30
10am-7pm: Foxtel Footy Festival/Toyota AFL Grand Final Live Site
Yarra Park, MCG
A feature of Friday is the Toyota AFL Grand Final Parade, starting at noon at the Old Treasury Building in Spring Street and finishing at the Toyota AFL Grand Final Live Site at about 1pm.
1.30pm: NAB All Stars under-18 match featuring the best draft prospects from across the country
Punt Road Oval, Richmond.
Watch via AFL Official App (subscribers only)
SATURDAY, OCTOBER 1
9am-6pm: Foxtel Footy Festival/Toyota AFL Grand Final Live Site
Yarra Park, MCG
TOYOTA AFL GRAND FINAL, MCG
8am Melbourne Cricket Club gates open
9.30am General public gates open
10am NAB All Stars under-17 game (*note game now at Punt Road Oval)
Watch via AFL.com.au and on AFL Official App
1.29pm Welcome to Country by Uncle Bill Nicholson
1.30pm Retiring greats and award winners' motorcade (Jed Adcock, Troy Chaplin, Adam Cooney, Michael Firrito, David Hale, Brian Lake, Matthew Pavlich, Farren Ray, Ted Richards, Nathan van Berlo, Andrew Walker, John Coleman Medal winner Josh Kennedy and Brownlow medallist Patrick Dangerfield)
1.33pm Mike Brady performs One Day in October
1.37pm Vance Joy performs
1.45pm The Living End performs
1.53pm Sting performs
2.04pm Virgin Australia Flyover
2.12pm Umpires enter arena
2.14pm Western Bulldogs enter arena
2.17pm Sydney Swans enter arena
2.25pm Premiership cup delivered by Peter Bedford and John Schultz
2.26pm National anthem performed by Vika and Linda Bull
2.30pm Match starts
3.45pm NAB AFL Auskick and final of 13CABS Grand Final sprint
5.15pm Final siren, followed by the presentation of the Norm Smith Medal (by Shannon Grant), the Jock McHale Medal (by Leigh Matthews), premiership medallions (by NAB AFL Auskick participants) and the premiership cup (to be presented by Peter Bedford or John Schultz)
6.15pm Virgin Australia premiership party
6.20pm Vance Joy performs
6.55pm The Living End performs
7.30pm Presentation of the premiership team with the AFL premiership cup
AFL.com.au will have all the action from the biggest footy day of the year with the latest team news and build-up to the Sydney Swans-Western Bulldogs decider.
Join us from 7am where we'll take you inside the famous North Melbourne Grand Final breakfast, as well as providing all the colour and intrigue throughout the morning.
Follow us for:
- Live blog throughout the day from 7.30am
- Live coverage of the Under-17 All Star game at Punt Rd from 10.25am
- The latest weather information straight from the Bureau of Meteorology
- Latest pictures from our team of photographers
- And news as it comes to hand
• Click here for full finals information and ticketing at the AFL finals hub