- 2015's free agency list as it stands
- Patrick Dangerfield: the free agency poster boy
- How the northern football academies work
IT WAS only a matter of time before someone said it out loud.

It took Fremantle coach Ross Lyon to say it.

The Dockers, he said, were going to look closely at home-grown products when chasing prospective free agents or uncontracted players in the future.

"The tyranny of distance has to be a factor … we'll probably put more emphasis on WA players elsewhere, because there is incentive to come home," Lyon said.

Lyon is not closing off other avenues for acquiring talent; he knows the talent pool is not deep enough to place too many restrictions on his club's strategy, so the word 'probably' is crucial to placing his message in context.

But his words echo a conventional wisdom: players who are drafted interstate are more gettable by clubs in their home state whenever they come out of contract.

You only have to list the hot out-of-contract names in 2015 to see that: Patrick Dangerfield, James Aish, Scott Selwood, Rory Sloane, the Greater Western Sydney boys and, of course, Alex Rance.

All are playing outside the state in which they were raised.

So is state of origin growing as a factor when it comes to recruiting decisions?

The consensus seems to be no.

All clubs discuss the prospect and some use it as a potential lure but as one recruiter told AFL.com.au, it's not an issue that "sits in neon lights" within clubs.

Another recruiter from a Victorian based club made the situation plain: "Players are still more likely to stay than go."

He's right. Despite all the hype around free agency last season, just four players switched clubs.

Of those four, only Nick Malceski moved states, the ex-Victorian going from the Sydney Swans to the Gold Coast.

Suns recruiter Scott Clayton has a simple philosophy on player retention for a list that comes from every part of the country.

"Clubs are charged with the responsibility of giving their players a great environment and one where they think they are going to be successful and get to the stage where the players actually own their destiny," Clayton told AFL.com.au.
"It's their footy club at the end of the day."

The Suns have only traded out two players since they began, with Tom Hickey, a Queenslander, moving to St Kilda and Josh Caddy returning to Victoria to play with Geelong.
Josh Caddy returned home to Victoria after beginning with the Suns. Picture: AFL Media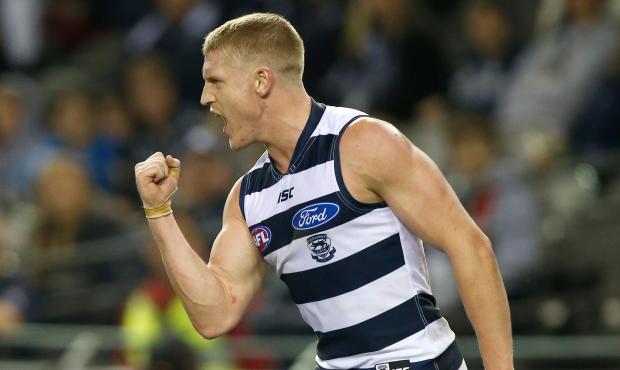 They received first-round draft picks in return.
Twenty-five of the 44 players in the Grand Final were playing for a club outside their home state.

Since free agency began in 2012, 77 players have been traded or moved interstate to continue their careers.

Just 31 have returned to the state in which they were raised, with another 31 moving away from the state in which they were raised to continue their careers. The other 15 were from Tasmania, Northern Territory, ACT or, like Malceski, they moved states without returning to the state in which they were raised.

One recruiter says most of those players who leave were more likely than not planning on returning as soon as they arrived. But the great majority of players stay.

The two Perth teams' record of retaining players recruited from outside Western Australia is good, but both the Dockers and the Eagles struggle to get players back once they leave the state.

Finding a high quality example in the past decade is not easy, with just nine returnees in that time.

Josh Kennedy, who was forced from Carlton through the Chris Judd trade, is the biggest name to make it back to the west. Jamie Cripps and Elliot Yeo wanted to get home while Sharrod Wellingham was half pushed from Collingwood and Josh Hill's time was up at the Bulldogs.

Jonathan Griffin joined Fremantle due to lack of opportunity and Scott Gumbleton was a reasonable gamble that sadly didn't pay off.

Since 2000, Des Headland, a number one draft pick and premiership player at the Brisbane Lions; Peter Bell, a dual premiership player at North Melbourne, and Josh Carr, a Port Adelaide premiership player, have been the biggest names to head home, with Luke McPharlin and Tyson Stenglein also quality returnees.

A total of 116 (or 16 per cent) of players on senior lists grew up in West Australia, but 41 play at West Coast or Fremantle, leaving 75 in the 'WA players elsewhere' category.

Of course, for clubs in non-traditional states the 'go-home' risk is bigger.

The Brisbane Lions lost five players at the end of 2013, all returning to the state they were recruited from.

Such was the club's concern at the time, it fronted the AFL Commission to suggest changes be made to increase the chances of clubs in northern states retaining players.

Since then it has increased its focus on player well-being and built strong relationships to retain and develop players.

However football manager Dean Warren says the numbers alone demonstrate the risk of losing players.

"Every club will face a go-home factor, but just on the sheer spread the clubs in the northern markets of Australian are exposed to the risk further based on that disproportion number of local versus interstate talent," Warren told AFL.com.au.

Just 20 per cent of the Lions' and Gold Coast's lists come from Queensland; 15 per cent of the Giants' list comes from NSW, with the Sydney Swans at about 25 per cent. Most Victorian clubs have at least half their list from Victoria.

Warren believes those numbers strengthen the argument for club-run academies that attract local sportspeople to play Australian football.

No-one talks about the romanticism of people from non-football states playing in premierships with the team of their state, but surely it exists.

"If we have 30 per cent of local talent on our list, I think it would be an outstanding result for the game," Warren said.

"We're a national competition, but we're not truly a national code until the talent pool continues to increase in both QLD and NSW, and hence increases the talent pool for all clubs."

Warren also makes an interesting point that supports Lyon's position.

Clubs outside Victoria face what he calls the stay-home factor, meaning it's harder to entice a player from Victoria to move outside that state, unless those clubs are prepared to pay a premium.

The Giants know they have been fortunate that unique circumstances allowed them to acquire players of the quality of Joel Patfull and Ryan Griffen in recent times.

So what does all this suggest?

Basically that each individual's reason to switch clubs is different.

It as much to do with personality as destination: one man's adventure is another's horror.

Although clubs still prefer placing home-grown talent on their books, despite what they say, keeping and attracting players is as much art as science.
WHERE DO THE PLAYERS COME FROM*
| | | | | | | | | |
| --- | --- | --- | --- | --- | --- | --- | --- | --- |
| TEAMS | VIC | SA | WA | TAS | NT | QLD | NSW | INT |
| Adelaide | 23 | 12 | 3 | 1 | 0 | 0 | 1 | 0 |
| Brisbane Lions | 16 | 4 | 5 | 5 | 0 | 8 | 1 | 1 |
| Carlton | 22 | 3 | 7 | 1 | 0 | 1 | 3 | 1 |
| Collingwood | 23 | 6 | 5 | 0 | 0 | 4 | 1 | 0 |
| Essendon | 28 | 3 | 6 | 1 | 1 | 1 | 0 | 0 |
| Fremantle | 13 | 6 | 18 | 2 | 0 | 1 | 0 | 0 |
| Geelong | 19 | 11 | 5 | 2 | 3 | 0 | 0 | 0 |
| Gold Coast | 13 | 5 | 6 | 5 | 1 | 8 | 0 | 0 |
| GWS Giants | 28 | 3 | 6 | 2 | 1 | 0 | 6 | 0 |
| Hawthorn | 22 | 6 | 3 | 2 | 2 | 2 | 3 | 0 |
| Melbourne | 21 | 6 | 6 | 2 | 0 | 2 | 3 | 0 |
| North Melbourne | 28 | 7 | 3 | 1 | 0 | 1 | 0 | 0 |
| Port Adelaide | 17 | 15 | 5 | 0 | 1 | 0 | 2 | 0 |
| Richmond | 29 | 2 | 3 | 1 | 0 | 2 | 2 | 0 |
| St Kilda | 25 | 4 | 3 | 3 | 0 | 4 | 1 | 0 |
| Sydney Swans | 15 | 3 | 6 | 1 | 0 | 1 | 11 | 0 |
| West Coast | 12 | 5 | 23 | 0 | 0 | 0 | 0 | 0 |
| Western Bulldogs | 33 | 4 | 2 | 1 | 0 | 0 | 0 | 0 |
*Figures from Champion Data's AFL Prospectus