ON THURSDAY the NAB AFL Draft Combine starts at Etihad Stadium, with more than 80 draft prospects gathering to test in front of recruiters and meet clubs in a four-day job interview.
Here are a few players who might enhance their draft stocks in some of the key tests over the next few days.
20m sprint
Callum Ah Chee is a clear candidate to win the 20m sprint, one of the combine's most watched events across the four days. The West Australian, whose speed, skill and class is likely to make him a first-round draft selection, has previously recorded a 2.88-second sprint time. It is the equal second quickest of any player attending the combine behind South Australian Oleg Markov (2.87 seconds). Fellow SA prospects Will Snelling (2.88 seconds), Luke Partington and Stephen Tahana (2.89 seconds) should also perform well in the sprint according to previous efforts.
Fleet-footed WA prospect Callum Ah Chee is one to watch in the 20m sprint. Picture: AFL Media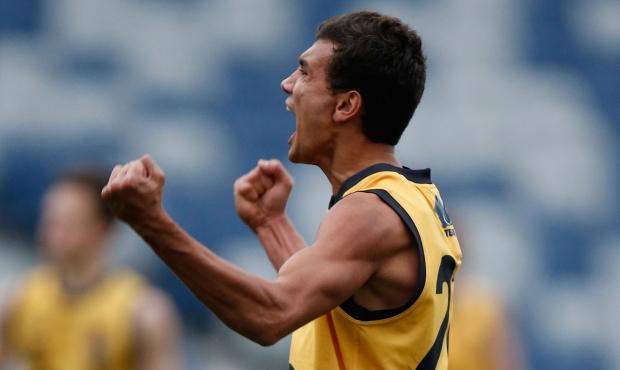 When does the test take place? Saturday morning

Top Combine performances (seconds)
Joel Wilkinson
2.75
2010
Jonathan Marsh
2.78
2013
Danyle Pearce
2.79
2004
Ashley Smith
2.80
2008
Marvin Baynham
2.81
2014
Nathan Freeman
2.82
2013
Jack Watts
2.82
2008
Agility test
Aaron Francis is a key defender who can play in the midfield and has also excelled up forward. His best trait is his overhead marking, an attribute that makes him a damaging and dangerous player. His agility for a 191cm player is also elite. The South Australian has recorded the quickest agility test at state level among combine invitees (7.74 seconds). Aidyn Johnson is another one to watch here. Johnson hasn't played since April due to an ongoing quad problem, but has run 7.81 seconds for the agility test before. He should be fit to complete all testing this week.
When does the test take place? Saturday morning

Top Combine performances (seconds)
Stephen Hill
7.77
2008
Danyle Pearce
7.79
2004
Nathan van Berlo
7.80
2004
Elliot Yeo
7.80
2011
Ahmed Saad
7.86
2011
David Armitage
7.88
2006
Billie Smedts
7.90
2010
Aaron Joseph
7.91
2007
Jumping (Standing vertical jump, running vertical jump)
We expect some of the taller draft hopefuls to excel in these tests but often it is not the case. Rugged midfielder Rhys Mathieson is one to keep an eye on here. Of the national combine players, Mathieson leads the way for the running vertical jump off his right leg (94cm) and is ranked second for the jump off his left leg (96cm). The athletic Darcy Tucker, spring-heeled forward Wayne Milera and the versatile Francis are also contenders for the jumping tests.
When do the tests take place? Saturday morning
Best mates Rhys Mathieson and Darcy Parish are expected to be prominent in testing. Picture: AFL Media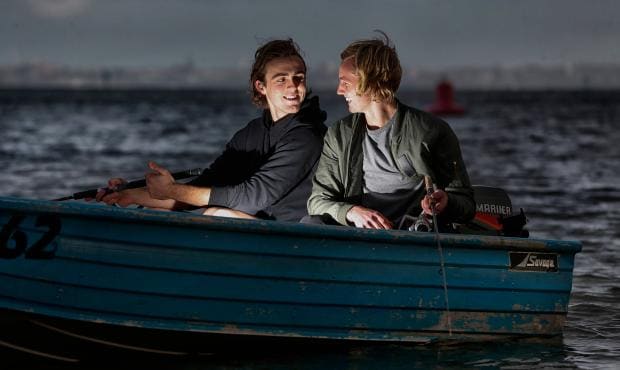 Beep test
Billy Hartung's beep test record looks safe for now. Hartung set the new benchmark for the beep test with an amazing level 16.6 run two years ago. It seems unlikely to be surpassed in 2015, with Snelling recording the best beep test run of any player attending the combine at Etihad Stadium this week. Snelling has completed a 16.1 beep, putting him in elite company. Another one to look out for is Jacob Weitering. The likely No.1 draft choice ran a 15.5 beep test last year, an excellent effort for a key defender.
When does the test take place? Saturday afternoon
Top Combine performances (level)
Billy Hartung
16.06
2013
Caleb Daniel
16.01
2014
Bradley Hill
16.01
2011
Jack Hiscox
16.01
2014
Will Hoskin-Elliott
15.12
2011
Nathan Drummond
15.09
2014
Tom Sheridan
15.07
2010
Jake Barrett
15.06
2013
Jarrad McVeigh
15.06
2002
3km time trial
Draft combine participants have generally never competed in a 3km time trial before coming together for the combine, so there isn't an accurate read on who will go well. We can only look at a player's actions on the field to see if they might perform, which makes us think Ryan Clarke will be towards the front. The Eastern Ranges midfielder dominated in the last month of the year with his relentless running from one end of the ground to the other, and then back again.
Eastern Ranges midfielder Ryan Clarke showed his engine in this year's TAC Cup. Picture: AFL Media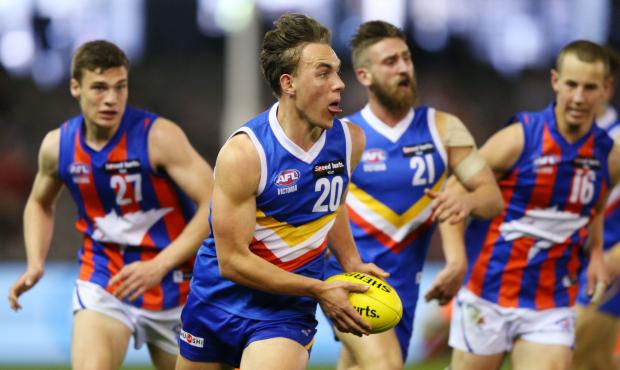 When does the test take place? Sunday morning
Top Combine performances (minutes/seconds)
Jack Hiscox
9.17
2014
Josh Kelly
9.32
2013
Tim Houlihan
9.37
2006
Tom Lamb
9.45
2014
Nick Robertson
9.46
2013
Bradley Hill
9.52
2011
Will Hoskin-Elliott
9.53
2011
Alex Neal-Bullen
9.54
2014
Tom Sheridan
9.57
2011
Nathan Drummond
9.59
2014
Handball/clean hands test
Last year Irishman Paddy Brophy was one of five players to win the clean hands test on his way to being signed by West Coast. This year another two Irish athletes have travelled to Melbourne for the combine, with Darragh Joyce and Colin O'Riordan in attendance. It would be unlikely they'd match Brophy's effort with the handball test but perhaps Jade Greshamwill. The small Victorian midfielder had a terrific season at every level he played and is a smart, clever and efficient user of the ball who can handball sharply and accurately.
When do the tests take place? Friday evening
Kicking test
Milera's deft foot skills should see the half-forward rack up a good score in the kicking test. The kicking test sees each player have to hit three targets at varying distances on both feet. Classy midfielder Darcy Parish would be expected to be among the best performed in this test as a natural player who knows how to use the ball, while David Cuningham's ability to swing onto his non-preferred left foot will help his chances if he can nail the kicks on his right foot.
When does the test take place? Friday evening
Goalkicking test
Josh Schache would be odds on to win this, as the leading goalkicker in the draft pool. But the straight-shooting forward has a sore toe, so is in doubt to test this week. As a likely top-two choice at November's draft, there's little left for Schache to prove anyway. Expect Blake Hardwick to go well in this test. Hardwick led the goalkicking at TAC Cup level this year, including a 12-goal haul late in the year, and as a medium forward he knows he has to convert his opportunities when he gets them.
When does the test take place? Friday evening
• Inside the Combine: how do the tests work?
• Check out all the video, stats and reports from this year's NAB AFL Under-18 Champs
• NAB AFL Draft Hub: Get to know your club's future stars