• Check out all of 2015's nominees at the NAB AFL Rising Star hub
THE BACK injury that kept Jesse Hogan from playing football for nearly an entire season and delayed his AFL debut could end up being the best thing for him, says his coach Paul Roos.
On Wednesday, the Melbourne forward was crowned the NAB AFL Rising Star, edging out Carlton midfielder Patrick Cripps by eight votes.
While Hogan's season has been nothing short of remarkable, it happened a year later than it could have after a stress-related back issue cut him down in the pre-season of 2014.
It prevented him from playing all year until a late VFL game, but it taught him the importance of rest and rehabilitation after he initially believed he was "invincible".
"They all come in thinking they can skateboard and surf and play golf and then turn up to training and train for two hours," Roos said.
"I think that's the biggest change I've seen in Jesse over the last 12 months - his attention to detail and his understanding of what AFL footy requires.
"At the time, it was really, really frustrating for everyone, including the coach who wanted to see a good player play and hadn't seen much of him.
"But as it turned out, maybe it was going to be the best thing for him and it turned out to be, and we're really privileged to have a NAB AFL Rising Star winner and a worthy winner at that."
• Know your Rising Stars? Take the quiz at the NAB AFL Rising Star hub
For Hogan, the season on the sidelines made him realise how much extra work the older players around him did to be fit each week.
His family visited from Western Australia to help him through the down time as he learned to balance his own recovery with the on and off-field instability that was still plaguing the Demons.
But gradually, he learned how to prioritise looking after himself and paying attention to the details of his preparation.
"Most 20-year-olds that have never had a serious injury like I had until then, you see these older player with injuries and you think, 'I'm fine, I'll be OK'," Hogan said.
"To see that with the small off-field things, like I knew I could get a massage or go play a round of golf, the small things that at the time you don't think about, but they all seem to add up."
• Jesse Hogan's Rising Star win as it happened
Winning the Ron Evans Medal came as a surprise to Hogan, who tipped Cripps would poll more votes after his brilliant season.
After undergoing a "massive learning curve" in his first year at Melbourne in 2013 - when he could only play in the VFL after being recruited in the "mini-draft" - Hogan found last year frustrating.
But this year he managed 20 games, was ranked first at the Demons in goals (44), contested marks (47) and marks inside 50 (52), and did what Roos described as something no other youngster had done before.
"What Jesse's learned this year and what he can take out of the season is going to dictate how good he's going to become," Roos said.
"He's got talent, a lot of kids have got talent, but I'm really confident he's learnt on the back of two years … his habits are so much better now, he's a lot more confortable with the coaches and his teammates.
"I just hope he comes back in really good shape, enjoys the off-season and reconnects with his friends and family, and then comes back and trains hard."
Jesse Hogan and Patrick Cripps enjoy a lighter moment on Wednesday. Picture: AFL Media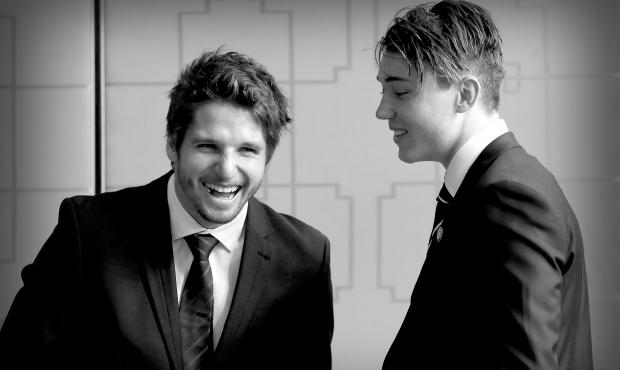 Roos also reiterated his support for the increase of the draft age, with Hogan and Cripps – who missed a portion of last season with a fractured leg – players he believes would have benefitted from later recruitment.
"Pat broke his leg and Jesse had a bad back, and what that allows for them to do is grow into their body, watch a bit more football, understand the professionalism of the game," Roos said.
"I'm one who's really supportive of the draft age going up another year and I think Jesse and Pat are both good examples of that."