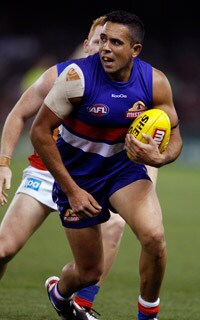 BRETT Goodes could not wipe the smile off his face after what was a dream debut for the Western Bulldogs on Saturday.

He gathered 24 possessions and took seven marks across half-back as he played an instrumental role in a 68-point thrashing of the Brisbane Lions.

Asked if he could have dreamed of making a better debut, the 29-year-old, who is the brother of two-time Brownlow medallist Adam Goodes, replied: "I don't think so."

Keen to switch the focus from himself, he then added: "To get the win was probably the most pleasing thing

"We were pretty happy as a back six, the way we went about it, and the win was just fantastic."

Goodes, who was only recently promoted from the Bulldogs' rookie list to the club's senior list, played with the calmness and surety of a 150-game veteran.

"We were watching him a lot last year at Williamstown, and he every time the ball was near him he went straight at it," Bulldogs coach Brendan McCartney said.

"He didn't get knocked off the ball, and he's got a terrific ability to know where the numbers are and where his mates are and to go looking for them.

"His fundamentals of the game are very good. We're pretty proud of Brett, the person, to be honest – what he offers the club on and off the field."

Goodes' performance was one of many positives to come out of the game for the Bulldogs.

Key defender Jordan Roughead has spent the summer working with former Geelong star Matthew Scarlett, and his brilliant job on Lions co-captain Jonathan Brown indicated that has learned plenty.

"Bit by bit, (Scarlett) has added defensive craft components to Roughie's game, and not all of them have come out yet," McCartney said.

"A couple came out today, a couple got left in the locker. But when he matures, more and more will come out."

Tom Liberatore was another outstanding contributor. He finished with a team-high 28 possessions and also laid nine tackles.

"I'm not sure about repay the faith," McCartney said. "I think he's very keen as a person to be seen the right way and play the right way.

 "He's got a lot of talent … and the end result is going to be a really good player."

Former West Coast midfielder Koby Stevens made an immediate impact in his first game for the Dogs, although he was subbed out at three-quarter time with what appeared to be a hamstring injury.

Not surprisingly, McCartney was keen to play down such fears.

"He got a pretty solid cramp," was the coach's explanation.

"He got a knock in the our last practice game, so we weren't able to train him a lot.

"He's a high-energy player, high-input player, and cramp forced him off the ground – at this stage. We'll know more tomorrow.

"You always get a little anxious when you're a coach and you see them with ice bags in certain parts of their body.

"If there's one near the back of their leg, well that always pricks my ears up a bit."

The Bulldogs are sure to face a much sterner test when they take on Fremantle at Etihad Stadium next Saturday afternoon, so McCartney wants the club's fans to remember their team remains a work in progress.

"We understand why people maybe haven't been coming to watch us play," he said.

"We know that more people will come back to watch us play when we play like we did today.

"Our absolute request is that they see who's out there, see their ages, look who they're playing against, and keep looking for the improvement that some of them showed today.

"We want our supporters to keep looking for the players who are exciting but also do great team things."