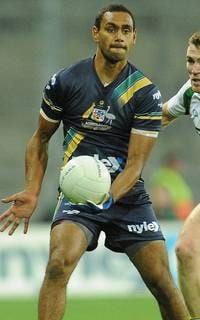 THE AFL has flagged the possibility that its 2013 International Rules team to play against Ireland could be made up entirely of indigenous footballers.

Australia will travel to Ireland in October this year for a two-test series.

AFL CEO Andrew Demetriou confirmed on Thursday that an all-indigenous team was a possibility.

"Yes, it is one of the options we are now considering," Demetriou told Channel Nine's Footy Show.

The series against Ireland has struggled to maintain interest in recent seasons.

Just 22,921 fans attended the first test last time Ireland toured Australia at Etihad Stadium in 2011, while just 12,545 attended the second test at Metricon Stadium at the Gold Coast.

An all-indigenous team has been put together over recent seasons to play pre-season warm-up matches.

Demetriou said he had not spoken to the Gaelic Athletic Association about the possibility of Australia's team being comprised entirely of indigenous players, but said it had been discussed by the AFL.

"We have canvassed the views of indigenous players," Demetriou said.

The 2013 series will be the first played since the passing of Irish-born AFL legend Jim Stynes.

The two-test series on October 19 and 26 will be played as a tribute to the Melbourne Brownlow medallist.