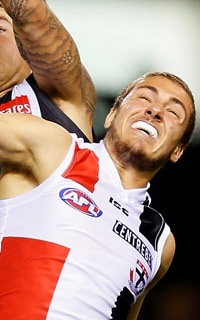 NO ONE was more surprised than Nathan Wright himself when he was drafted by St Kilda with the club's first selection last November.

He'd played four games for Vic Country last year and was a defender for the Dandenong Stingrays, as well as being an AIS-AFL Academy graduate, but there was an element of his game that was weighing on his mind.

Recruiters had told him his kicking was a concern throughout his final year at TAC Cup level, which led him to believe he wouldn't factor in the early rounds of the draft.

However, his stronger qualities – speed, endurance and courage – overshadowed that doubt and the Saints called out his name at selection 24 overall.

"I had just guessed that recruiters wouldn't have looked at me that highly because they didn't really rate my kicking that much," Wright told AFL.com.au.

"Growing up, I was probably one of the better kicks in my juniors. I guess when I go for a run and get my speed up, I tend to struggle with my kicking.

"Then I was playing TAC and recruiters started talkingabout it. It's a bit tough and you're always hearing it and you think, 'I mightn't be that good a kick'.

Once he was drafted, he was pleased to find talk about his kicking ceased. In fact, there was barely time to talk about anything in the days following, with the Saints packing their bags for Colorado the following week.

Wright and the other draftees were thrown right into the deep end. They arrived at the club overawed by the fact they were walking amongst the likes of Lenny Hayes and Nick Riewoldt, and then had to start preparing for an overseas trip.

Wright, then an 18-year-old, admitted he couldn't make eye contact with Hayes and coach Scott Watters when he arrived, such were his nerves.

But a first-day interaction with forward Ahmed Saad helped settle them.

"We were getting ready for Colorado and they were handing out snow gloves to take and I sort of missed out," Wright said.

"Then 'Saady' grabbed a pair and gave them to me so ever since then I've loved 'Saady' and that memory kind of stands out to me.

"He just came over and looked after me a bit."

In Colorado, Wright roomed with experienced midfielder Farren Ray and spent the trip bombarding the former Western Bulldog with questions like what to expect from the pre-season and what was required of draftees.

It was an experience Wright believes "fast-tracked" the new Saints' ability to settle into the group, and allowed them to hit the ground running when they returned to Melbourne.

He continued to do that on a personal front in February, playing three NAB Cup games before being named as an emergency in rounds one and two.

Then, on the Tuesday before the Saints' round three clash with Greater Western Sydney in Canberra, Watters called Wright to tell him he was in.

"It was a pretty awesome phone call," Wright said.

His parents, Michael and Teresa, attended the game, which Wright said left them "stoked".

First game nerves are normal but he believes the fact he was playing against many of his Under-18 contemporaries from the Giants' young list helped enormously.

Wright spent his childhood playing football, participating in Auskick for a year when he was six before progressing straight into under nines.

There were brief dabbles in cricket, mainly in the backyard of the Berwick family home with brothers Trent and Matt, but once he was called into the Stingrays' squad, he realised a football career was within reach and really committed to the game.  

Wright has held his spot since round three, even playing in the historic Wellington clash two weeks ago.

As for immediate goals, Wright will continue to work on a diploma in fitness that has followed on from the certificates three and four he obtained in 2012, with an eventual view to a role in strength and conditioning.

With footy, he's still stunned he's played one game let alone four and wants to make sure he uses this season to keep learning.   

"Whatever challenges come my way, I just want to beable to tick them off and overcome them," he said.

"I want to get as much experience as I can this year that will hopefully hold me in good stead."

Jennifer Phelan is a reporter for AFL Media. Follow her on Twitter @AFL_JenPhelan.